Prince Philip, Queen Elizabeth II's Husband, Dead at 99
Prince Philip—Queen Elizabeth II's husband—has died after more than 70 years by the monarch's side. He was 99 years old. His death was confirmed by Buckingham Palace today.
Philip, the Duke of Edinburgh, was well-known for his public gaffes and off-the-cuff comments before retiring from royal duties, due to old age, in 2017.
Before his death, the duke was the world's longest reigning consort, with more than seven decades of public service.
The couple married at London's Westminster Abbey in 1947. With the wedding coming so soon after World War II, Elizabeth used ration coupons to buy material for her dress.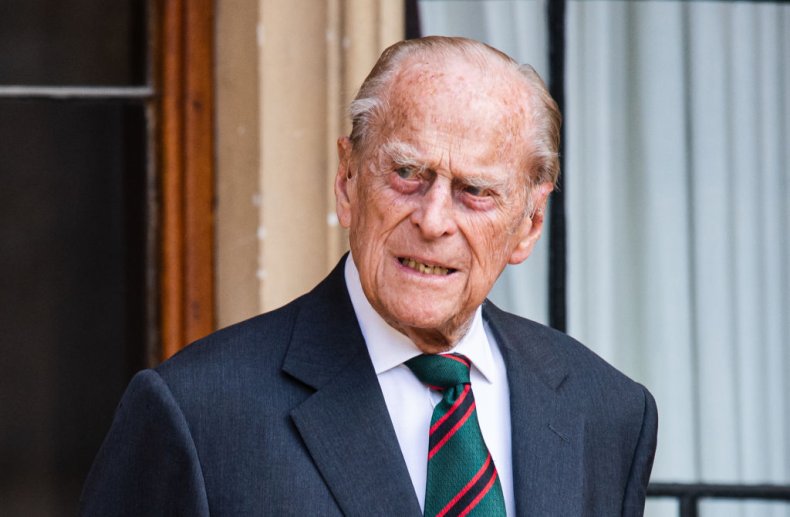 The then-princess, Elizabeth was coronated six years later on June 2, 1953, with her prince by her side.
Philip became her rock—there to support but not outshine the sovereign. The queen spoke about their relationship on their golden wedding anniversary, November 20, 1997.
During a speech at London's Banqueting House, Elizabeth said: "Yesterday I listened as Prince Philip spoke at the Guildhall, and I then proposed our host's health.
"Today the roles are reversed. All too often, I fear, Prince Philip has had to listen to me speaking. Frequently we have discussed my intended speech beforehand and, as you will imagine, his views have been expressed in a forthright manner.
"He is someone who doesn't take easily to compliments but he has, quite simply, been my strength and stay all these years, and I, and his whole family, and this and many other countries, owe him a debt greater than he would ever claim, or we shall ever know."
Those words—spoken just months after the tragedy of Princess Diana's death—are among the most famous said about the prince during his years of public service.
The duke was born Prince Philip of Greece and Denmark, to parents Prince Andrew of Greece and Princess Alice of Battenberg, on June 10, 1921.
Aged just 18 months, his family fled Greece fearing political instability which led to his uncle King Constantine I abdicating.
The family were taken to Britain on a Royal Navy ship with the baby prince in a cot made from an orange box.
On becoming a naturalised British citizen, he took on the surname Mountbatten, which stays with the family to this day.
Prince Harry and Meghan Markle's son is named Archie Mountbatten-Windsor, borrowing Philip's as well the queen's family name.
In 1939, Prince Philip joined the royal navy as a cadet before becoming a sub-lieutenant, then first lieutenant on destroyer HMS Wallace in 1942.
He was then first lieutenant of the W-class destroyer, HMS Whelp, which was in Tokyo Bay when the Japanese signed the surrender in 1945.
The duke completed 22,219 solo engagements between 1952 and 2017, when he stepped down from royal duties.
He was patron, president or a member of more than 780 organisations and once described himself as "the world's most experienced plaque-unveiler" during an event at Lord's cricket ground, in London.
Philip announced his retirement in May 2017 and when asked by a guest at St. James' Palace about his decision to stand down, joked: "I can't stand up much."
He performed his final royal engagement that August, a rain-drenched parade outside Buckingham Palace in his role as Captain General of the Royal Marines.
He had a series of hospital visits including for bladder infections in 2012, 2015 and 2017, as well as a pre-existing condition in 2019.
In February, 2021, he was admitted to hospital on advice of his doctor after feeling unwell.
Philip leaves behind four children with Elizabeth, heir to the throne Prince Charles, Princess Anne, Prince Andrew and Prince Edward.
He also has eight grandchildren, Prince William, Prince Harry, Princess Eugenie, Princess Beatrice, Zara Tindall, Peter Phillips, Lady Louise Windsor and James Viscount Severn.