Prince Philip's Funeral Is at Prince Harry, Meghan Markle's Wedding Venue
Prince Philip's funeral will take place at Prince Harry and Meghan Markle's wedding venue—but there will be no state funeral.
Queen Elizabeth II's husband died peacefully at Windsor Castle this morning but the royal family will say goodbye in private due to the impact of coronavirus, the College of Arms said today.
The Duke of Edinburgh will not lie-in-state and his funeral will be close by, at St George's Chapel, Windsor Castle.
The church is where Prince Philip saw his grandson Prince Harry marry Meghan Markle on May 19, 2018—after fighting back to health from a hip operation just weeks earlier.
A statement from the College of Arms read: "The funeral will not be a State Funeral and will not be preceded by a Lying-in-State. His Royal Highness's body will lie at rest in Windsor Castle ahead of the funeral in St George's Chapel.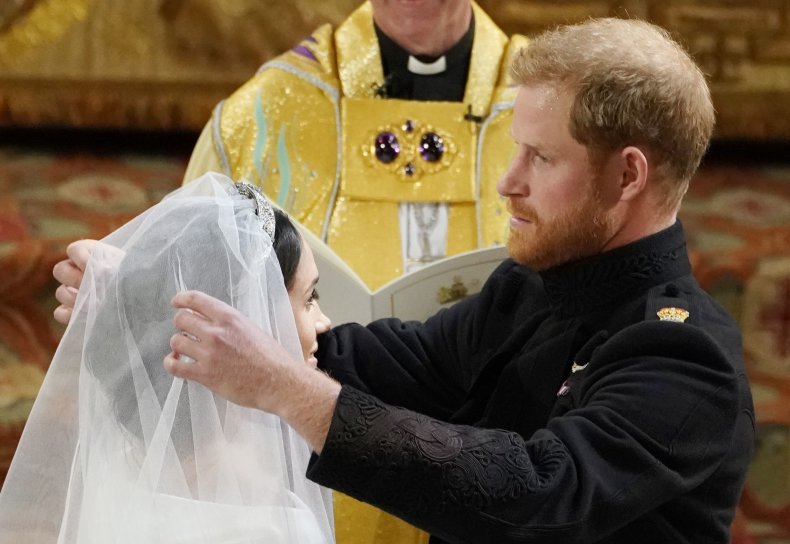 "This is in line with custom and with His Royal Highness's wishes.
"The funeral arrangements have been revised in view of the prevailing circumstances arising from the COVID-19 pandemic and it is regretfully requested that members of the public do not attempt to attend or participate in any of the events that make up the funeral."
St George's Chapel was thought to be the venue for the funeral from before Philip's death, as courtiers have been planning under the codename Operation Forth Bridge for years.
However, it was originally thought he would lie in state at St James' Palace before being brought to St George's Chapel.
Before his death, royal author Ingrid Seward wrote in her book Prince Philip Revealed: "All he wants is as little fuss as possible.
"When the time comes, Operation Forth Bridge, as it is code-named, will come into action.
"Philip's body will be taken to the Chapel Royal, St James's Palace, where Diana lay for seven days, and from there to a military-style funeral at St George's Chapel, with his internment in St George's Chapel or, less likely, as has been suggested, in the royal burial grounds at Frogmore.
"A simple end to a complicated man."
However, Prince Philip's final end will be even more simple than originally planned thanks to coronavirus restrictions.
He will, however, get his wish in that there will be "little fuss," with no state funeral and the public kept away.
Buckingham Palace said today: "It is with deep sorrow that Her Majesty The Queen announces the death of her beloved husband, His Royal Highness The Prince Philip, Duke of Edinburgh.
"His Royal Highness passed away peacefully this morning at Windsor Castle.
"Further announcements will be made in due course.
"The Royal Family join with people around the world in mourning his loss."