Prince Philip, 99, Is in Hospital as Queen Elizabeth II's Husband 'Feeling Unwell'
Prince Philip, Queen Elizabeth II's husband, has been admitted to hospital on the advice of his doctor after "feeling unwell," Buckingham Palace has confirmed.
The move is intended as "a precautionary measure" and the 99-year-old is expected to remain in hospital for "a few days."
Philip, the Duke of Edinburgh, has been admitted to hospital several times in the past, including in 2011 for a blocked artery and 2012 for a bladder infection.
A Buckingham Palace statement reads: "His Royal Highness The Duke of Edinburgh was admitted to the King Edward VII Hospital in London, on Tuesday evening.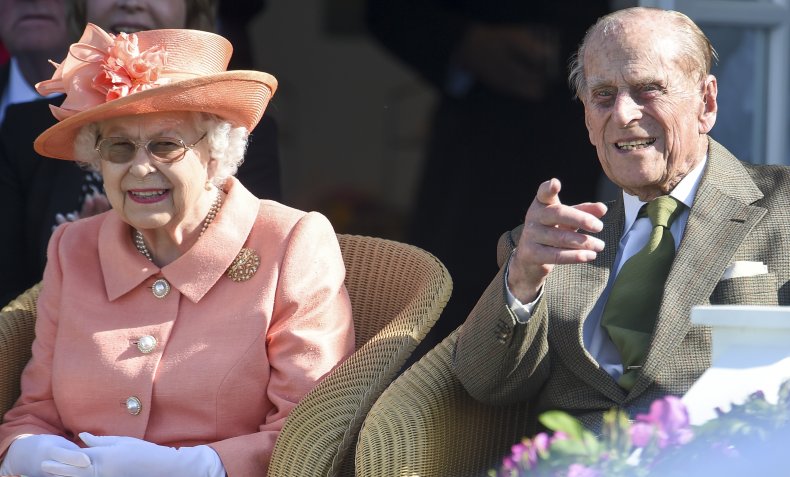 "The Duke's admission is a precautionary measure, on the advice of His Royal Highness's Doctor, after feeling unwell.
"The Duke is expected to remain in hospital for a few days of observation and rest."
The duke was driven to hospital by car last night. He was well enough on arrival to walk in unaided and coronavirus has been ruled out.
The couple both received COVID-19 vaccinations in January, though it is not known whether they have been given their second jab.
Palace insiders said the prince was "in good spirits," adding: "Hopefully he'll be out in a couple of days."
A source told Newsweek: "He went in last night, he went in by car so there was no emergency."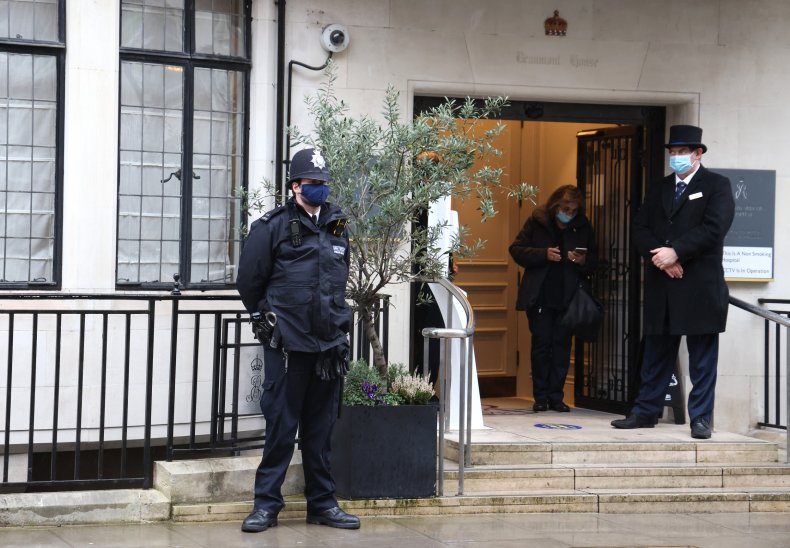 The duke has had a series of stints in hospital in recent years, including in 2019 for what the palace described as "a pre-existing condition," The Guardian reported.
Philip underwent hip surgery in 2018 shortly before Prince Harry married Meghan Markle at Windsor Castle, but recovered in time to attend the wedding.
In 2017, he went to hospital as a precaution after suffering a recurrence of a urinary infection, The Times reported at the time.
He was also taken to hospital with a bladder infection in 2012, and he was treated for a blocked coronary artery in 2011, according to the BBC.
The prince had exploratory surgery on his abdomen in 2013, the Daily Mail reported.
Philip retired from public life in 2017, fulfilling his final royal engagement outside Buckingham Palace during a rain-drenched parade by the Royal Marines.
Over the next two years, he spent much of his time apart from Elizabeth either at Windsor Castle or at Sandringham while she was at Buckingham Palace.
However, during the coronavirus pandemic the monarch and her consort have isolated together at Windsor Castle surrounded by a reduced "bubble" of key staff.
The duke's admission to hospital in London came the night before Prince Charles and his wife Camilla completed their first in-person royal engagement this year by visiting another hospital more than 100 miles away.
They thanked volunteers who had taken part in clinical trials for the COVID-19 vaccine at the Queen Elizabeth Hospital, in Birmingham, central England.
The hospital is run by the University Hospitals Birmingham NHS Foundation Trust, which has treated more COVID patients than any other National Health Service trust in the U.K.
The couple wore masks as they met British health secretary Matt Hancock.