Prince Philip Thanks Workers on the Coronavirus Frontline From His Retirement in Windsor Castle
Prince Philip has taken a brief moment out of retirement, aged 98, to thank medics, scientists and key workers waging the war on coronavirus "on behalf of those of us who remain safe and at home."
The Duke of Edinburgh is in lockdown at Windsor Castle with Queen Elizabeth II and a stripped-down team of assistants, cooks and butlers.
He has been retired since 2017 but palace officials revealed he was "moved" by the response from the public.
They indicated this likely to be a one-off incident rather than a return to any regular royal duties.
In a statement signed simply "Philip," he said: "As we approach World Immunisation Week, I wanted to recognize the vital and urgent work being done by so many to tackle the pandemic; by those in the medical and scientific professions, at universities and research institutions, all united in working to protect us from COVID-19.
"On behalf of those of us who remain safe and at home, I also wanted to thank all key workers who ensure the infrastructure of our life continues; the staff and volunteers working in food production and distribution, those keeping postal and delivery services going, and those ensuring the rubbish continues to be collected."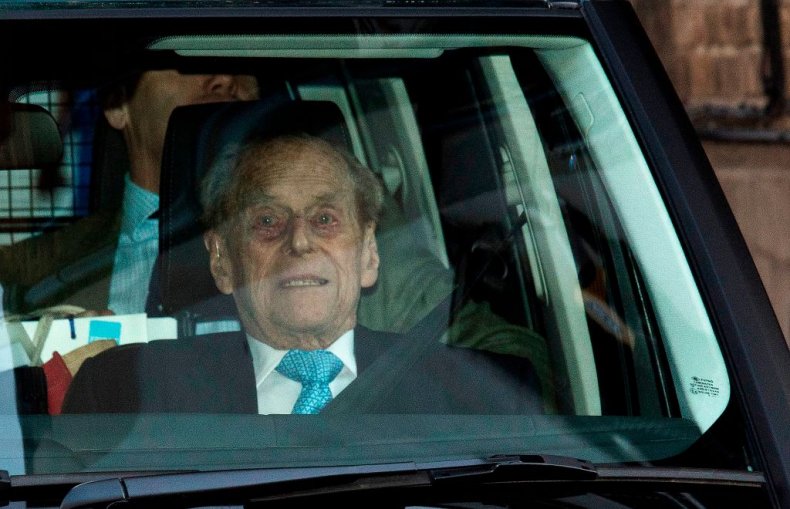 Prince Philip stepped down from official duties in 2017, admitting: "I can't stand up much longer."
His final job was in his capacity as Captain-General of the Royal Marines at Buckingham Palace.
A royal source told Newsweek: "The duke was moved to send a personal message to everyone who is tackling this pandemic, everyone who has made a decision to help in any way they can.
"This is a personal message from the duke given these special circumstances."
The unexpected intervention comes as Queen Elizabeth II is due to mark her 94th birthday tomorrow without the traditional gun salute.
It follows weeks in which the Queen has been unusually active, issuing a rallying cry to Britain to stay indoors that was laced with wartime symbolism.
An exclusive Newsweek poll of 1,500 adults revealed 70 percent of people who saw the rare special broadcast felt more positive as a result.
The survey showed generally improving opinions of the working members of the royal family, including Prince William, Prince Charles and Kate Middleton.
The Duke of Cambridge, 37, and the Prince of Wales, 71, have both opened hospitals in the UK via video link.
Elizabeth said in her special broadcast: "While we have faced challenges before, this one is different.
"This time we join with all nations across the globe in a common endeavor, using the great advances of science and our instinctive compassion to heal.
"We will succeed—and that success will belong to every one of us.
"We should take comfort that while we may have more still to endure, better days will return: we will be with our friends again; we will be with our families again; we will meet again."