Prince Philip's Funeral Leaves Royals Tearful as Prince Harry Walks Behind Prince William
Prince Philip's funeral left members of the royal family tearful Saturday as Queen Elizabeth II said a final goodbye to her husband of 73 years.
The Duke of Edinburgh's coffin was carried through the grounds of Windsor Castle outside St. George's Chapel before Britain fell silent for a minute at 3 p.m. in his memory.
Royals hid their faces behind coronavirus masks at the scaled-down ceremony for just 30 guests.
However, the emotion was nonetheless visible on their faces, with some appearing to blink away tears.
Rebecca English, royal editor of the Daily Mail, wrote on Twitter: "Other members of the family are waiting outside the Galilee Porch of the chapel, some in tears."
Prince William and Prince Harry walked together behind Prince Philip's coffin outside St. George's Chapel, separated by cousin Peter Phillips.
Once inside the royals walked in twos, but the brothers did not walk side by side amid a rift at the heart of the royal family.
Instead, Prince Harry dropped behind Prince William, who walked alongside Phillips.
The brothers were, however, seen talking outside the chapel afterwards in an encouraging sign the funeral may give them an opportunity to heal wounds.
The Dean of Windsor told the service: "We are here today in St. George's Chapel to commit into the hands of God the soul of his servant Prince Philip, Duke of Edinburgh.
"With grateful hearts, we remember the many ways in which his long life has been a blessing to us.
"We have been inspired by his unwavering loyalty to our Queen, by his service to the Nation and the Commonwealth, by his courage, fortitude and faith.
"Our lives have been enriched through the challenges that he has set us, the encouragement that he has given us, his kindness, humour and humanity.
"We therefore pray that God will give us grace to follow his example, and that, with our brother Philip, at the last, we shall know the joys of life eternal."
Royals did not go in military uniform with the men, instead wearing suits along with their medals.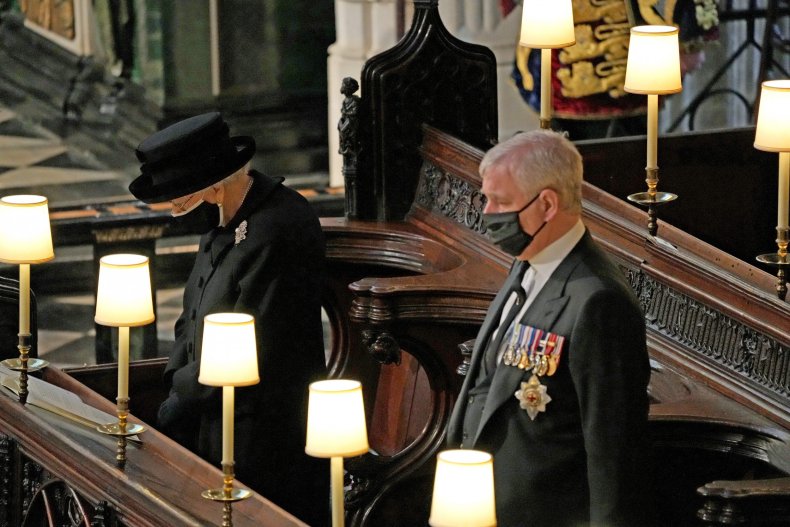 Prince Harry wore his KCVO Neck Order and Star, Afghanistan Campaign medal, Gold Jubilee medal, and Diamond Jubilee medal.
The Duke of Sussex completed two tours of Afghanistan, including on the front line.
In life, Prince Philip was Captain General of the Royal Marines. In death, the "Last Post" was played on the bugle in salute to the World War II Royal Navy veteran.
While only 30 guests were allowed inside St. George's Chapel, outside the British Armed Forces were there to mark the somber occasion with a military band.
There were gun salutes and across the country, at churches, civic buildings and even in back gardens, flags have been flying at half mast.
Philip died on April 9, triggering eight days of mourning for the queen, 94, who sat alone for the service due to COVID.
The monarch was photographed hanging her head as she bid her husband, who she famously described as her "strength and stay," a final goodbye.
Pregnant Meghan Markle did not make the service after her doctor advised her not to fly. However, a Sussex insider told Newsweek she watched the funeral from the couple's home in Montecito, California.
A wreath was provided by the Duke and Duchess of Sussex in Philip's honor, and she handwrote a card to go with it.
Archbishop of Canterbury Justin Welby said: "O eternal God, before whose face the generations rise and pass away, thyself unchanged, abiding, we bless thy holy name for all who have completed their earthly course in thy faith and following, and are now at rest; we remember before thee this day Philip, Duke of Edinburgh, rendering thanks unto thee–for his resolute faith and loyalty, for his high sense of duty and integrity, for his life of service to the Nation and Commonwealth, and for the courage and inspiration of his leadership.
"To him, with all the faithful departed, grant thy peace; let light perpetual shine upon
them; and in thy loving wisdom and almighty power work in them the good purpose
of thy perfect will; through Jesus Christ our Lord. Amen."
Updated 12:27 PM ET, with additional information.