Buckingham Palace Pictures, Video Shows Crowd Honoring Prince Philip
People have been gathering outside Buckingham Palace and laying flowers in honor of Prince Philip who has died at the age of 99.
Royal household staff in black ties emerged to place a framed plaque on the railings at the front of Buckingham Palace officially announcing the death of Queen Elizabeth II's consort.
People have also gathered and placed flowers outside Windsor Castle where the palace had said Prince Philip had "passed away peacefully this morning."
"It is with deep sorrow that Her Majesty The Queen has announced the death of her beloved husband, His Royal Highness The Prince Philip, Duke of Edinburgh," the palace statement said.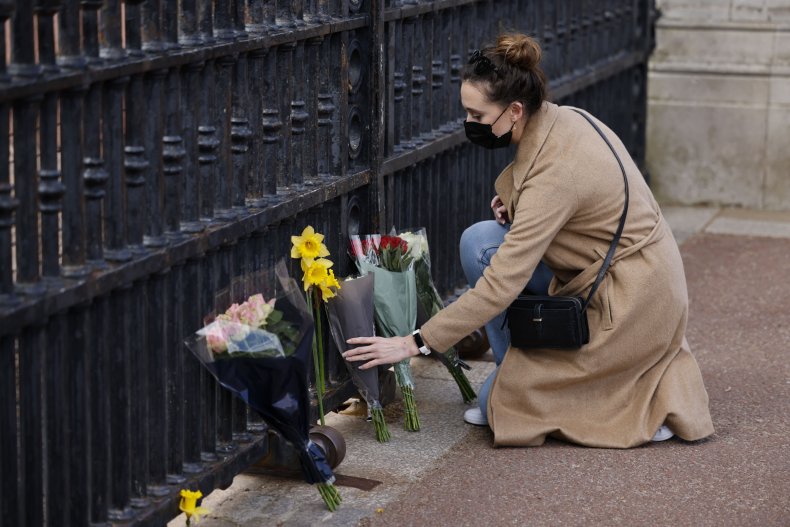 "Further announcements will be made in due course The Royal Family join with people around the world in mourning his loss."
Royal editor of Harper's Bazaar, Omid Scobie, tweeted: "As per tradition, the announcement of Prince Philip's death has been placed at the gates of Buckingham Palace. Due to the pandemic and current national lockdown, it will be removed shortly to avoid crowds gathering."
Tom Harwood of GB News tweeted: "Smattering of crowds here at Buckingham Palace. Mounted police keeping onlookers off the pavement. Flowers beginning to be laid."
Meanwhile Tim Stevens from Australia's ABC News shared images of the people outside the gates of the palace where the Union Jack flag was lowered to half-mast. He wrote: "Crowds gathering to read the official statement and lay flowers outside Buckingham Palace."
As members of the public continue to leave floral tributes in front of the Palace, it is unclear how coronavirus restrictions might impact the wish for people to pay their respects.
Until Monday, current COVID restrictions in England limit gatherings to groups of up to six from any from any number of households. Media and social media users reported that police officers on horses have stopped crowds from congregating.
When contacted by Newsweek, a spokesperson for London's Metropolitan Police said it had not yet issued any official guidance for the crowds but that "the usual rules apply."
Sky News reported that a "steady stream" of people had laid floral tributes outside Windsor Castle where as of Friday afternoon it was still "fairly quiet" although there was a growing media presence outside the gates.
Rhiannon Mills, Sky News royal correspondent, said in marking the death of Prince Philip, "I understand it's very much the wishes of both the Palace and the family that members of the public make sure they don't break COVID restrictions."
"It's worth saying that right throughout the pandemic the Royal Family have been very conscious, very aware of trying to set the right example," she said, "there is a keenness to make sure people don't gather in crowds."