How Musicians Have Been Using 'Purple Rain' to Honor Prince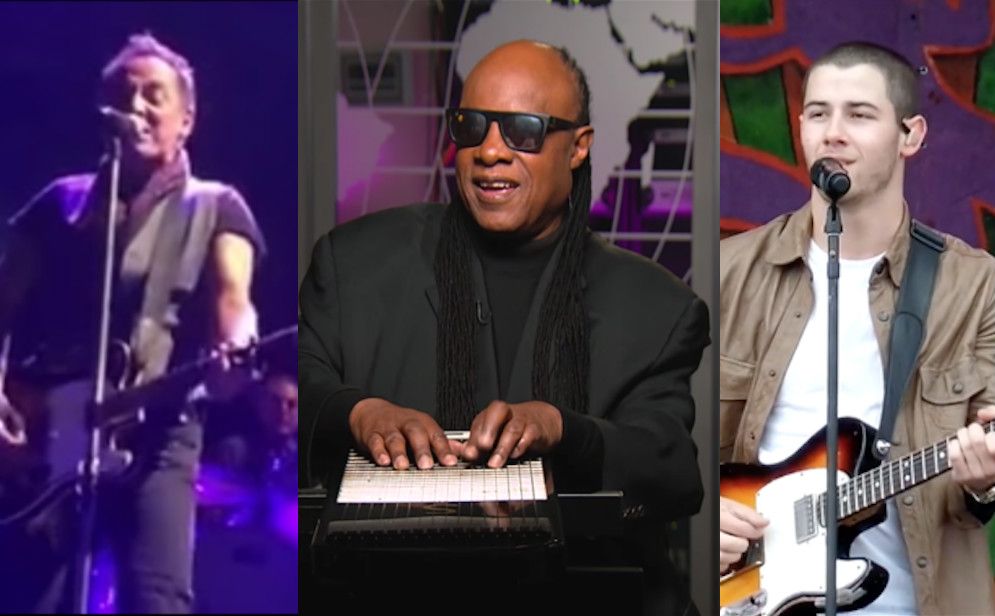 Tuesday on the Tonight Show, D'Angelo paid tribute to Prince with a beautiful rendition of "Sometimes It Snows in April." The tender ballad from 1986's Parade isn't the easiest song for anyone other than Prince—or, as it turns out, D'Angelo—to pull off. A far more common choice among musicians wishing to honor the Purple One with a cover of one of his songs is "Purple Rain."
It's kind of odd for a single song to encompass the essence of such a prolific artist in such a satisfying way. When David Bowie died in January, tributes poured out of the music community in the form of everything from "Starman" to "Heroes" to "The Man Who Sold the World." Each of these songs represented only a small portion of Bowie's Bowie-ness, though, and thus needed to be qualified. The Grammys attempted to solve this dilemma by enlisting Lady Gaga to perform a sprawling tribute medley that received mixed reviews.
But with Prince, "Purple Rain" just seems to do the trick, and though indebted artists have paid their respects with moving covers of "I Would Die 4 U," "Let's Go Crazy," "When Doves Cry" and other hits, the overwhelming majority of tributes have come through renditions of the dearly departed's colorful 1984 classic about sorrow, pain, laughing and, just like Prince himself, something else that's equally beautiful but we can't quite put our finger on it, which is maybe why it's doubly fitting.
Here's how everyone from Bruce Springsteen to a group of high school students used "Purple Rain" to pay tribute to Prince.
Beyoncé kicked off her Formation Tour in Miami on Wednesday. The first song? You guessed it.
Bruce Springsteen covered it at the top of a recent show in Brooklyn, New York.
David Gilmour wove it into a performance of "Comfortably Numb" at London's Royal Albert Hall.
Mavis Staples, who was on Prince's Paisley Park label for seven years, sang it a cappella at Coachella.
One thousand high school students taking part in the 27th annual Los Angeles Master Chorale High School Choir Festival sang the song in unison.
Also at Coachella, Sufjan Stevens performed it with R&B singer Gallant.
Jimmy Buffett played it during a concert in Raleigh, North Carolina.
Dream Theater's Jordan Rudess performed a stunning, electro-centric instrumental version.
Nick Jonas played it as part of a medley with "I Would Die 4 U" at Jazz Fest in New Orleans. The song was also covered at Jazz Fest by blues guitarist Preston Shannon and Zydeco master Corey Ledet.
Minnesota lawmakers sang it on the statehouse floor.
Frightened Rabbit covered it at the Varsity Theater in Minneapolis, Prince's hometown.
Stevie Wonder played it on CBS This Morning.
Eddie Vedder and Pearl Jam played it during a show in Columbia, South Carolina.
Country singer James Otto lit some candles and played an acoustic version on the Big D & Bubba radio show.
My Morning Jacket performed a rousing rendition at a recent tour stop in Oklahoma City.
Slipknot's Corey Taylor played an acoustic version in Minneapolis.
Jazz vocalist Gregory Porter performed a touching rendition on Later...With Jools Holland.
Old Crow Medicine Show and Margo Price threw some fiddles on it during a show in Huntsville, Alabama.
It's hard to say anything topped the performance by Jennifer Hudson and the cast of The Color Purple.
#RestInPurple, Prince.