New Prince Music Is 'Coming Soon,' Says Artist's Estate Adviser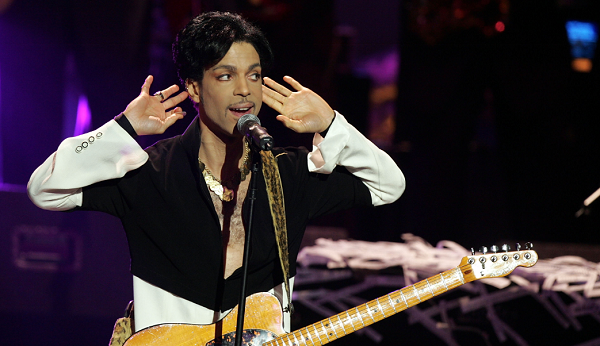 Prince may be dead, but his music certainly isn't. The prolific musician, who died of an accidental fentanyl overdose in April 2016 at age 57, has a trove of unreleased music, and fans will soon get to listen to some of it, according to his estate adviser Troy Carter.
During an interview with Variety, published Friday, Carter said he and other members in charge of Prince's estate have unearthed a plethora of songs hidden in the singer's Paisley Park vault. And while he didn't give many details about the tracks, Carter did note some of the never-before-heard material will be released soon.
"He was a guy who practically lived in a recording studio, and once we started going through [the unreleased material] we really started finding some gems," Carter explained.
"I heard some music the other night that was pretty mind-blowing and we're getting some stuff mixed right now. We've got great projects in the works that I'm excited to talk about," he continued. "So the answer is yes, there will be unreleased Prince music coming soon."
Carter, who is also the head of Spotify's global creative services, didn't reveal when fans will be able to listen to the unreleased Prince music, nor did he confirm which label would handle the material.
Prince's 39th, and ultimately, final album, HitNRun Phase Two, was released independently on Tidal's streaming service in 2015. A physical release album followed in 2016 from Universal Music Group, but the Minneapolis native had ties to various labels throughout his career. The longest relationship was with Warner Bros. Records, which distributed Prince's music for the first two decades of his career. He also had his own record labels: Paisley Park Records, which he founded in 1985, and NPG Records, which replaced Paisley Park Records in 1994.
Prince was a prolific musician, releasing 39 albums in 37 years, beginning with For You in 1978. But he also kept a stash of unreleased material—master tapes, live recordings, videos—in his legendary, mysterious vault. The majority of that content was moved, in November 2017, to a climate-controlled storage unit in Los Angeles after many of the recordings deteriorated. The vault, originally located on Prince's Paisley Park property in Chanhassen, Minnesota, suffered from water damage, mold and degradation.