Prince William Is 'Already Changing' the Monarchy as He Marks 40th Birthday
Prince William is "already changing the way things are done by the monarchy" ahead of a future role as the next prince of Wales, according to a royal commentator.
The Duke of Cambridge marked his 40th birthday Tuesday, months after an ill-fated tour of Jamaica, Belize and the Bahamas.
Among public relations missteps, William and Kate Middleton were photographed being driven while standing in a Land Rover, in a recreation of a past moment from a colonial-era tour by Queen Elizabeth II and Prince Philip.
However, royal commentator Emily Andrews told Good Morning Britain that the crisis in the Caribbean showed William was ready to transform the monarchy and move further from Britain's imperial past.
She told the ITV show: "Prince William has already made a difference. He's already changing the way things are done by the monarchy even though he's not the prince of Wales yet.
"On that tour to the Caribbean earlier this year, where there were some colonial images, they were very ill-advised getting into that Land Rover that the queen drove.
"He actually reacted really quickly to those situations and made a landmark speech, in my opinion, at the end of that tour effectively saying countries that they'd visited in the Caribbean that wanted their independence that didn't want to be part of the British monarchy, didn't want to have the queen or Prince Charles as their monarch in the future, absolutely should be in charge of their own future."
William issued a lengthy statement over social media in which he reflected on the benefits of royal tours as the British media debated whether the trip would be the end of the overseas visit as we know it.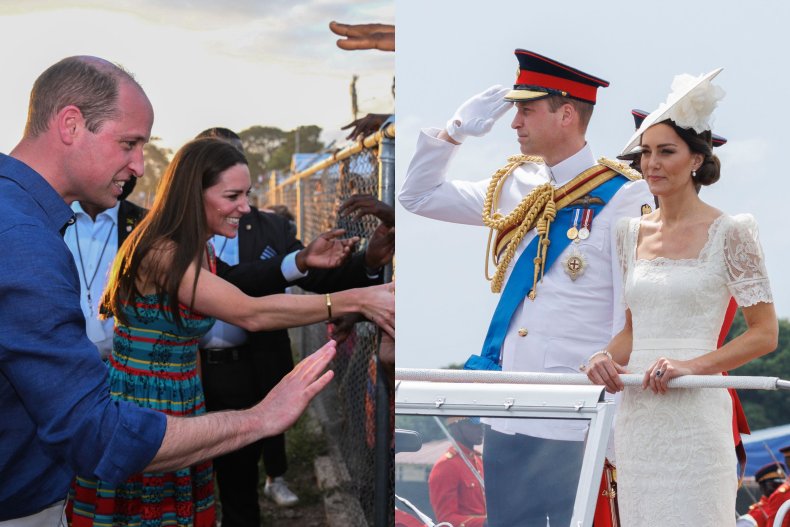 He wrote: "Catherine and I are committed to service. For us that's not telling people what to do. It is about serving and supporting them in whatever way they think best, by using the platform we are lucky to have.
"It is why tours such as this reaffirm our desire to serve the people of the Commonwealth and to listen to communities around the world. Who the Commonwealth chooses to lead its family in the future isn't what is on my mind."
That final comment appeared to allude to the possibility that he may not succeed his father as head of the Commonwealth of Nations, the 54-country partnership currently run by the queen.
Andrews added: "Here's William saying you know what, we should be doing things differently.
"We're in the 21st century, we should be doing things differently, countries should be able to rule themselves, decide who they have as their head of state. I'm not going to be an imperial ruler."
Historian Tessa Dunlop told Good Morning Britain that Prince William practiced philanthropic monarchy, which has been around "for well over 100 years."
Dunlop said: "Philip and Charles have been banging on about the environment since the '70s.
"I would say this is more of the same. That's not necessarily a bad thing, but I would suggest it is traditional rather than radical."
For more royal news and commentary check out Newsweek's The Royal Report podcast: