Prince William's 'Beautiful' Soccer Moment With Prince George Praised—Video
Footage of Prince William celebrating and commiserating with Prince George during a major 2021 soccer final in London has gone viral after fans shared an edited clip to social media platform TikTok.
The royals are known to be firm fans of soccer with George making his debut as a spectator at a major game during the UEFA Euro 2020 tournament (held in 2021 owing to the Coronavirus pandemic.)
George attended his first match with his parents, Kate Middleton and Prince William, to watch the England team win 2-0 over Germany, and then went on to attend the final between England and Italy.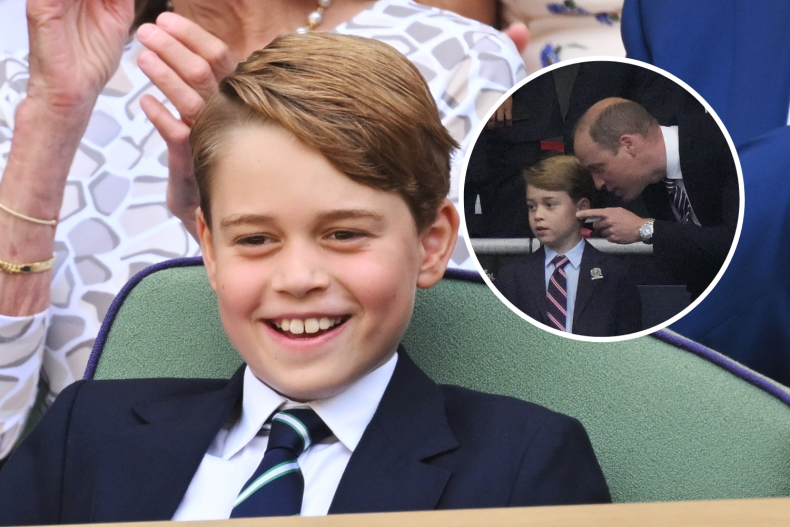 Footage used in the viral video showing George and William was captured at the final match which saw the England team take an early lead, before Italy finally won after a draw led to a penalty shootout.
Uploaded to TikTok by user, l0velycatherine, the social media clip shows the elated young prince celebrating England scoring with William and Kate, over the caption: "Their reaction after England scored a goal."
William was photographed hugging his son while cheering, leading George to laugh and share the excitement.
The edited video clip then shows the royal group's more somber reaction at the end of the game when the home team had lost its penalty shoot-out to Italy. William is shown with his hands comfortingly on George's shoulders with the on-screen caption: "Nothing ever lasts forever."
A number of social media fans have praised the royals in the comments section of the video, highlighting the moving shared experience between father and son.
"I love seeing them acting like every other fan. true joy. sorry for their lose, my husband acts the same about football," wrote one TikTok user.
"I love this candid family moment," posted another, with a further comment reading: "Poor George 🙁, but it was a beautiful family moment."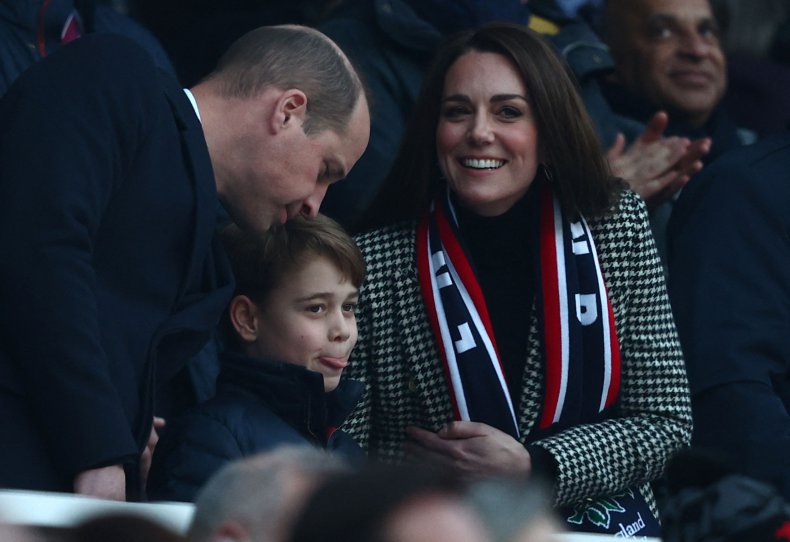 William and Kate have increasingly taken their eldest son along with them to engagements that include sporting events in recent years.
In 2022, the young prince made his debut at a Six Nations rugby match between England and Wales at the Twickenham stadium.
Kate Middleton is patron of England rugby and Prince William of Welsh rugby.
The prince also make his first appearance at the Wimbledon tennis championships in 2022, watching the men's singles final between Novak Djokovic and Nick Kyrgios.
After the match, champion Djokovic was introduced to the royal and was filmed giving him the large gold trophy to hold. On seeing this, Prince William joked to his son: "Don't drop it!"
George will celebrate his 10th birthday in July and is expected to participate in some of the events marking King Charles III's coronation in May.
James Crawford-Smith is Newsweek's royal reporter based in London. You can find him on Twitter at @jrcrawfordsmith and read his stories on Newsweek's The Royals Facebook page.
Do you have a question about King Charles III, William and Kate, Meghan and Harry or their family that you would like our experienced royal correspondents to answer? Email royals@newsweek.com. We'd love to hear from you.