Prince William 37th Birthday: Five Things You Probably Didn't Know About the British Royal
Prince William, Duke of Cambridge, turned 37 on Friday. As one of the best-known members of the famously tight-lipped British royal family, much of his life is well publicized. But here are a few facts you might not know about the future king.
1. Princess Diana brought three supermodels home as an after-school surprise for the young prince
When Prince William was still at school, his mother invited three supermodels to the family home to embarrass him when he got home. The prince revealed all in a 2017 documentary for British network ITV. He said, per Harper's Bazaar: "She organised when I came home from school to have Cindy Crawford, Christy Turlington and Naomi Campbell waiting at the top of the stairs, I was probably a 12 or 13-year-old boy who had posters of them on his wall."
Crawford reminisced about the visit on social media in 2017, sharing a throwback photo of herself and Diana to Instagram. She wrote alongside the vintage snap: "I think Prince William was just starting to notice models and she thought it would be a cute surprise for him and Prince Harry."
2. William spent 10 weeks traveling and volunteering in Chile as a teenager
Back in 2000, William traveled to Chile as an 18-year-old volunteer with sustainable development charity Raleigh International. According to The Telegraph, he spent his days teaching children English, kayaking, kicking a soccer ball around with locals, practising his salsa moves and even tracking a rare animal.
The Telegraph stated the prince told his fellow volunteers not to treat him "differently to anyone else."
The prince said: "I'm with a group of people I wouldn't normally be with and getting along with them is great fun and educational. There are some real characters in the group who don't hold back any words at all."
Another young traveler said he got on well with William, even dubbing him "Little Princess" as a joke. "He doesn't mind; he just laughs along with it," the teenager said.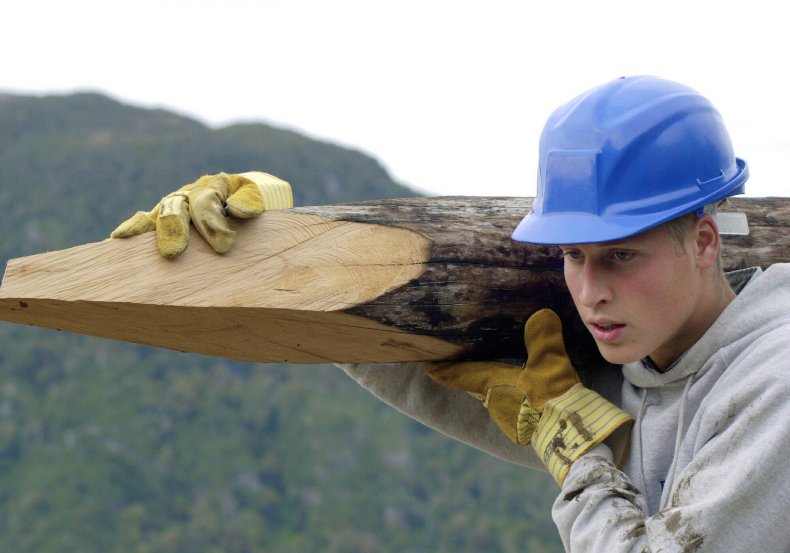 3. As a student, he enjoyed surfing in Scotland
William learned to surf during his time at St. Andrew's University in Scotland. The 22-year-old prince said he enjoyed the sport, in spite of an unforgiving climate. "It was a bit like putting your head in a freezer when you went under water but the wetsuit I've got is pretty good," he told The Telegraph back in 2004.
William previously practised boogie boarding - where a surfer rides torso-down on a board - in Cornwall and Devon on the south coast of England.
4. British singer Ellie Goulding performed a cover of Elton John's "Your Song" for William and Kate's first dance
When William and Kate married in 2011, they didn't just have any live band. They hired British megastar Ellie Goulding to sing at the star-studded event. Goulding's party playlist included such bangers as "Mr Brightside" by The Killers and "Superstitious" by Stevie Wonder, according to Grazia magazine.
For William and Kate's first dance, Goulding sang Elton John's 1970 classic "Your Song." The singer later told Marie Claire magazine she talked to the royal couple "quite a bit" during the event. She said: "They're just a really awesome couple, lovely people, so I understand why people are fascinated by them."
5. William is president of the oldest soccer association in the world
In 2006, the prince took over from his uncle, Prince Andrew, as president of the Football Association—a 155-year-old body that governs professional soccer in England, Jersey, Guernsey and the Isle of Man.
As president, William hands over the The Football Association Challenge Cup each year to the victors of a national knockout competition. The F.A. Cup, as it is known, is a qualifier for the UEFA Europa League, an annual competition that decides the best team in Europe.