Prince William Says British Stiff Upper Lip is 'Damaging to Psychological Wellbeing' in New Documentary
Prince William is speaking out against "stiff upper lip Britain" in an upcoming documentary on mental health and soccer.
The Duke of Cambridge will say locking up your emotions is psychologically damaging in a clear break with the royal family and the British aristocracy's image dating back decades.
BBC royal correspondent Nicholas Witchell gave an insight into what the 37-year-old royal will say in the BBC documentary Football, Prince William and Our Mental Health during an interview with the Radio Times.
Witchell told the magazine of William's "belief that too rigid an internalisation of emotions—so often the way in stiff-upper-lip Britain—is damaging to psychological wellbeing."
The prince will say: "We have to start questioning whether it's relevant in today's world."
In the documentary, William travels the country trying to convince men to open about their feelings, using soccer as a way to get them talking.
The prince is the current president of the Football Association and a keen supporter of both England and Premier League club Aston Villa.
He has been campaigning on mental health for many years and this is not the first time he has spoken out about the British tendency to have a stiff upper lip.
His first intervention came in 2017 after brother Prince Harry opened up about suffering 20 years of anguish over the death of their mother, Princess Diana.
The Duke of Sussex admitted getting counseling to help deal with the trauma and said in the years after the 1997 Paris car crash he felt like he wanted to punch someone.
Immediately after the interview was published, Prince William told charity CALM: "There may be a time and a place for the 'stiff upper lip' but not at the expense of your health."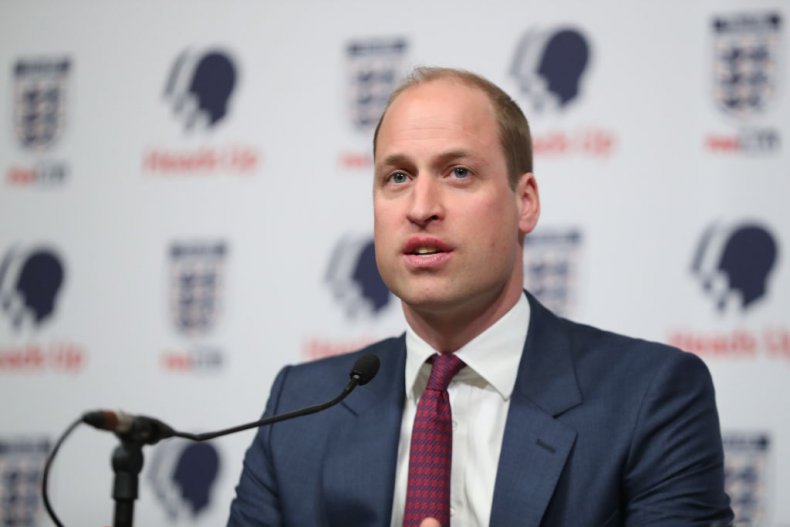 William's sister-in-law Meghan Markle said she tried to adopt the old-fashioned English tradition on entering the royal family but found it too much.
Last year, Meghan told ITV broadcaster Tom Bradby: "I've said for a long time to H— that's what I call him—it is not enough to just survive something, right?
"That's not the point of life. You've got to thrive.
"You've got to feel happy and I think I really tried to adopt this British sensibility of a stiff upper lip. I tried, I really tried.
"But I think what that does internally is probably really damaging."
The interview was part of a documentary in which she talked about her anguish at critical stories in the U.K. media and Prince Harry admitted a rift with his brother.