Prince William's 'Gesture' To Meghan Markle After Queen's Death Goes Viral
A video clip of Prince William extending a gesture to Meghan Markle in the days after the death of Queen Elizabeth II has been widely shared online after it was uploaded to the social media platform TikTok.
Viewed in excess of 250,000 times in less than 24 hours by TikTok user francispagemedia, the clip has received over 5,000 likes and 300 comments from fans after the publication of Prince Harry's memoir Spare, in which he claims William called Meghan "rude," and "abrasive" during a 2019 argument.
The TikTok video footage was recorded by news cameras on September 10, 2022, two days after Queen Elizabeth II's death at the age of 96 in Scotland.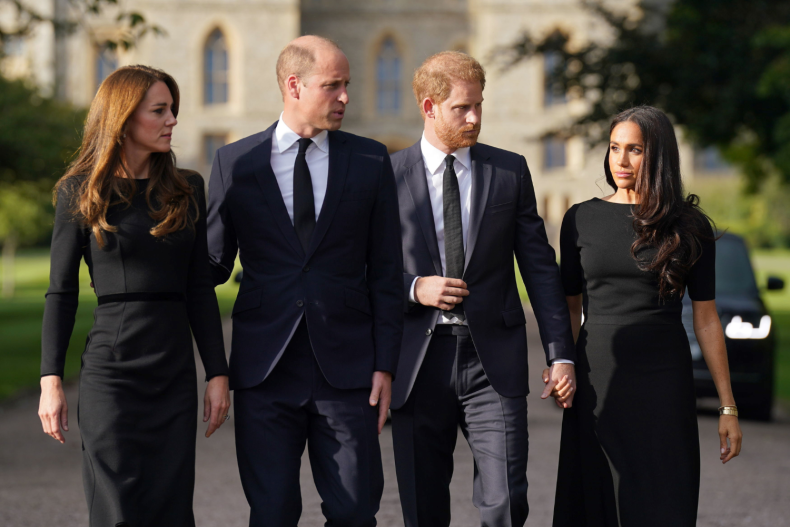 Harry and Meghan were visiting Britain at the time on a pre-arranged charity tour when news came that Elizabeth's health was failing. The prince traveled to Scotland where Prince William had arrived earlier, with Meghan and Kate staying at their homes on the Windsor Castle estate.
Two days after the queen's death, William, Harry, Meghan and Kate made an unexpected joint public appearance to view flowers left to the deceased monarch along Windsor's Long Walk. This was the foursome's first time appearing together in public since Harry and Meghan's last royal engagement in 2020, whereafter they stepped down from their roles within the monarchy and moved to the U.S.
Given reports of the strained relations between the couples, when they appeared together wearing mourning black, the press and the public scrutinized their interactions.
The clip which has been shared on TikTok shows William greeting an unidentified aide before looking behind him to introduce Meghan. This gesture has been praised by some, with the video's caption reading: "Prince William's kind gesture that was never mentioned in Prince Harry's memoir (Spare)."
"He is a gentleman and has impeccable manners," commented one user, with another adding: "William is a class act!🥰🥰🥰."
However, others have not credited the prince with making any special effort with his sister-in-law. "Is acknowledging someone considered a kind gesture or just manners?" said one commenter. "All he did was acknowledge her existence?" wrote another.
Since Elizabeth's death Harry and Meghan have spoken about their relationships with William and Kate, together in their Netflix docuseries Harry & Meghan and then the prince individually in Spare and a number of interviews promoting it.
A core revelation from Spare made by Harry is that the relationship shared with his brother growing up was never as close as it appeared to be to the general public.
When asked by 60 Minutes' Anderson Cooper about the decision to go into detail about his relationship with William, Harry said he did not write from the point of view of wanting to hurt his family, but to give "a full picture of the situation as we were growing up, and also squashes this idea that somehow my wife was the one that destroyed the relationship between these two brothers."
In one of the more explosive encounters between the brothers described in the book, Harry reveals that William confronted him at Kensington Palace in 2019, saying that Meghan was "rude. She's abrasive. She's alienated half the staff."
According to the prince an argument ensued which ended with William grabbing him by the collar and ripping his necklace. "He knocked me to the floor. I landed on the dogs' bowl, which cracked under my back, the pieces cutting into me," he wrote. "I lay there for a moment, dazed, then got to my feet and told him to get out."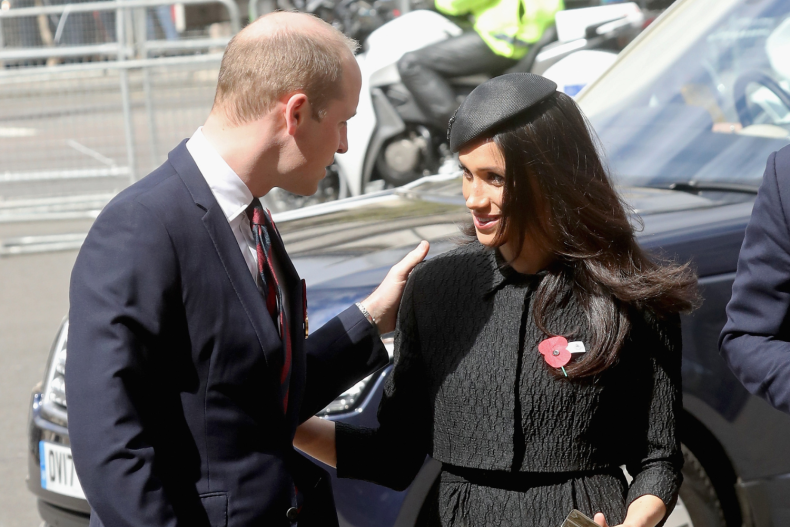 Meghan has been more reserved when discussing her relationships with her in-laws. During the Harry & Meghan Netflix show, the duchess revealed her surprise to discover that both William and Kate maintained a level of formality even behind closed doors.
"It's so funny if I look back at it now, because now I know so much and I'm so glad I didn't then. Because I could just authentically be myself without so much preparedness," she said of her first introductions to Harry's family.
"Even when Will and Kate came over and I met her for the first time, they came over for dinner and I was in ripped jeans and I was barefoot."
"It's like I was a hugger, I've always been a hugger," she said. "I didn't realize that that is really jarring for a lot of Brits."
"I guess I started to understand very quickly that the formality on the outside carried through to the inside...that there is a forward-facing way of being and then you close the door, and you go 'Oh...OK we can relax now.' But that formality carries over on both sides and that was surprising to me."
On the royals side, both Buckingham Palace and Kensington Palace declined to comment on Spare or the revelations made in the Harry & Meghan series.
James Crawford-Smith is Newsweek's royal reporter based in London. You can find him on Twitter at @jrcrawfordsmith and read his stories on Newsweek's The Royals Facebook page.
Do you have a question about King Charles III, William and Kate, Meghan and Harry, or their family that you would like our experienced royal correspondents to answer? Email royals@newsweek.com. We'd love to hear from you.