Princes William and Harry's Diana Statue Reunion 'Baby Steps' to Heal Rift—Experts
Princes William and Harry could be on the road to healing their fractious relationship after reuniting on Thursday to unveil a statue of their mother Diana, royal experts have said.
The brothers—who were seen together for the first time since the funeral of their grandfather Prince Philip in April—laughed and chatted before unveiling the monument in the gardens of Kensington Palace, on what what would have been their mother's 60th birthday.
Royal experts Katie Nicholl, Ingrid Seward and Robert Lacey expressed their belief that the event could be the first step in melting the frostiness in the brothers' relationship, which was exacerbated when Prince Harry and his wife Meghan quit their roles as senior royals and moved to California.
Speaking on True Royalty TV, Nicholl noted that the brothers putting out a joint statement about the statue was a step in the right direction.
"[The statement] was the perfect solution, because it suggests symmetry, it suggests togetherness," Nicholl said. "The simple fact is, Diana would be devastated that the brothers have fallen out.
"She said to those boys, 'Whatever you do, stick together.' And they haven't. They've come unstuck. But today, I think this statue represents a glue that will begin to adhere them together again… It's going to take more than just this to heal the rift, but this can be the start of that."
Agreeing, Lacey added: "What could be a better starting point than this? I mean, they're both there to pay tribute to and reflect on their mother and what she stood for."
Elsewhere in the broadcast, Nicholl spoke of the attention placed on the brothers on Thursday, saying: "Clearly, so much of the focus on today isn't just about the statue, though of course we wanted to see it. It is about the brothers, it is about the chemistry. It is about the interaction…
"Inevitably, today is going to prompt us and many other commentators around the world to speculate as to whether this is going to be the icebreaker. Is this what's going to be the precursor to the brothers finally being able to sit down and sort things out?"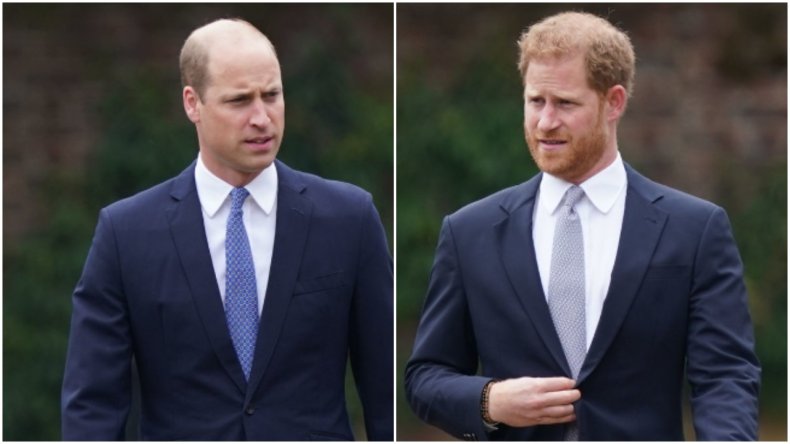 Nicholl added: "I think both of them looked relaxed, Harry particularly so. He's clearly at ease. Does that mean that everything is gong to be sorted and all the cracks smoothed over? I don't think so.
"But there is a levity between the two of them that clearly wouldn't have been appropriate at Prince Philip's funeral, so we're seeing it for the first time today."
Seward said the pair weren't "joshing together like they used to," but Nicholl pointed out that their interaction was notably friendlier than at the Commonwealth Day service in March 2019, when Prince William and his wife Kate made "no contact" with Harry and Meghan.
Lacey, who wrote the book Battle of Brothers about the princes, said of the Duke of Sussex: "He's pleased to be back in England, I think, on his own home territory with his family. I think we can read positive vibrations into what we've just seen.
"Obviously, it's not going to be a total reconciliation, but it's first baby steps to some sort of new arrangement in the future. We're not going to see Harry and Meghan come back and live in this country, but we already know they're going to come back for holidays."
Lacey continued: "We're dealing with deep-seated emotions here. William is defending his view of the monarchy and the role of the royal family and how he thinks it should behave, and how he thinks Harry and Meghan together have disrespected that.
"For Harry's part, he is defending the wife he loves against a family that, I'm afraid to say, he has said has even been racist in its attitude towards her… These are deep-seated emotions and they're not going to be papered over overnight."