Did Prince William Serve in the Military? How His Career Compares to Harry
Many are wondering how the military careers of Prince William, who was made Prince of Wales after the queen's death, and Prince Harry compare as discourse continues over who in the royal family is allowed to wear military uniforms to the funeral of Queen Elizabeth II.
The royals have given ample time to the British Armed Forces over the years, including Queen Elizabeth II herself, who served in the Auxiliary Territorial Service (ATS) in 1945 at only 17 years old. A princess at the time, she was assigned to the Mechanical Transport Training detail.
Amidst funeral duties and services, many members of the royal family, including Prince William, have been seen in military uniforms, while Prince Harry has not.
So how do Prince William's and Prince Harry's military careers compare?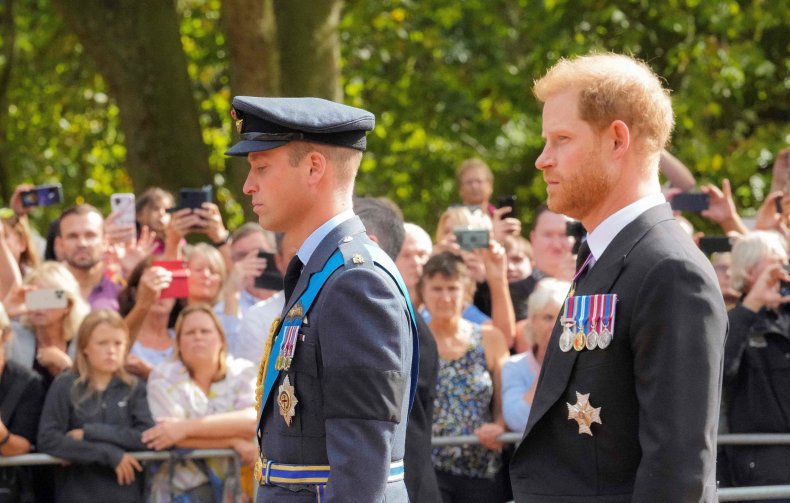 Prince William Military Service
Prince William graduated from the University of St. Andrews in Scotland in 2005 and joined the Royal Military Academy Sandhurst as an officer cadet.
According to the royal family's official website, Prince William completed a 44-week training course before he was commissioned as an army officer in December 2006. He then joined the Household Cavalry (Blues and Royals) as a second lieutenant, commanding a troop of four Scimitar armored reconnaissance vehicles, and was promoted to the rank of lieutenant the following year.
In 2009, the prince joined the Royal Air Force and the Royal Navy, pursuing a career in flying, for which he trained to be a search-and-rescue pilot and later became Flight Lieutenant Wales.
In 2010, he joined C Flight, 22 Squadron at RAF Valley in Anglesey as a search-and-rescue pilot and spent three years in the role, taking part in 156 search-and-rescue operations and undertaking a routine operational deployment to the Falkland Islands. He also became an operational captain.
Following his operational duties with the armed forces, Prince William later retrained to be an air ambulance pilot and worked for the East Anglian Air Ambulance from March 2015 until July 2017.
In a statement on the royal family's website, Prince William said of his time working as an air ambulance pilot, "I have loved being part of a team of professional, talented people that save lives every day. My admiration for our country's medical and emergency services community could not be any stronger."
Today, the Prince of Wales is patron of the Royal Air Force Battle of Britain Memorial Flight and Honorary Air Commandant of Royal Air Force Coningsby.
Was Prince Harry in the Military?
Prince Harry, the Duke of Sussex, also joined the Royal Military Academy Sandhurst in 2005 to begin his training as an officer cadet, and in 2006, he joined the Blues and Royals. He was commissioned as an army officer that year and took the salute at the Sovereign's Parade at Sandhurst. Prince William was also there as an officer cadet.
He completed his Troop Leaders' Course in October 2006 and joined his regiment, leading a troop of 11 soldiers and four Scimitar reconnaissance vehicles.
In 2008, the Ministry of Defence publicly confirmed that Prince Harry had been serving with the British army in Afghanistan for more than two months by that time. That year, he was promoted to lieutenant with The Household Cavalry, and Clarence House issued a statement saying, "Prince Harry is very proud to serve his country on operations alongside his fellow soldiers and to do the job he has been trained for."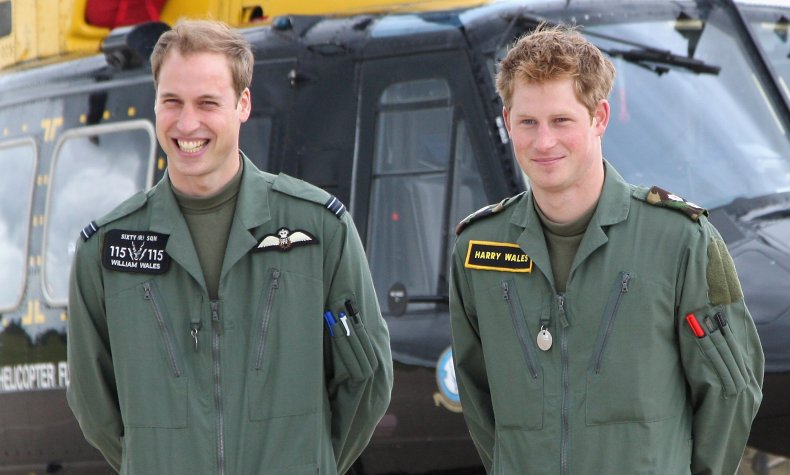 The Duke of Sussex served in the British army for 10 years, later becoming a captain. He spent two tours in Afghanistan and today continues to work with charities that support wounded men and women adapting to their lives after active duty.
Prince Harry lost his honorary military titles—Captain General of the Royal Marines, Honorary Air Commandant of RAF Honington and Commodore-in-Chief, Small Ships and Diving, Royal Naval Command—when he and his wife, Meghan Markle, decided to step back from their duties as royals. Because of this, Prince Harry will not be wearing his military uniform to Queen Elizabeth II's funeral.
Regarding the uniform, a spokesperson for the Duke of Sussex stated, "His decade of military service is not determined by the uniform he wears, and we respectfully ask that focus remain on the life and legacy of Her Majesty Queen Elizabeth II."
Newsweek reached out to a representative for the royal family for additional comment.