William, Harry Show United Royal Front Behind Queen As State Funeral Begins
Princes William and Harry presented a united front as they joined senior members of the royal family in walking behind the coffin of Queen Elizabeth II to Westminster Abbey on Monday for a state funeral.
The act of tribute to their late grandmother is the latest in a series of public appearances together, after the brothers weren't photographed side-by-side for over a year before her death.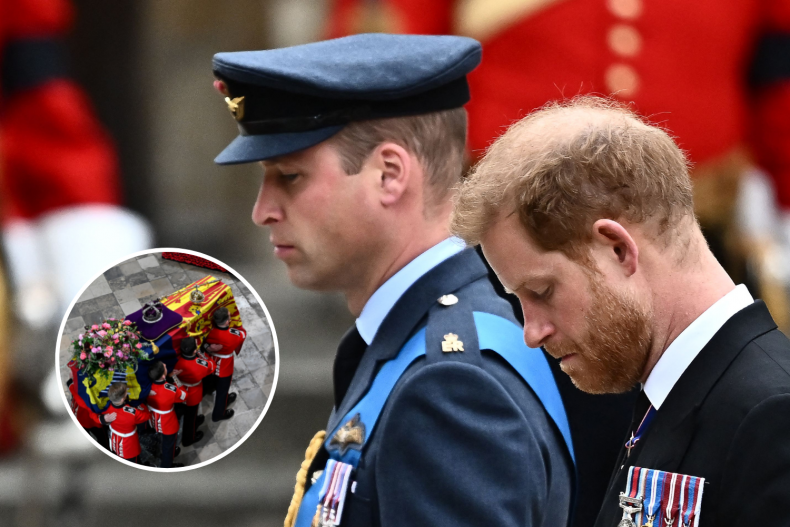 The funeral procession left Westminster Hall, where the queen's body had been lying in state, on Monday morning and was followed by her four children; King Charles III, Princess Anne, Prince Andrew and Prince Edward, as well as three of her grandchildren; William, Harry and Peter Phillips (the son of Princess Anne).
William appeared wearing military uniform of the Royal Air Force. Harry appeared wearing morning dress, having surrendered his military honors and right to appear in uniform when fully stepping down as a member of the royal family in 2021, despite serving two tours of duty in Afghanistan.
The subject of uniforms was prevalent throughout the ten-day national mourning period in Britain as support for Harry to wear his uniforms for the ceremonial events honoring his grandmother grew.
The prince himself said, via a spokesperson, that he would appear in morning dress and that he wished the focus to be centered on the late queen, not his appearance.
King Charles III stepped in to make a special request that Harry appear in uniform during a vigil at his grandmother's lying in state, following backlash after he granted the disgraced Prince Andrew permission to wear his, despite also having stepped down from a working royal role.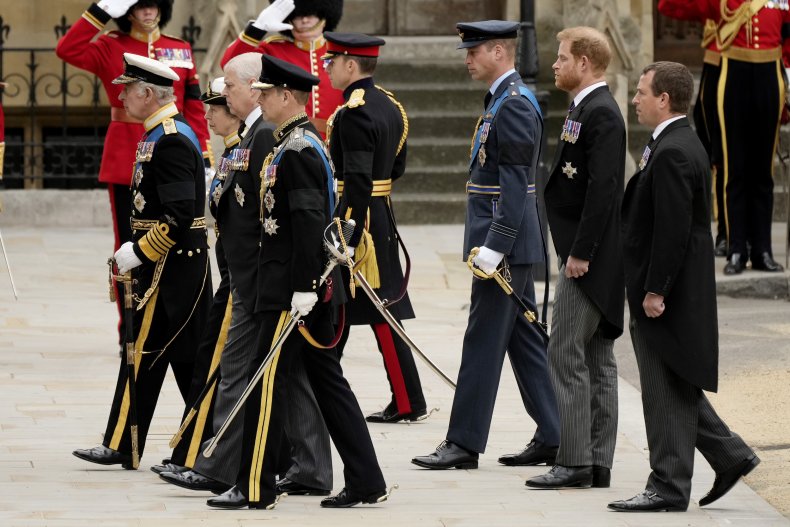 The royal party were joined at Westminster Abbey by their spouses, along with Prince George of Wales, 9, and Princess Charlotte of Wales, 7, for a procession down the abbey aisle at the start of the funeral.
The state funeral itself was attended by representatives of all nations with which Britain maintains full diplomatic relations. This included President Biden and the first lady of the United States, as well as monarchs from across the globe such as the Queen of Denmark and Emperor of Japan.
During the funeral Harry and wife, Meghan, were seated directly behind the king and Camilla, the queen consort. William and his family were seated in another section of the royal family members, in line with the king but on the other side of a small aisle.
The service included a reading by Prime Minister Liz Truss who was formally appointed by the queen in a meeting at Balmoral Castle just two days before she died.
Following the service at Westminster Abbey a second service will take place at Windsor Castle, where the queen will eventually be buried alongside her late husband, Prince Philip, who died in 2021.
It is not known how long Harry and Meghan will remain in Britain, but the couple are soon expected to return to their Santa Barbara home from where their son, Archie Mountbatten-Windsor, 3, attends pre-school.