Prince William Handed $1.2bn Property Portfolio as Next in Line to Throne
Prince William and Kate Middleton will see their annual income balloon by more than five times to almost $25 million a year as William becomes direct heir to the throne.
The new Prince of Wales takes over his father's official estate, the Duchy of Cornwall, which is worth more than £1 billion (around $1.2bn) and in 2021-2022 brought in more than £21 million ($25 million) for King Charles III while he was still a prince.
The property portfolio changed hands after Queen Elizabeth II's death on Thursday, September 8, because it belongs to the office rather than the individual.
William new role as next in line therefore brings a new job running the estate and considerable financial resources for him, Kate and his children when they are old enough to have their own royal careers.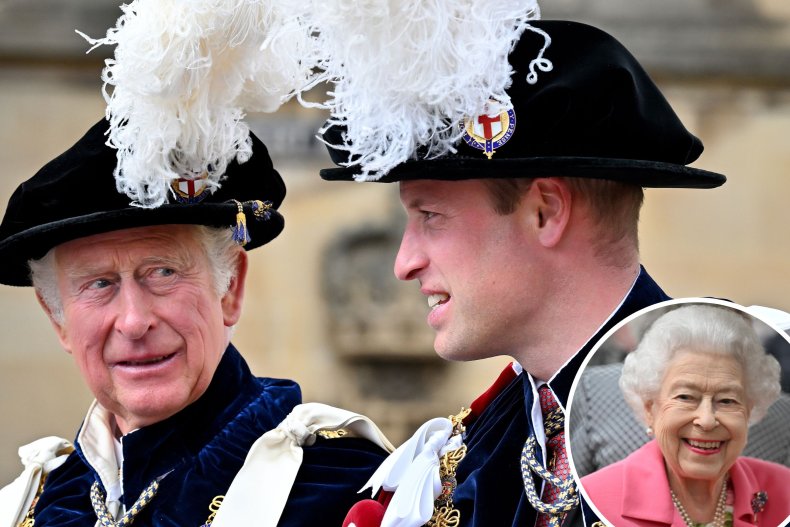 Ingrid Seward, author of Prince Philip Revealed, told Newsweek: "We might see a big new project but I don't think it will be immediate.
"I'm sure there will be something, William will want to make the role his own and it will be something big."
The prince has always been funded by the Duchy but before now he only had access to a much smaller slice of the money, which he shared with Prince Harry and Meghan Markle up until summer 2020.
Financial accounts from 2020-21 showed £4.4 million (then worth $6.1 million) assigned to the activities of The Duke and Duchess of Cambridge and The Duke and Duchess of Sussex.
The funding will provide a significant boost for his projects and also for wife Kate Middleton, who launched her Centre for Early Childhood in 2021.
Prince William has been preparing for the role in recent years in his role as Duke of Cambridge, just as his father has spent many years preparing to be king.
A note from the Duchy's most recent annual accounts reads: "HRH The Duke of Cambridge, along with some of his personal advisers, has continued to attend many of the non-executive Committees to learn more about the governance of the Duchy and the various initiatives that the Committees oversee, and to meet new members."
William's flagship project at the moment is the Earthshot Prize, which gives out £1 million awards to each of five winners every year to fund innovative solutions to the climate crisis.
It is run in partnership with big money private backers, including Jeff Bezos, and will run for 10 years until 2030.
William was due to fly out to the U.S. for a climate summit in New York City on September 21 to promote the awards, but his presence will no doubt now be cancelled as it takes place two days after Queen Elizabeth II's funeral.
Prince Philip's career-defining project was the Duke of Edinburgh Award, a youth achievement award which the royal family's website says has transformed millions of lives around the world.
Charles' was The Prince's Trust, which helps young people aged up to 30 get jobs or training, and was recently credited with helping launch the careers of stars including The Wire actor Idris Elba.
William and Kate work with many charities and have carved out specific niches, William in relation to supporting emergency responders and campaigning on men's mental health, for example, and Kate on early years' development in children.
However, neither has yet had the impact of the Duke of Edinburgh's award or The Prince's Trust.
This could all change now they have the financial resources of the Duchy of Cornwall behind them.
Do you have a question about Queen Elizabeth II, King Charles III or their family that you would like our experienced royal correspondents to answer? Email royals@newsweek.com. We'd love to hear from you.