William Jokes 'We're Looking for a Babysitter' With Kate During Royal Visit
Prince William and Kate Middleton joked with royal fans that they are "looking for a babysitter" after being complimented on their three children, Prince George, 9, Princess Charlotte, 7, and Prince Louis, 4, during a recent visit to Wales.
The couple interacted with members of the public on their first visit to the country since they took up their new titles of Prince and Princess of Wales which were bestowed on them by King Charles III when he ascended to the throne earlier this month.
The interaction came as the royal's visited St Thomas' Church in Swansea which acts as a community support center including a food bank.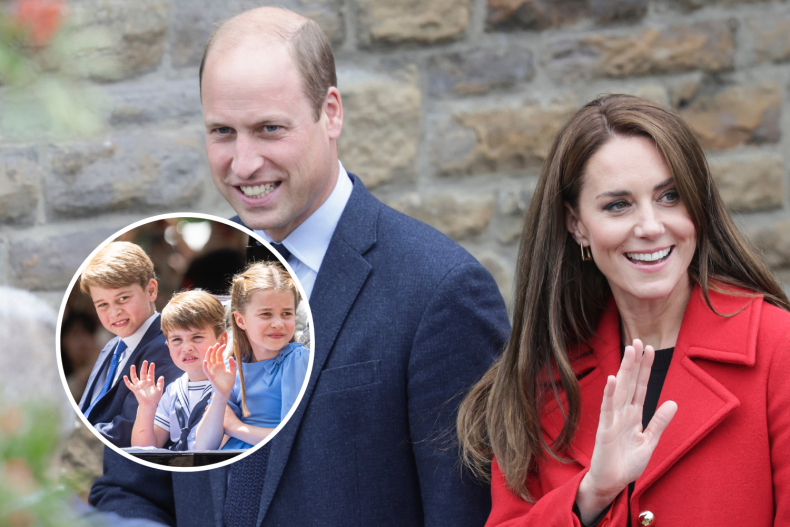 A video posted by one royal fan shows the couple and an unidentified lady who told them: "We love how you are raising your children. They are a credit to you!"
To which William responded: "You're very sweet," before going on to joke: "We're looking for a babysitter."
"I love you you're so real," the lady later told the prince. "Diana would be so proud."
Kate is the first royal to use the title of Princess of Wales since the death of Diana which occurred 25 years ago this August.
King Charles announced in his first address to the nation as monarch on September 9 that: "Today I am proud to create [William] Prince of Wales, the country whose title I've been so greatly privileged to bear during so much of my life and duty.
"With Catherine beside him, our new Prince and Princess of Wales will, I know, continue to inspire and lead our national conversations, helping to bring the marginal to the center ground, where vital help can be given."
As well as the visit to Swansea, the couple also stopped at Anglesey where they lived for a period of time following their 2011 marriage while William was a search and rescue helicopter pilot based at RAF Valley.
While in Anglesey, which was also home to Prince George in the first months of his life in 2013, William and Kate visited the RNLI Holyhead Lifeboat Station, which is one of the oldest of its kind in Wales.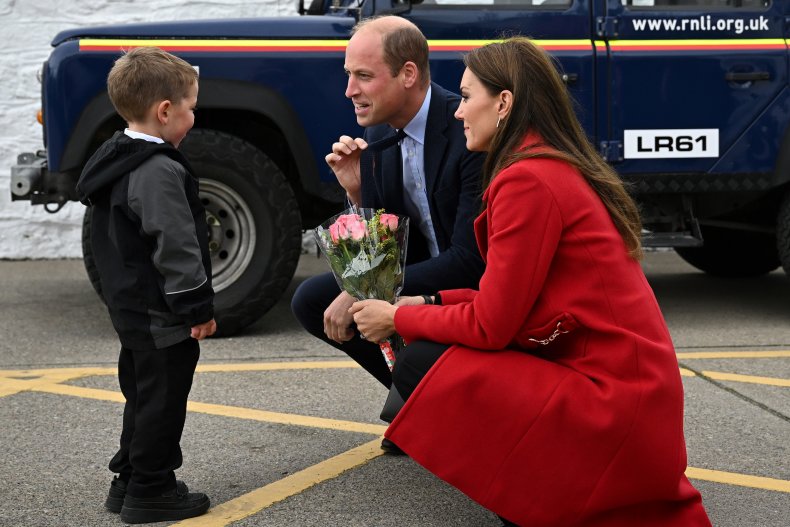 Royal fans shared a number of videos from the day's engagements which have since gone viral online including a "lovely" interaction between the princess and a young child who waited to give her flowers.
The video, posted by TikTok user geminem23, has gained over a million views in less than 24 hours with the caption: "This little local lad waited since 8:30 a.m. this morning to give Princess Kate flowers."
The clip showed William and Kate speaking with the young boy, with Kate wearing a bold red coat which had links to both Wales (being a deep shade of red matching that of the dragon on the Welsh flag) and Princess Diana (the style being LK Bennett's "Spencer" coat).
"I love how they talked to him extensively rather than just say thank you and move on. They were interested in him...lovely moment for a little boy," commented one user.
"I like how Kate smiled as she noticed him....motherhood shown in full force," posted another.
Both William and Kate are expected to spend more time in Wales over the coming months and years, following a statement from Kensington Palace released after Charles gave them their new titles.
"The Prince and Princess will spend the months and years ahead deepening their relationship with communities across Wales," the statement read.
"They want to do their part to support the aspirations of the Welsh people and to
shine a spotlight on both the challenges and opportunities in front of them."
Do you have a question about King Charles III, William and Kate, Meghan and Harry or their family that you would like our experienced royal correspondents to answer? Email royals@newsweek.com. We'd love to hear from you.