How Prince William and Kate Middleton's Anniversary Photos Compare to Past Ones
Prince William and Kate Middleton mark their 10th wedding anniversary on Thursday with two new pictures by a celebrity photographer who worked with David Bowie, Oasis and Sir Paul McCartney.
The Duke and Duchess of Cambridge still look very much in love in the images, taken at Kensington Palace this week.
Kate is wearing a blue wrap dress by Ghost, which according to the Daily Mail cost $270 (£195), while Prince William is wearing his trademark sweater and shirt.
The images were taken by photographer Chris Floyd, famous for his celebrity portraits, including during the Brit Pop era in the 1990s.
He photographed famous Indie bands of the era from Oasis to The Verve and Supergrass, and also Sir Paul McCartney and David Bowie, with some of his most famous images listed by the National Portrait Gallery.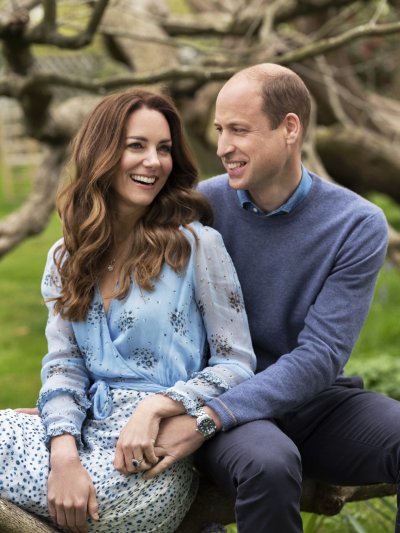 A Kensington Palace statement on Wednesday read: "The Duke and Duchess of Cambridge have released two new portraits ahead of their tenth wedding anniversary tomorrow. The photographs were taken at Kensington Palace this week by Chris Floyd."
Floyd posted on Instagram: "I recently visited Cambridge for the first time in my life.
"That same day, by an astonishing coincidence, was also the day I was asked to photograph The Duke and Duchess of Cambridge for their tenth wedding anniversary.
"It was a thrill to spend some time with them at Kensington Palace, especially as The Duchess is a rather keen photographer. Happy anniversary!"
The Royal Family's Twitter feed posted: "Wishing The Duke and Duchess of Cambridge a very happy wedding anniversary.
"Today marks ten years since Their Royal Highnesses exchanged vows at Westminster Abbey."
William and Kate met at St. Andrews University and had a long courtship before they were finally married on April 29, 2011, after eight years together.
The images Floyd captured bare a striking resemblance to the pictures from their engagement shoot taken 11 years ago in 2010.
Mario Testino was the photographer then, a year before the momentous Westminster Abbey ceremony in which Kate was made a future queen.
In a later interview with the Daily Telegraph, Testino said: "I waited a long time, an hour or two, to make that picture perfect.
"But I wasn't totally satisfied. Then, when I'd finished the shoot, they were about to leave and they suddenly hugged in front of a radiator.
"It was spontaneous emotion. You could see they were completely in love."
He added: "There's a kindness and a gentleness there that instantly wins you over."
Royal writer Penny Junor told PA news agency: "I think she [Kate] has been absolutely extraordinary and a model of what a future queen should be.
"She has got such poise and elegance and she's not in competition with William. She doesn't seem to be seeking fame.
"Everything about her is measured. She's a grown-up. She seems to care a lot about everything she's put her name to.
"And she's very good with people but she's not on an ego trip and I think that is absolutely crucial in that role."