Prince William and Kate Middleton have been hit by a fake break-up rumor picked up and spread by MSN.com.
There is nothing to suggest the Duke and Duchess of Cambridge are experiencing marital problems and they appeared happy together during a visit to Scotland on May 11.
However, an article on French-language website Oh My Mag wrongly suggested Kate had walked out with the couple's three children, the website's publisher told Newsweek.
MSN.com then ran a translation hosted on its own website, while a link to the story was posted to its 227,600 Twitter followers on May 17.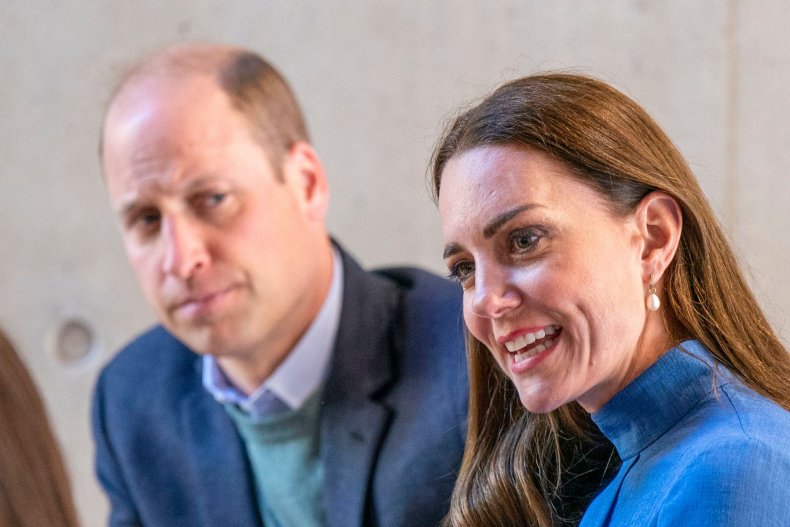 Outlandish conspiracies about the British royal family appear in the world's media from time to time but what is notable about this example is the role MSN.com played in giving the story the potential to reach a mass audience in Britain and America.
A spokesperson for Groupe Cerise, which owns Oh My Mag, told Newsweek: "This story is indeed false and has been published by accident. We are taking it down momentarily."
MSN.com eventually deleted its story after being approached for comment by Newsweek.
Newsweek also reached out to Kensington Palace for comment.
Needless to say, there have been no announcements and William and Kate are due to appear alongside each other on the red carpet at the premiere of Top Gun: Maverick at Leicester Square in London, on May 19.
Kate was also due to appear expected at a Buckingham Palace garden party with other royals on May 18, though William was not expected to be alongside her.
Oh My Mag's article was headlined: "Prince William and Kate Middleton separate as Duchess moves out with children."
The story suggested Kate had left with Prince George, Princess Charlotte and Prince Louis and attributed its content in turn to German website Schlager.de.
It is unclear whether the Duke and Duchess of Cambridge will call in their lawyers over the bizarre rumor.
Prince Harry and Meghan Markle have launched seven media lawsuits since 2019 but the rest of the royal family tend to be more restrained when it comes to legal action.
William and Kate have sued before over topless pictures of the duchess taken while they were staying at a French chateau and published in Closer.
The French magazine was ordered to pay €100,000 ($105,000) in damages to the couple in 2017.
Kensington Palace also complained over a story published in Tatler which initially appeared positive but contained several "lies."
The society magazine's cover bore the headline "Catherine the Great" but the article itself was altered online after months of wrangling.
Quotes attributed to anonymous sources were removed including that suggested that Kate had, since Harry and Meghan quit royal duties, been working as hard as a top CEO.
Also for the chop was the already denied claim Kate kept a poster of Prince William in her boarding school dorm along with some not entirely flattering comments on her mother Carole Middleton and sister Pippa.
For more royal news and commentary check out Newsweek's The Royal Report podcast: