William and Kate Body Language With Harry and Meghan Sparks Debate
Prince William and Kate Middleton's body language alongside Prince Harry and Meghan Markle triggered debate when the two couples met crowds at Windsor and inspected floral tributes for the late Queen Elizabeth II.
The new Prince and Princess of Wales appeared more reserved as they shook hands and thanked members of the public for their support.
One picture went viral on Twitter showing distance between the new Prince and Princess of Wales as the four royals first arrived by car from Windsor Castle.
The post was liked almost 600k times and read: "Hold on I'm about to become a body language expert."
The couple were also later seen standing closer together as they made their way up the rows of onlookers, exchanging warm words with royalists.
Another video showed Prince Harry opening the car door for Meghan, while Prince William and Kate got into their seats individually.
Harry and Meghan held hands as they made their way on the Long Walk, outside Windsor Castle, while one TikTok user suggested Harry may have gently guided Meghan to let William and Kate go first, in order of succession.
Nicholas Witchell, the BBC's royal correspondent, said during live coverage on the day: "Now I thought that Meghan looked rather anxious as she turned up there. There was some interaction between the couples, particularly between the brothers, but not a huge amount. They went to separate parts of the crowd of course."
Shola Mos-Shogbamimu, a prominent author and lawyer in Britain, wrote on Twitter: "How did #MeghanMarkle look anxious when all she did was walk calmly holding Prince Harry's hands & greet crowds something she's a natural at? But no issue with William & Kate body language?"
The four royals are, however, mourning the loss Queen Elizabeth II at age 96 and no doubt managing their own emotions as well as their public images.
There is no concrete way to know how many of these observations speak to a genuine truth about the couples and how many are simply speculation.
The joint walkabout between the four royals was the closest Meghan has come to William and Kate in public since her final royal duties in March 2020.
Prince William asked Harry and Meghan to join him and Kate, in a move widely interpreted as an olive branch between the brothers in the midst of a years-long rift.
It came minutes after William released his first public statement as Prince of Wales, describing how Queen Elizabeth II had helped him through some of his "saddest" days.
The apparent reference to the death of William and Harry's mother suggests Princess Diana may have been on his mind as he tried to process losing his grandmother.
The queen died at Balmoral, the Scottish castle where William and Harry were on holiday when they found out about Diana's death in 1997.
William said of Elizabeth: "She was by my side at my happiest moments. And she was by my side during the saddest days of my life. I knew this day would come, but it will be some time before the reality of life without Grannie will truly feel real.
"I thank her for the kindness she showed my family and me. And I thank her on behalf of my generation for providing an example of service and dignity in public life that was from a different age, but always relevant to us all."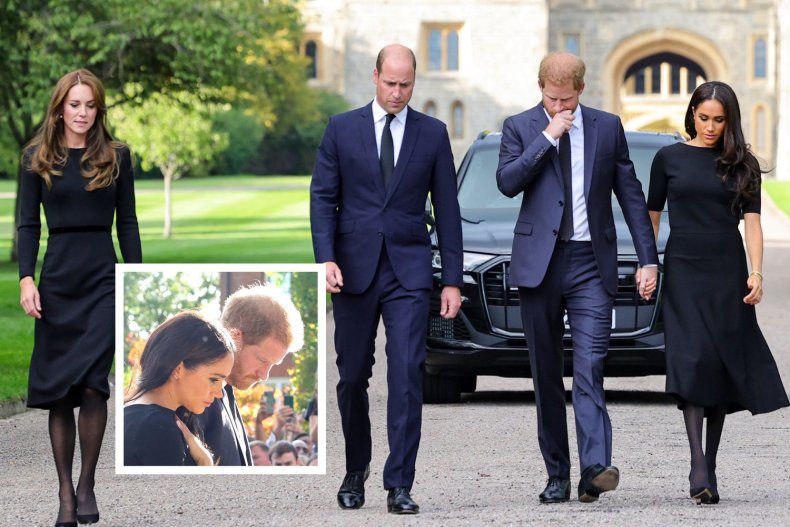 Meanwhile, Prince Harry's tribute statement, released on his Archewell website on September 12, read: "Let us echo the words she spoke after the passing of her husband, Prince Philip, words which can bring comfort to all of us now: 'Life, of course, consists of final partings as well as first meetings.'
"Granny, while this final parting brings us great sadness, I am forever grateful for all of our first meetings—from my earliest childhood memories with you, to meeting you for the first time as my Commander-in-Chief, to the first moment you met my darling wife and hugged your beloved great-grandchildren.
"I cherish these times shared with you, and the many other special moments in between. You are already sorely missed, not just by us, but by the world over. And as it comes to first meetings, we now honor my father in his new role as King Charles III."
Do you have a question about Queen Elizabeth II, King Charles III or their family that you would like our experienced royal correspondents to answer? Email royals@newsweek.com. We'd love to hear from you.