Prince William and Kate Middleton Mourn Family Dog, Brother James Middleton's Special Tribute
Prince William and Kate Middleton's family dog Lupo has died—and the duchess' brother has made a very special tribute.
The English cocker spaniel has been with the couple for nine years and was in some of the earliest pictures of Prince George.
For the prince and siblings Princess Charlotte and Prince Louis, Lupo has been a beloved pet for their whole lives.
Kate's brother James Middleton joined fans in sharing heartwarming messages for the family on Instagram, noting how difficult the death of a pet can be.
He revealed he lit a candle, said a prayer and went for a healing walk with Lupo's mother, Middleton family dog Ella.
William and Kate said in a statement on Instagram: "Very sadly last weekend our dear dog, Lupo, passed away.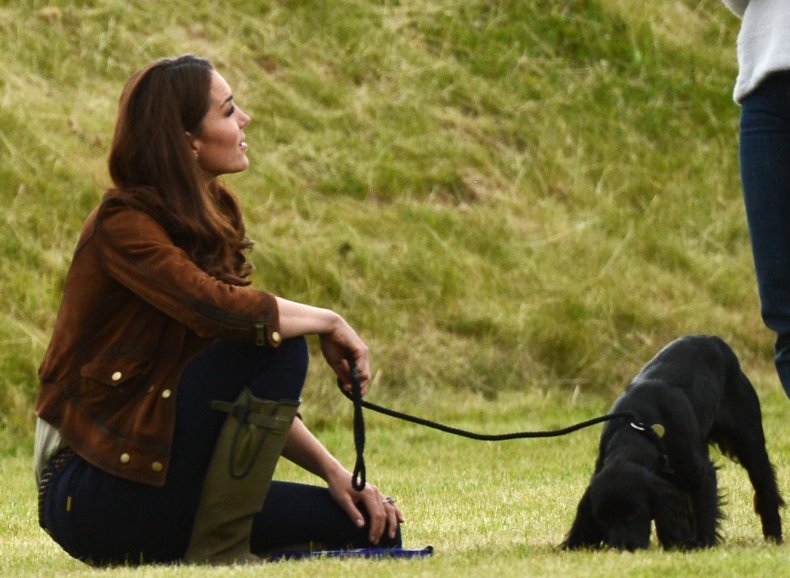 "He has been at the heart of our family for the past nine years and we will miss him so much."
The young Cambridge children now face Christmas without the beloved dog, which was bred from Ella, owned by Kate's parents Carole and Michael Middleton.
Kate revealed in March how playful Lupo used to interfere with family table tennis games during a visit to a respite center in County Kildare, in the Republic of Ireland.
Quoted in the Daily Mail, she said: "We try to do this at home but our dog keeps catching the ping pong balls."
James Middleton shared his own memories of Lupo in a post to his nearly 200,000 Instagram followers.
He wrote: "It is with great sadness that Lupo, the beloved dog of my sister Catherine and her family has passed away.
"Lupo was the son of Ella, brother to Zulu, Inka & Luna. He was 9 years old.
"Nothing can ever prepare you for the loss of a dog. For those who have never had a dog, it might be hard to understand the loss.
"However for those who have loved a dog know the truth: a dog is not just a pet; it is a member of the family, a best friend, a loyal companion, a teacher and a therapist."
He added: "The pain I felt from loosing my first dog Tilly back in 2017 still hurts and on hearing the news about Lupo brought a wave of emotions flooding back.
"There isn't much of a rule book on how to grieve for a dog, but I've said a prayer, lit a candle and taken Ella (Mum) for a long walk to spend time remembering Lupo.
"Rest in peace Lupo. Tilly & Mini will be waiting for you. You will always be remembered and your legacy will live on forever. Good Boy."
Dickie Arbiter, Queen Elizabeth II's former press secretary, said: "How very sad for the Cambridge family losing #Lupo who has been with them for nine years.
"He gave them lots of unconditional love, and anyone who has owned a pet will know the effect the loss of a pet can have on the family."