Prince William and Kate Middleton Fans Swoon Over 'Royal Puppy Chaos'
Archive footage showing Prince William and Kate Middleton sharing a light-hearted moment with puppies while on a five-day visit to Pakistan in October 2019 has gone viral on social media after fans of the couple posted it to TikTok.
William and Kate, known dog lovers, took the opportunity to meet the golden labrador puppies named Sky and Salto, who were training to detect explosive devices, while visiting an army canine center on the final day of their tour.
The couple were filmed by the accompanying press pack walking the dogs and giving them water, though the puppies were more interested in playing than drinking, causing their leads to tangle in a royal free-for-all.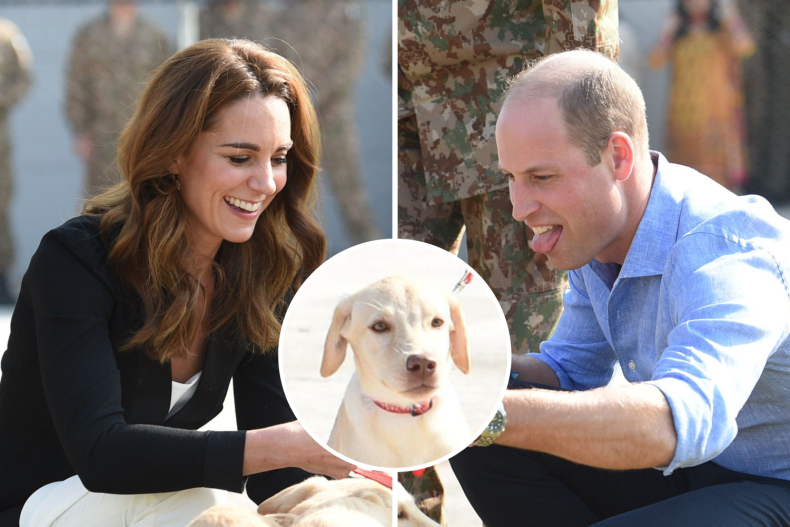 Uploaded to TikTok by user princessofwales2022, the short archive video has been viewed over 230,000 times and received in excess of 7,000 comments.
"Even the fur babies love Kate. William was lucky to have her," wrote one user.
"Who doesn't love a royal puppy chaos moment?" posted another, with a further commenter writing: "Awww 🥰 so Adorable."
The engagement saw the couple meet with members of the British Armed Forces who were working with the Pakistan Counter Improvised Explosive Device (CIED) program at an army canine center, where work was being done to try and reduce casualties caused by bombs.
The prince made a speech to journalists covering the trip, praising the serious work and support being offered by one nation to another.
"The fact that we're here today and witnessing U.K.-Pakistani security working together shows you how important it is and that, actually, what happens here in Pakistan directly correlates to what happens in the streets of the U.K.," he said, per Sky News.
"I think it's really important that everyone back home in the UK realises that we have a far-ranging, far-reaching projection of what we're doing and we're involved with the Pakistanis for a very good reason. It will actually keep people safe back in the U.K."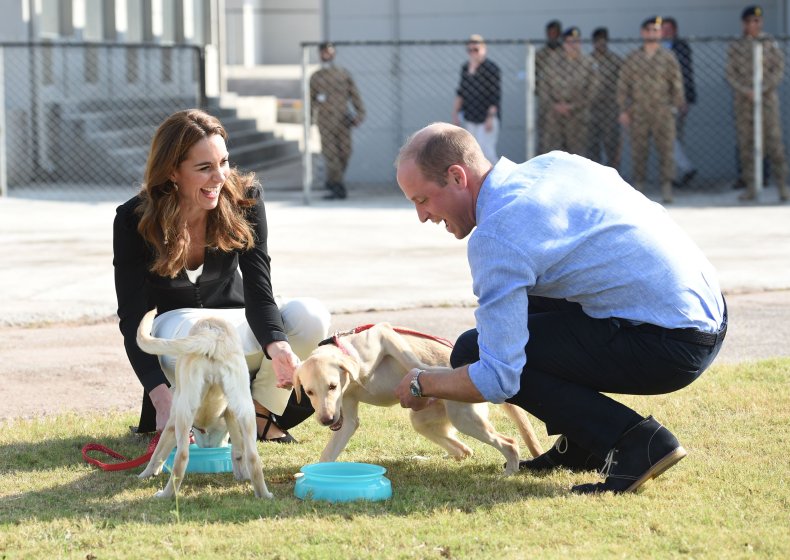 The royals' meeting with the service puppies wasn't the first time, nor will it be the last, that they have had an animal encounter while on an official visit.
In 2021, while visiting the Ulster University Magee Campus in Londonderry, Kate shocked her husband by volunteering to hold a large female tarantula spider brought by local mobile petting zoo, Kidz Farm.
Handling the arachnid, the princess laughed when she was told that it shared a name with her daughter, Charlotte.
Earlier this month, Kate also sparked a viral moment when she was filmed meeting a chihuahua named Casper during a launch event for her early-years initiative "Shaping-Us."
Petting the 10-year-old dog, who was sitting in a special stroller, the princess was filmed telling him: "Casper, you are very sweet. That's the way to live, isn't it? Being pushed around."
William and Kate have had two dogs since they married, both black cocker spaniels bred by the princess' brother, James Middleton. The first was born the year the couple married and they named him Lupo.
Lupo was a staple figure in family photographs and attendee at polo events throughout his life. He died in 2020, which was announced via the couple's official Instagram page, reading: "Very sadly last weekend our dear dog, Lupo, passed away. He has been at the heart of our family for the past nine years and we will miss him so much. - W & C."
In 2021, the couple welcomed their second dog, named Orla, who was photographed with Princess Charlotte in her official seventh birthday portraits, and accompanied William and Kate to the Royal Foundation charity polo match in 2022.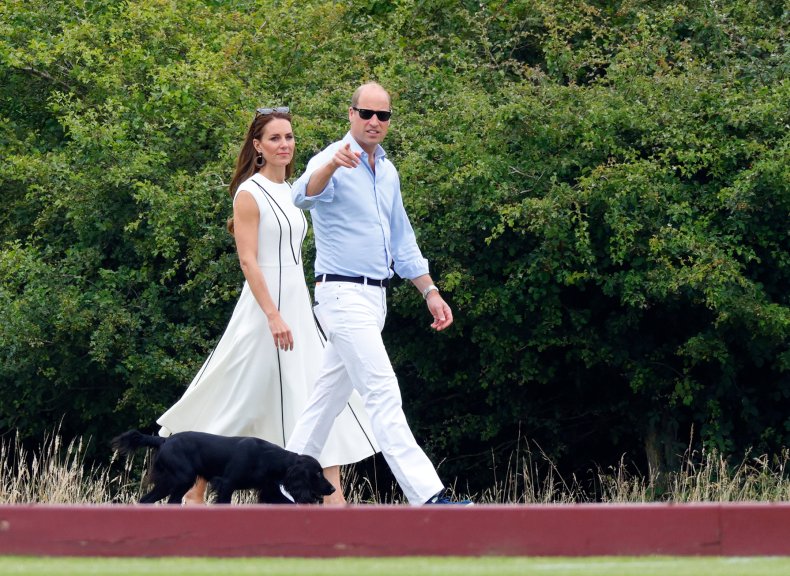 James Crawford-Smith is Newsweek's royal reporter based in London. You can find him on Twitter at @jrcrawfordsmith and read his stories on Newsweek's The Royals Facebook page.
Do you have a question about King Charles III, William and Kate, Meghan and Harry, or their family that you would like our experienced royal correspondents to answer? Email royals@newsweek.com. We'd love to hear from you.