Prince William and Kate Middleton's controversial tour of Jamaica faced new criticism over pictures of them greeting children through the holes in a wire fence.
The Duke and Duchess of Cambridge visited soccer players in Trench Town in the capital Kingston on March 22 and met Jamaican-born Manchester City star Raheem Sterling.
Pictures showed the royal couple shaking hands with children who had been watching William take part in a match through a wire fence.
The images were condemned by some on Twitter while others defended William and Kate.
Al Murray, a high-profile U.K. comedian, told his 430,500 followers: "YES THAT'S THE BEST PICTURE YES LET'S GO WITH THAT."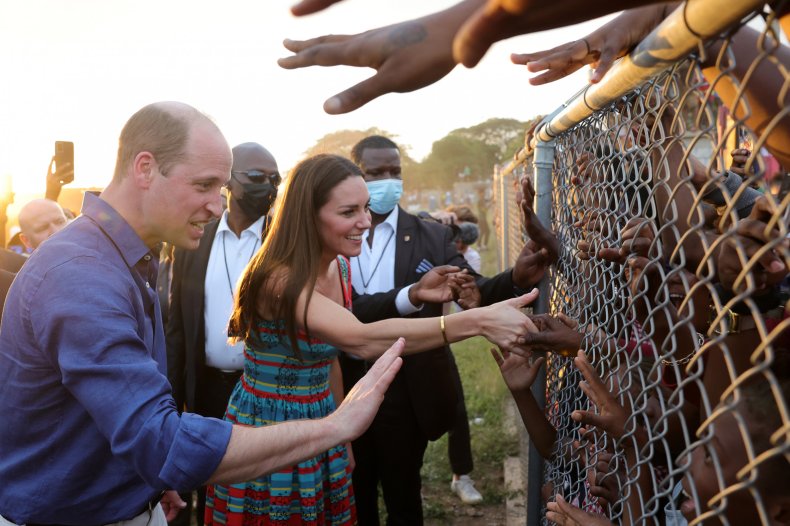 Sharmaine Lovegrove, publisher at inclusive Dialogue Books, was among those to post one of the pictures on Twitter, adding: "Everything about this is wrong."
Nadine White, race correspondent at The Independent, also posted a picture and wrote: "Children awaiting the royals' arrival in Trench Town, Kingston. I think this image is very striking. It reflects the underlying themes of William and Kate's tour thus far."
Omid Scobie, co-author of Finding Freedom, a biography of the Duke and Duchess of Sussex, stated on Twitter that a more diverse team might help William and Kate avoid unfortunate imagery.
He said: "I do wonder what the hell palace organisers were thinking with some of yesterday's photo moments.
"The planning and recon that goes into every step of these engagements is next level, so how did no one think to avoid certain imagery? This is why diversity on a team matters."
However, some did defend William and Kate, pointing out that Sterling also met those gathered at the fence.
Russel Myers, royal editor of the Daily Mirror, wrote on Twitter: "Sidenote: For all the commentary from tightly cropped pictures of William & Kate saying hello and shaking hands to people standing behind a metal fence, which was actually on a football field after a game, here is Raheem Sterling in the same place doing the same thing yesterday."
The backlash comes on the back of a protest at the British High Commission in Kingston, on Tuesday, where around 350 people gathered to call for an apology and slavery reparations.
There was seemingly an awkward moment between Kate and lawmaker Lisa Hanna of the People's National Party.
The opposition spokesperson on foreign affairs appeared to turn away from the duchess as Kate tried to smile at her, though other exchanges appeared more warm.
Hanna wrote on Twitter: "We had a very interactive and pleasant conversation throughout the proceedings as we talked about family, our cultures and our people.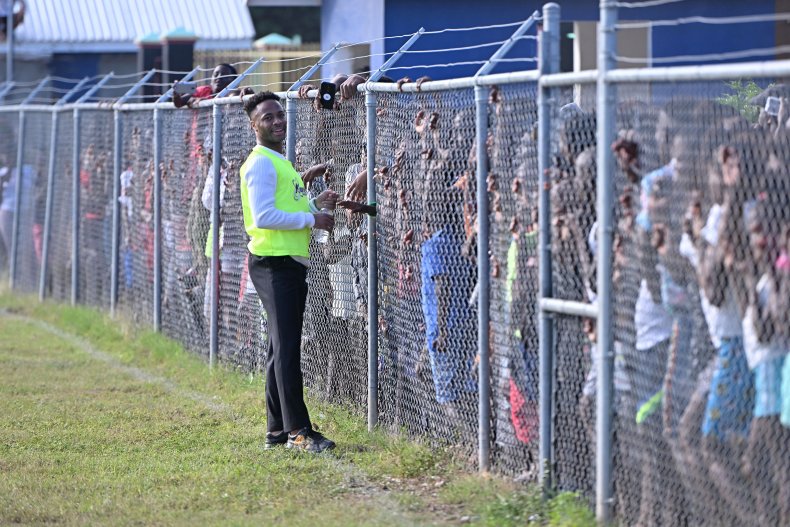 "There's no doubt at this time that we all seek our true independence and want to develop systems & strategies where we become free from the monarchy. But until then we will always remain a courteous and respectful country.
"I am a firm believer in reparations and as such when I was Minister of Youth and Culture I led the reparations committee which made strides in developing a legal submission to Britain which examined the economic cost of slavery to our country."
William and Kate's official Twitter account wrote: "Jamaica has made an extraordinary contribution towards music & sport globally, of which we saw on display today."
It added: "Thank you Trench Town."
For more royal news and commentary check out Newsweek's The Royal Report podcast: