William, Kate Portrait Panned By Art Critics: 'Frumpy, Inanimate, Sulky'
Prince William and Kate Middleton's first official joint portrait—unveiled on Thursday in Cambridge—has been panned by Britain's leading art critics, suggesting that viewers wanting to see a truer likeness would be "better off going to Madame Tussaud's."
The portrait was unveiled by the royal couple on a visit to the county of Cambridgeshire, from which they take their titles of Duke and Duchess of Cambridge. As the painting was commissioned by the Cambridgeshire Royal Portrait Fund as a gift to the county, it was decided that the piece should be imbued with symbols honoring this.
William and Kate are shown full-length against a background color palette inspired by the stone buildings of Cambridge. The duchess also wears a special brooch loaned to her by Queen Elizabeth II known within the royal family as "The Duchess of Cambridge's Brooch" having once belonged to Princess Augusta, Duchess of Cambridge (1797-1889).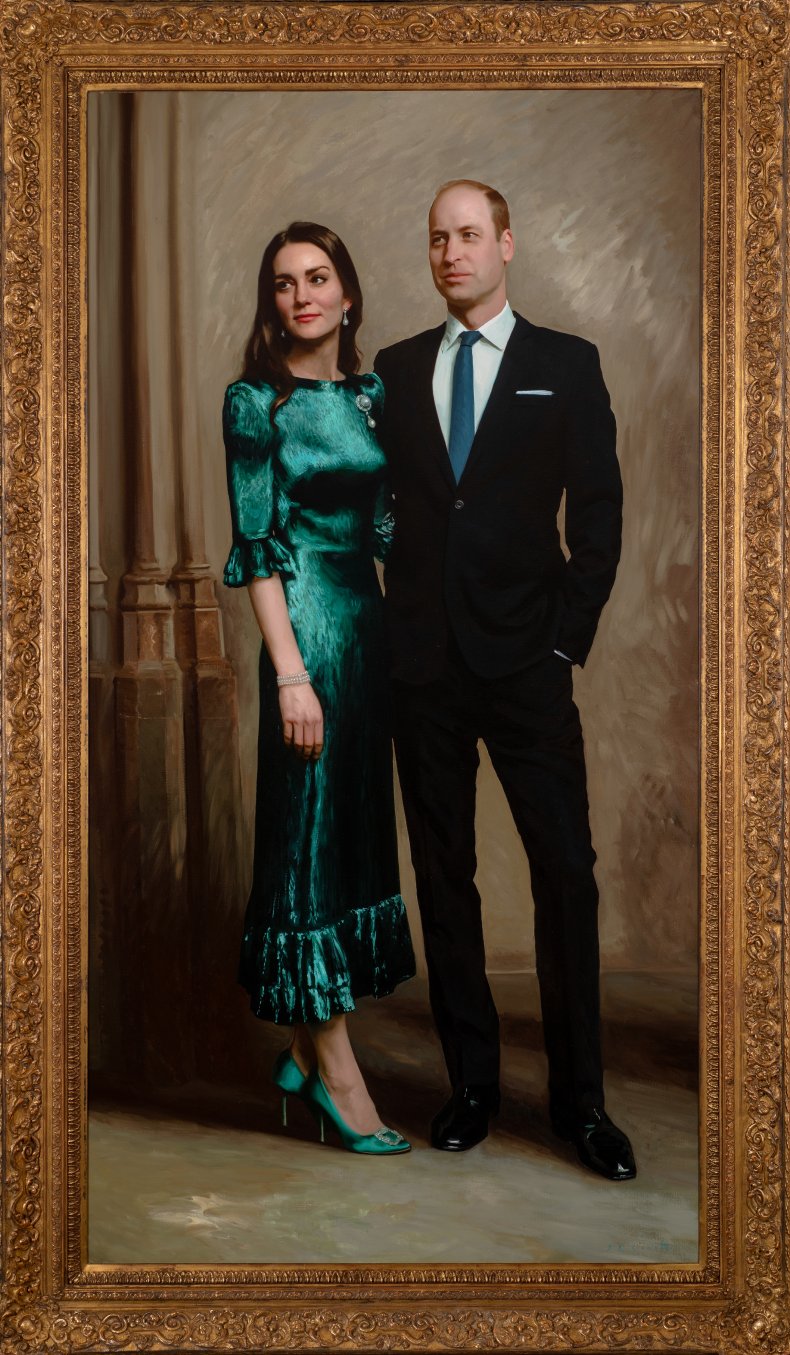 Jamie Coreth, the artist who created the piece—which will be displayed in the Fitzwilliam Museum for three years—said:
'It has been the most extraordinary privilege of my life to be chosen to paint this picture. I wanted to show Their Royal Highnesses in a manner where they appeared both relaxed and approachable, as well as elegant and dignified.
"As it is the first portrait to depict them together, and specifically during their time as The Duke and Duchess of Cambridge, I wanted the image to evoke a feeling of balance between their public and private lives."
Despite the portrait receiving a warm reaction from royal watchers on social media, Britain's art critics are less enthusiastic.
A.N Wilson, writing for the Daily Mail, reserved his most scathing criticism for the depiction of the duchess, who is shown looking to one side wearing a glamorous green shimmer dress by indie designer The Vampire's Wife.
Wilson describes the royal in the painting as "wistful, slightly petulant and actually unrecognizable as Our Kate."
He then goes on to say that she "deserves better than this frumpy, inanimate, rather sulky version of her," before adding:
"While the Cambridge family are certainly all still young and beautiful, they should be commissioning some good art to immortalize them.
"This would not just be an act of vanity. It would be a proclamation to the world, and to future generations, of why we pin our hopes on them for a continuation of the constitutional monarchy."
Wilson's criticisms were also echoed by The Times of London's chief art critic Rachel Campbell-Johnston, who described the painting as a "swagger portrait"—adding that it looks as though Kate is "sporting a five o'clock shadow."
Her assessment is that the image is overly flattering while making the sitters look like "shop window mannequins made to advertise a modern monarchy."
"If you want to meet them in replica," Campbell-Johnston concludes, "you would probably do better to go to Madame Tussaud's."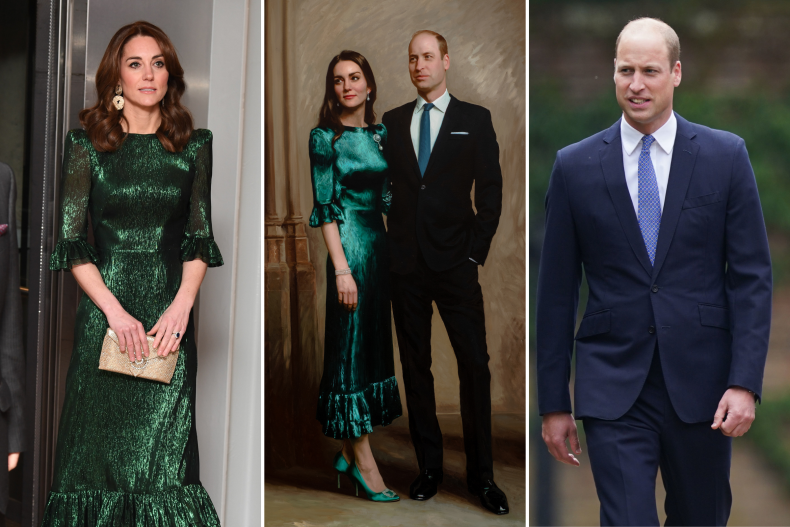 The Telegraph's Alastair Sooke had a slightly warmer reaction to the work, praising Coreth's skillful composition that offers "a flash of [William and Kate's] private selves, which counteracts the occasion's public formality."
However, even he admits to finding the execution of the portrait "a little weird," saying that it: "resembles a smartphone snap layered with various "effects".
Sooke adds that the overtly traditional elements incorporated into the painting made it feel too conventional. He said: "If William wishes, one day, to reinvigorate the monarchy with youthful energy, then may I humbly suggest that, next time he's choosing a portraitist, he doesn't play it quite so safe."
Despite the critics' consensus on the portrait the likeness of the popular royal couple has been praised on social media.
Broadcaster Dr. Joy Henningsen posted to Twitter her admiration for Kate's depiction in particular, adding that her choice of dress—previously worn on her first visit to the Republic of Ireland—had diplomatic connotations. She wrote:
"Duchess Kate's likeness is spot on. Prince William's is also quite good—altho he is more handsome than in this photo! I don't think I've been as fond of a portrait since the Obamas' [portraits] were released: a unifying image for the British Isles since Kate wore that gown in [Ireland] in 2020!"
Another user reacted on Twitter with the post: "the more I look at this portrait the more I realize how brilliant it is in so many ways. Their quiet confidence, their stance, their expressions. The way Catherine stands out as a shining jewel and William as a statesman... it's perfect."
As well as being displayed at the Fitzwilliam Museum in Cambridge, the painting of the future King and Queen will be loaned to London's National Portrait Gallery for a short period to mark the re-opening of the gallery, of which Kate is patron, in 2023.