Prince William and Kate Middleton Praised for Using Sign Language
Footage of Prince William and Kate Middleton using sign language during royal events has gone viral on TikTok, as fans praised the future king and queen.
The Prince and Princess of Wales have communicated in sign language at a number of royal events, showing their desire to ensure fans with hearing loss can still interact with them.
A video uploaded to TikTok was liked 188k times and viewed 2 million times after it showed a clip of Prince William congratulating an honors recipient in 2020 using sign language, followed by a more recent clip of Kate from February 2023.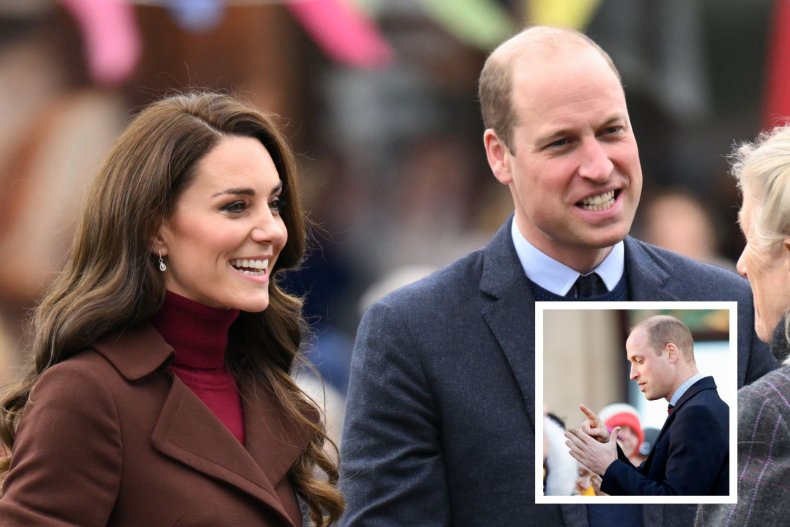 Account princesscatherine_ posted the footage with the message: "I'm not sure if Catherine is using BSL [British Sign Language] or Makaton. William staring at [his] wife."
One TikTok user commented: "Don't really care about the monarch but I hold great respect for these too. They will make a good KING and QUEEN."
The first clip comes from an "Investiture Ceremony" in which Prince William awarded an MBE honor to TV interpreter Alex Duguid at Buckingham Palace in January 2020.
William signed "congratulations Alex," The Independent reported at the time, while Duguid replied: "Thank you."
The second clip comes from a visit the royals made to the National Maritime Museum Cornwall, in Falmouth, England, on February 9.
The couple took part in a model boat race, and Kate appeared to have a more off the cuff sign language conversation with a pupil from King Charles C of E School as William stood beside her.
One boy from the school who took part in the race, eight-year-old Abe Roper, later told reporters: "I nearly had a crash with the Prince of Wales."
Charlotte MacKenzie, 10, added: "It was really exciting."
Meanwhile, Kate revealed the couple's three children, Prince George, Princess Charlotte and Prince Louis, were disappointed to miss out on the visit: "The children were upset they aren't coming because they have to go to school."
And she bumped into her old history teacher, Jim Embury, telling him: "I do recognize you. I remember the classroom and everything. Wow."
Quoted by the Evening Standard, she added: "That is such a small world. I'm trying to teach my daughter all the things you probably taught me."
It is not the first time she has spoken sign language and as early as 2014, three years after her marriage, the princess learned to sign the Scout Promise: "I promise to do my best, to be kind and helpful and to love my world."
Prince William also used sign language while communicating with a member of the public during a walkabout in Centenary Square, Bradford, on January 15, 2020.
Jack Royston is the chief royal correspondent at Newsweek, based in London. You can find him on Twitter at @jack_royston and read his stories on Newsweek's The Royals Facebook page.
Do you have a question about King Charles III, William and Kate, Meghan and Harry, or their family that you would like our experienced royal correspondents to answer? Email royals@newsweek.com. We'd love to hear from you.