William, Kate Stress Importance of Relationships Before Harry, Meghan Visit
Prince William and Kate Middleton have released a special "Mental Health Minute" message across 500 U.K radio stations discussing ways to tackle loneliness and stressing the "importance of human relationships" ahead of the start of Mental Health Awareness Week.
The release of the message comes a week after it was announced that Prince Harry and Meghan Markle would travel from the U.S to the U.K in June to celebrate Queen Elizabeth II's Platinum Jubilee. The relationship between William and Harry has been reportedly strained since the latter stepped away from his official royal role and moved to California with Meghan.
Former editor of Vanity Fair and author of The Palace Papers: Inside the House of Windsor, the Truth and the Turmoil, Tina Brown, told The Telegraph in a recent interview that things between the brothers were "very bad," especially since Harry's landmark 2021 interview with Oprah Winfrey, during which he made damning allegations against the royal family of being unsupportive of himself and wife Meghan after they married.
"I'm told there's absolutely nothing going on between them at the moment," Brown said.
In their message, which interrupted the broadcast of over 500 U.K radio channels, William and Kate encouraged the public to reach out to others who may be experiencing loneliness.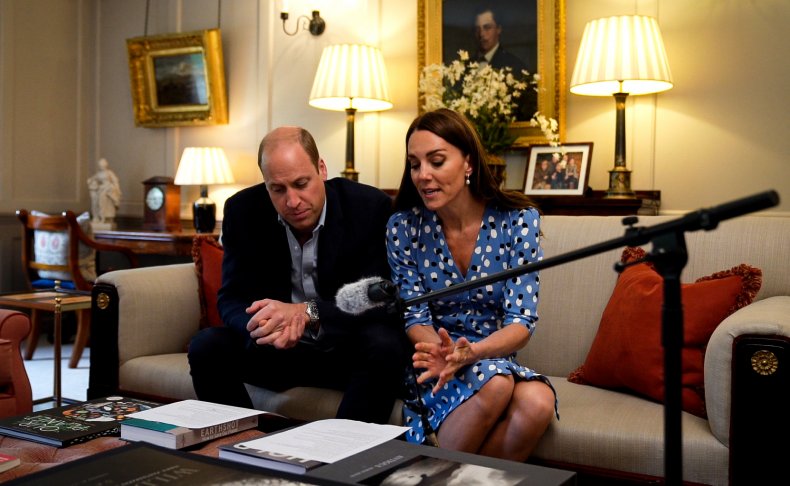 The speech was made in support of the Better Health—Every Mind Matters mental health campaign in collaboration with The Royal Foundation and Radiocentre, the commercial radio industry body.
"Hello I'm Catherine and I'm William" the royals introduced themselves in the message.
"And we'd like to talk for just one minute about loneliness."
"We can feel it for many different reasons," they continued, "But we can all help each other feel less isolated and more connected.
"The past two years have really reminded us of the importance of human relationships. So, if you think someone you know might be feeling lonely, just give them a ring, send them a text or knock on their door. Maybe suggest meeting for a cup of tea or a walk. Because these small acts of kindness can make a big difference and help us all feel less lonely."
The message's theme of loneliness reflects recent survey data that found 1 in 10 young people in the U.K feel lonely "often" or "always," making them the loneliest age group according to the Community Life Survey.
Relating to this, recent YouGov data reflects that young people aged 16-24 are least likely to feel comfortable asking for help, with 59 percent of those surveyed responding in this way.
The Better Health—Every Mind Matters campaign aims to end the stigma associated with mental health and aims to promote mental well-being among all age groups.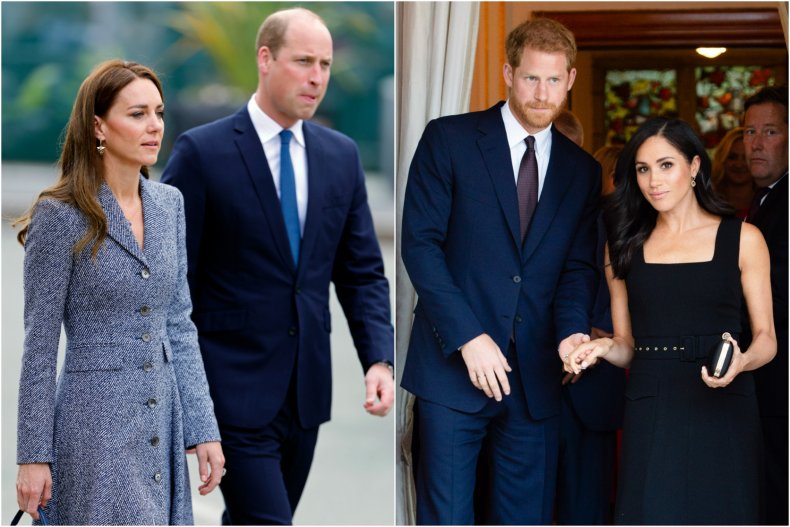 Royal Advocates For Mental Health
William and Kate have been supporters of the Mental Health Minute and Mental Health Awareness week for over five years, with both royals advocating for wider discussion of mental health, particularly with young children and adolescents.
Harry and Meghan have also proven to be passionate mental health advocates. In 2021 Harry became the chief impact officer of BetterUp, a Silicon Valley digital mental coaching platform that teamed up as an official partner of the prince's Invictus Games Foundation in 2022.
The loneliness and isolation experienced as a member of the royal family was highlighted by Meghan in her 2021 interview with Winfrey and was cited as a contributing factor by Harry in an earlier interview for removing his family from the U.K
"I mean, there was a day that one of the members of the family, she came over, and she said, 'Why don't you just lay low for a little while, because you are everywhere right now,'" Meghan recounted of coping with worldwide fame, experienced from behind palace walls after her marriage.
"And I said, 'I've left the house twice in four months. I'm everywhere, but I am nowhere'. And from that standpoint, I continued to say to people, 'I know there's an obsession with how things look, but has anyone talked about how it feels? Because right now, I could not feel lonelier.""
Speaking to James Corden in February 2021, Harry said of the negativity surrounding his and Meghan's royal roles especially from the press, "It was destroying my mental health. I was like, this is toxic. So I did what any husband and father would do—I need to get my family out of here."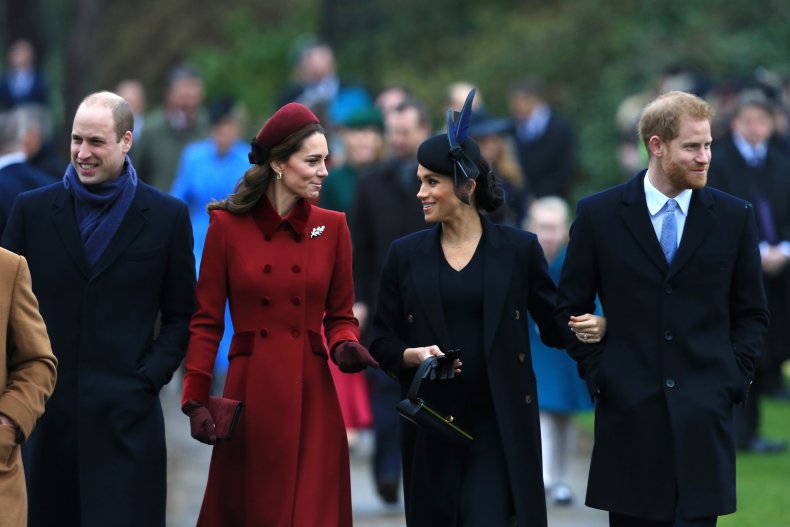 A Jubilee Reunion?
Since the broadcast of the interviews Meghan has not publicly met with William or Kate, with Harry being seen with his brother once in April 2021 for the funeral of Prince Philip and again that summer for the unveiling of a statue to Princess Diana at Kensington Palace.
The announcement that Harry and Meghan would be traveling to the U.K for the jubilee celebrations came after an interview given by Harry to the Today show, where he said security considerations depended on his decision whether or not he would be able to take his children to see the 96-year-old Queen.
"There's lots of things with security issues and everything else. This is what I'm trying to do, trying to make it possible that I can get my kids to meet her," he said.
Tellingly, later in his discussion with Today show host Hoda Kotb, the prince swerved a question as to whether he missed his brother and father: "At the moment, I'm here focused on these guys [at the Invictus Games] and these families," he answered.
The central weekend of Platinum Jubilee celebrations in London start on June 2 with a special Trooping of the Colour ceremony. It was announced by Buckingham Palace that only working royals would be invited to stand on the famous balcony after the event, which excludes Harry and Meghan.
Though the events that the couple will be attending have not yet been announced, the visit could provide the first opportunity for Harry, Meghan, William and Kate—once dubbed "The Fab Four"—to be photographed together in over two years.