Prince William and Kate May Face Slavery Protest Days After Visit Canceled
Prince William and Kate Middleton could be confronted by protests on their tour of Jamaica, just days after an engagement in Belize was canceled.
A coalition of politicians, business leaders, doctors and musicians is calling for reparations for slavery and planning direct action at the British High Commission in Kingston on Tuesday.
The news comes just days after a stop on the royal couple's tour of Belize was canceled due to a local protest against their arrival.
And a March 9 visit by the couple in support of the Ukrainian community in London led to a colonialism backlash after the duke said of Russia's invasion: "For our generation, it's very alien to see this in Europe."
Nadine White, The Independent's race correspondent, first reported news of the planned protest at the British High Commission, in Kingston, and an open letter by the Advocates Network to the royal couple.
The letter, seen by Newsweek, read: "We note with great concern your visit to our country Jamaica, during a period when we are still in the throes of a global pandemic and bracing for the full impact of another global crisis associated with the Russian/Ukraine war."
It added: "We see no reason to celebrate 70 years of the ascension of your grandmother to the British throne because her leadership, and that of her predecessors, has perpetuated the greatest human rights tragedy in the history of humankind."
White wrote: "NEW: A protest is due to take place in #Jamaica on Tuesday as Prince William & Kate visit the country during their royal tour. Organisers have also penned an open letter to the monarchy calling for slavery reparations. More on this soon. #Jamaica60 #AdvocatesNetwork."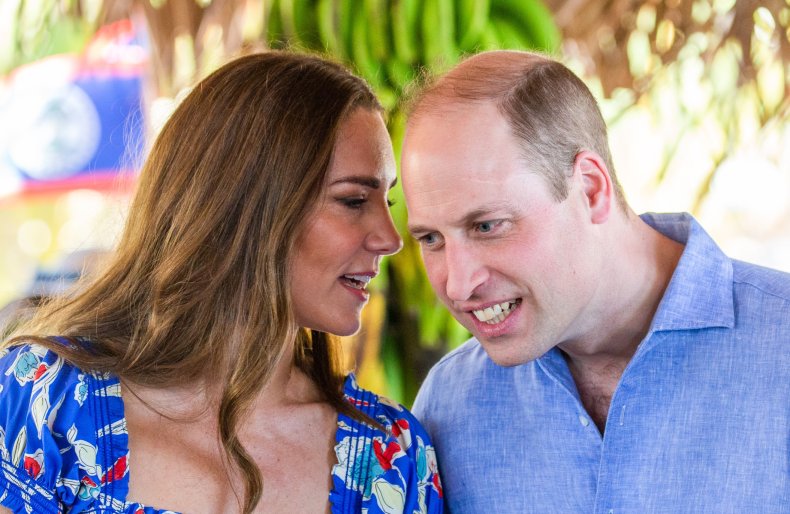 Prince William and Kate were due to visit Indian Creek, in Belize, on Sunday, March 20, but the stop was canceled on Friday after protests.
Plans for where the royal couple's helicopter was due to touch down appeared to be a flashpoint alongside a longer running dispute with conservation charity Flora and Fauna International (FFI), which counts William as a patron.
Sebastian Shol, chair of Indian Creek village, told The Daily Mail: "We don't want them to land on our land, that's the message that we want to send.
"They could land anywhere, but not on our land."
Quoted in The Guardian, a Kensington Palace spokesperson said: "We can confirm that due to sensitive issues involving the community in Indian Creek, the visit has been moved to a different location."
The couple's visit to the country went ahead with an adjusted itinerary and they were filmed dancing at the Maya cacao farm, Hopkins, on Sunday.
Prince William suffered a backlash, including from Martin Luther King Jr.'s daughter, following comments at the Ukrainian Cultural Centre, in London, on March 9.
For more royal news and commentary check out Newsweek's The Royal Report podcast:
The duke said: "For our generation, it's very alien to see this in Europe. We're all right behind you."
Initially, he was misquoted by the Press Association suggesting Britons were more accustomed to seeing war in Asia and Africa.
U.K. network ITV then released footage showing he had not explicitly named the two continents, however, some critics did not back down.
Among them, Bernice King, Martin Luther King Jr.'s daughter, wrote on Twitter: "I believe that we have a great deal of work to do globally to eradicate what my father called the Triple Evils of Militarism, Racism and Poverty.
"I believe that language matters in that work. And that it is harmful for a global figure to express war as 'alien to Europe.'"
The Caribbean tour was organized to celebrate the queen's Platinum Jubilee but also comes after Barbados removed the Monarch as its head of state in November.