Prince William Would 'Fully Support' His Children if They Were LGBT, but Fears 'Persecution and Discrimination'
Prince William told young people Wednesday he'd "fully support" any of his children if they identified as LGBT, but feared they would face discrimination.
He made the comments at the opening of a new services center for akt (the Albert Kennedy Trust) in Hoxton, East London, The Telegraph reported. The non-profit serves members of the LGBT community who are experiencing homelessness and other housing issues.
In a discussion with young ambassadors for the charity, William told Faz Bukhari, 28, from east London that he was nervous about the "hateful words, persecution and discrimination" his children might face if they identified as LGBT.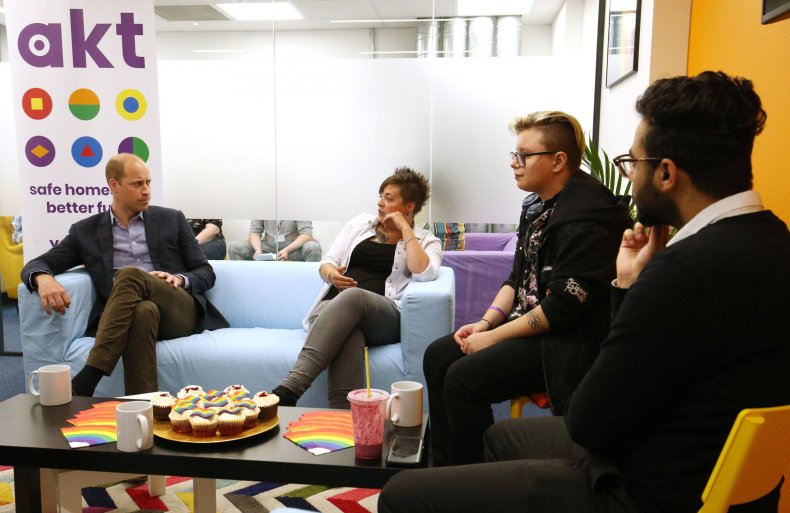 Bukhari asked the prince: "You coming here is a great opportunity and platform, what would you think about it if one [of] your children was LGBT?"
William responded: "It is something I'm nervous about, not because I'm worried about them being gay or anything. It's more about the fact I'm worried about the pressure—as you all know—they're going to face and how much harder their life could be."
The prince continued: "I wish we lived in a world where, like you said Faz, it's really normal and cool. But particularly for my family and the position that we are in, that's the bit I'm nervous about. I support whatever decision they make, but it does worry me from a parent's point of view how many barriers, hateful words, persecution and discrimination that might come."
He added: "That's for all of us to try and help correct, to put that in the past and not come back to that sort of stuff."
After their discussion, Bukhari told The Telegraph he it was good "that [William]...is aware there could be a backlash.
"He understands the issues and hopefully with his comments we can get more awareness across to more parents of the issues," Bukhari added.
The duke and his wife, Catherine, Duchess of Cambridge, have three young children: Prince George, Princess Charlotte and Prince Louis.
This isn't the first time William has met with young members of the LGBT community. Back in 2016, he discussed homophobic, bi-phobic and transphobic bullying with young people at Kensington Palace, as Attitude reported at the time.
The prince famously became the first British royal to appear on the cover of a gay publication when he posed for the magazine's front cover.
According to The Telegraph, he joked Wednesday about his appearance on the cover. Describing the shoot as "a good day" he quipped: "I'd seen some of the previous front covers and I was a bit nervous about what they might ask me to do."
Notable past Attitude covers include pictures of Harry Potter actor Matthew Lewis holding up a vest to reveal his muscles and British dancer and model Sam Salter clad only in wet briefs.