Prince William 'Must' Offer Reparations for Slavery—Trinidad Prime Minister
Prince William's condemnation of slavery was "not sufficient" and he "must" offer reparations, Trinidad's prime minister said.
The Duke of Cambridge denounced the "atrocity" of slavery in a speech at the end of day two of the Caribbean tour he undertook with Kate Middleton.
His words, on March 23, came after protests calling for an apology and reparations, but the royal stopped short on both counts.
With the tour now over, the fall-out has continued to spark debate in Trinidad and Tobago, despite the fact it was not one of the three countries visited. A former British colony, Trinidad and Tobago gained independence in 1962 and later became a republic.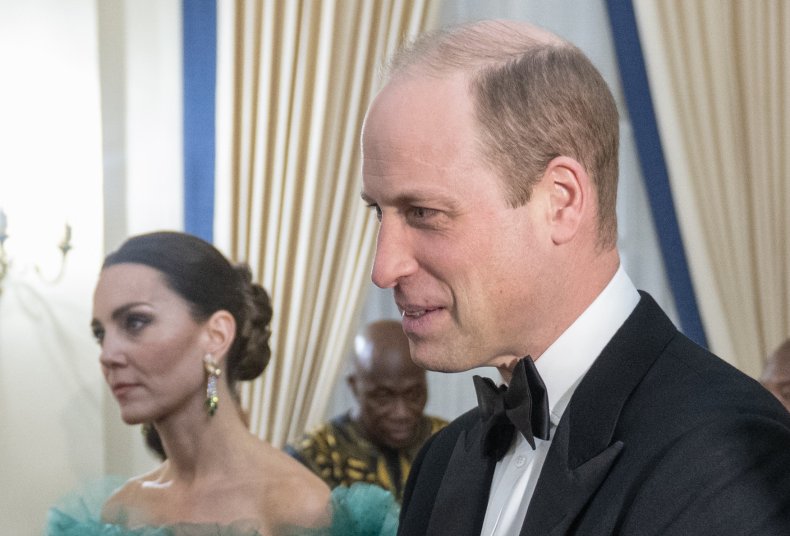 Prince William's Words 'Not Sufficient'
Quoted by Caribbean National Weekly, Prime Minister Keith Rowley said on Monday, March 28: "Recently I was very pleased to hear Prince William say that he acknowledged that slavery was wrong and that the British government, the British people, have some responsibility in that piece of unforgettable history.
"I was pleased to hear a member of the Royal Household in the United Kingdom. But tonight, I want to say to Prince William, having said that, I believe you.
"But I will believe you more if you do what you must now do, which is the offer of some reparation to the people who were wronged in the way that you have acknowledged."
Quoted by Loop Caribbean News, Rowley added: "It is not sufficient to say that 'I acknowledge it,' but not to seek to help those who were harmed by it."
The prime minister made his comments at an event organized by the ruling People's National Movement (PNM) marking the Spiritual Baptist Liberation Day.
Britain has a constitutional monarchy and the government sets policy on issues such as reparations for slavery. In 2015, then Prime Minister David Cameron ruled out making reparations for Britain's role in the historic slave trade.
Prince William told a reception at the Governor-General's residence in Kingston, Jamaica, on March 23: "I strongly agree with my father, The Prince of Wales, who said in Barbados last year that the appalling atrocity of slavery forever stains our history.
"I want to express my profound sorrow. Slavery was abhorrent, and it should never have happened."
Caribbean Countries 'Moving On'
His words came hours after Jamaican Prime Minister Andrew Holness told the couple in-person that his country was "moving on" and seeking independence, a nod to removing Queen Elizabeth II as head of state.
Henry Charles Usher, a minister in the government of Belize, indicated in Parliament a desire toward "truly owning our independence" and referenced decolonization on Thursday, March 24.
Talk of breaking with the monarchy was particularly jarring given the officially stated reason for the tour was to celebrate 70 years of Elizabeth's reign during her Platinum Jubilee year.
William and Kate also visited The Bahamas where they got an easier ride from the political class, though there were still grass roots protests.
Unlike those three countries, Trinidad and Tobago has been a republic since 1976 and so there is no prospect of Rowley removing the queen as head of state.
However, his remarks add to the growing sense that slavery and colonialism is a defining issue in relations between Britain and many Caribbean nations.
For more royal news and commentary check out Newsweek's The Royal Report podcast:
Hope for Prince William and Kate Middleton
There was some hope though for William and Kate as Kamla Persad-Bissessar, Trinidad and Tobago's opposition UNC party leader, offered a different perspective.
She suggested the country missed out on inclusion in the royal visit due to the prime minister's lack of diplomacy, in a virtual meeting on Monday night.
Quoted by Loop Caribbean News, she said: "When I was prime minister, at the time they were celebrating the Jubilee... we also had a visit from the Royal Family.
"On the world's stage, we have become a non-player, we have become not important."
She added: "It is because we have a prime minister that has no diplomatic skills."