Prince William Praised for Hugging Man in Echo of Meghan Markle Debate
Prince William hugged an older adult during a visit with echoes of one of Meghan Markle's very first royal jobs.
The Duke of Cambridge showed his emotional side when he met William Burns during a visit to Glasgow on Wednesday as part of a two-day tour of Scotland.
Together with Kate Middleton, he also posed for selfies during a down-to-earth walkabout that conjured up a debate from the earliest days of Meghan's time as a working royal.
Prince William and Kate Middleton's Very Warm Glasgow Walkabout
William and Kate shook hands and posed for pictures with members of the public during a royal walkabout at the Wheatley Group, in Glasgow, Scotland, on Wednesday.
The moment that really caught the eye of headline writers, however, came when the prince hugged Burns, 66, who appeared overwhelmed at meeting a future king.
The Daily Mail ran the headline: "Touching moment Prince William ripped up the royal rulebook to embrace an elderly man who was overcome with emotion during walkabout in Scotland."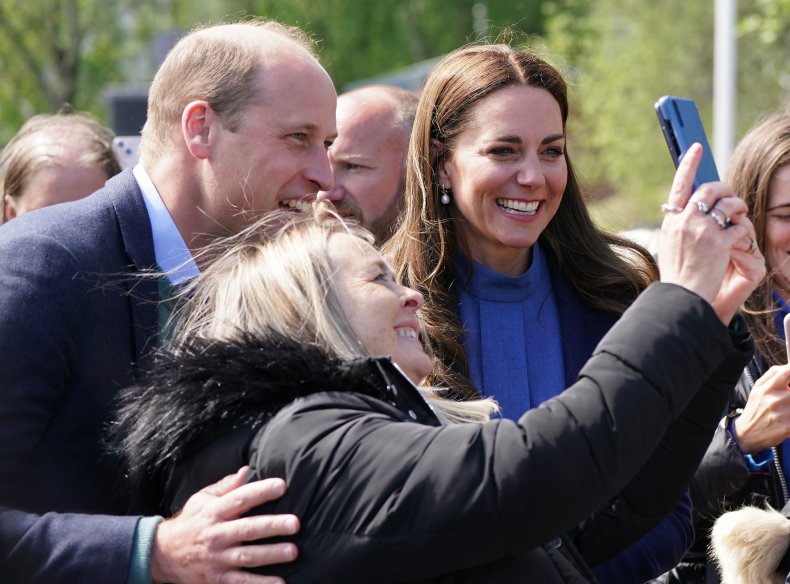 Meanwhile, the Daily Mirror ran: "Prince William has proved men can still hug each other—and it matters."
Feature writer Emily Retter wrote: "I realized what was making me look twice was the hug itself.
"Not just because it was a rare instance of a Royal hug. But simply, because it was a hug between two men.
"Because men still don't hug each other much, and it took a very public 'man hug' to remind me of that."
On the second day of his tour, Prince William visited Heart of Midlothian Football Club, in Edinburgh, where he was given shirts for his children with their names emblazoned on the back.
He was there to support "The Changing Room" project run by the Scottish Association for Mental Health.
Meghan Markle Hugs Fans on Visit to Wales
Meghan moved to Britain after announcing her betrothal to Prince Harry in November 2017, before her first royal engagement in Brixton, London, in January 2018.
However, the debate about her hugs caught the public imagination after her second job took her to Cardiff, Wales.
The soon-to-be duchess was photographed hugging, posing for selfies and signing autographs, leading to a spate of headlines suggesting she breached royal protocol.
Prince Harry set her up on one occasion, telling a group of school children at the Star Hub: "Everyone give Meghan a group hug."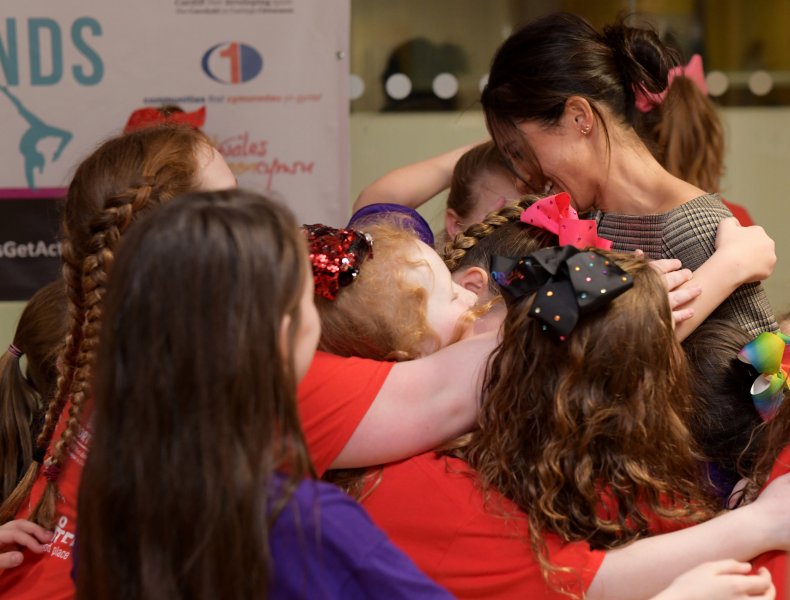 There were further hugs on her early royal jobs in Edinburgh, Scotland, that February and in Birmingham that March.
Much of the coverage described the hugs as breaches of royal protocol, though many of the articles themselves were not otherwise critical.
A headline in The Sun in April 2018, read: "Meghan Markle can't stop breaking royal etiquette as she hugs guest at Invictus Games trials... and shows she's a natural with kids with cute toddler."
Bonnie Hammer, chairman of the NBCUniversal, told the 2018 documentary Inside the Royal Wedding how Meghan told palace staff she was a hugger.
Quoted by The Sunday Times at the time, Hammer said: "The guards would greet her and walk her in. After the first couple of times . . . she started giving a hug to the guys, which wasn't exactly protocol. And at some point, somebody said to her, 'Well, people don't really do that.' She literally said, 'I'm American. I hug.'"
How the Coverage Compares
The Harry and Meghan biography Finding Freedom describes the coverage of Meghan at the time as unfair.
Authors Omid Scobie and Carolyn Durand wrote: "Among her other 'wrongdoings,' according to reports, were that she walked ahead of Harry at one point, high-fived a fan, and gave one little girl a personalized autograph complete with both a heart and a smiley face.
"(The 'autograph' was actually a tactful Meghan dodging the favor by writing the young girl's name instead, since signing one's own name as a royal was a no-no.)
"'Why let facts get in the way of a story,' a Kensington Palace aide complained that night."
Prince William's hug was described in the Mail as ripping up the rulebook rather than breaching protocol, but the two phrases arguably amount to similar statements.
A similar phrase did also appear in one Daily Mail article about Meghan's Cardiff visit headlined: "Ripping up the royal rule book! Meghan sports JEANS for her visit to Cardiff with Harry as she loosens the reins on protocol by signing autographs, posing for selfies and even letting one fan kiss her hand."
For more royal news and commentary check out Newsweek's The Royal Report podcast:
Much of the coverage of Meghan deviating from protocol at that time in early 2018 was positive about her, particularly by 2022 standards that have seen criticism of the duchess become far more extreme.
Piers Morgan has taken to calling Meghan "Princess Pinocchio," while Dan Wootton, a presenter on GB News, has referred to her as "Me Gain."
By contrast, the Metro described one protocol breach as a "powerful moment," while the Mail's article on the Cardiff visit read: "Meghan proved she was just as popular as her husband-to-be in Cardiff, with crowds cheering her name and swamping her in hugs during her first trip to the country.
"Adoring fans queued up from 6am for a chance to get to greet the couple."
The royal family website describes the protocol for meeting royals while noting it is not mandatory: "There are no obligatory codes of behaviour when meeting The Queen or a member of the Royal Family, but many people wish to observe the traditional forms.
"For men this is a neck bow (from the head only) whilst women do a small curtsy. Other people prefer simply to shake hands in the usual way."