Prince William Reveals Gift That Made Kate Middleton Grimace
Prince William describing Kate Middleton's reaction to being given a pair of binoculars has gone viral on TikTok.
The Prince of Wales met with former professional soccer player Peter Crouch, sport journalist Tom Fordyce and then-BBC Radio 1 DJ Chris Stark to talk about mental health over a curry and beers at Kensington Palace in London.
The quartet discussed Prince George and William's favorite English soccer team, Aston Villa, before getting onto the subject of presents.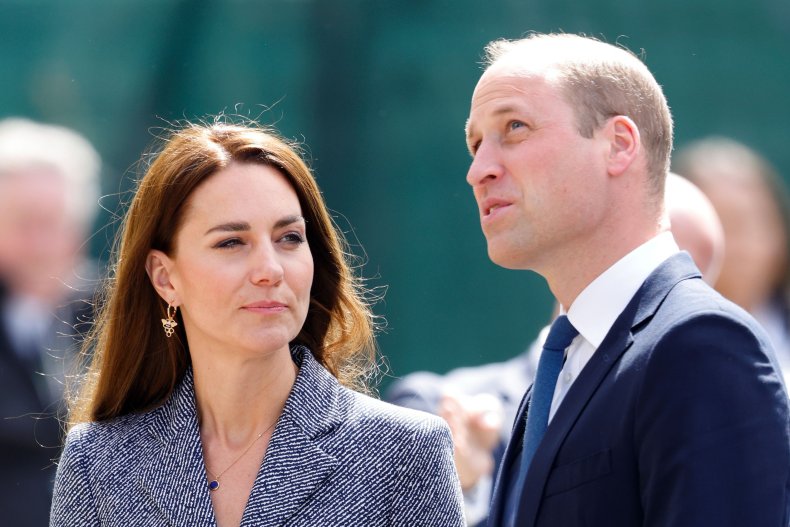 William said that he once gave the Princess of Wales a pair of binoculars as a present but did not get the reaction he was hoping for. The royal told his guests: "I wrapped them. They were really nice. I was trying to convince myself about it. I was like, 'But these are really amazing, look how far you can see!'
"She was looking at me, going, 'They're binoculars. What's going on?' It didn't go well. Honestly, I have no idea why I bought her a pair of binoculars," added William.
The clip dates back to July 2020 and comes from an episode of BBC Radio Five Live's That Peter Crouch Podcast. It has gone newly viral after being posted on TikTok. The footage has received nearly 290,000 views and been liked almost 40,000 times.
It was posted with the message: "William once gave Catherine binoculars as his gift early on in their relationship, and he tried convincing her it was nice binoculars since you can really see things from afar, and she said yeah, bc [because] they're binoculars, what's going on!?"
Elsewhere in the interview, William said: "We all have mental health, and we all have to stay mentally fit... It's a strength to talk about your mental health. It's not a weakness. You know if you're not feeling well, something's bothering you, talk about it—it's not a problem."
Stark later discussed the experience on The Andy Jaye Podcast: "We were there, kind of talking about his campaign, but then we were all a couple of pints in, in this conversation, and then I found that we were having a genuine chat with [Prince William].
"You could see him drop having to think too much around the party line or whatever it was he was trying to focus on and just talk. It was so nice to see," Stark added.
Jack Royston is chief royal correspondent for Newsweek, based in London. You can find him on Twitter at @jack_royston and read his stories on Newsweek's The Royals Facebook page.
Do you have a question about King Charles III, William and Kate, Meghan and Harry, or their family that you would like our experienced royal correspondents to answer? Email royals@newsweek.com. We'd love to hear from you.