Prince William Says Fatherhood Brought Back Emotional Trauma From Princess Diana's Death
Prince William has admitted becoming a dad brought back the death of his mother Princess Diana during a moving interview with a soccer star.
The Duke of Cambridge said raising his three children triggered emotions he thought he'd "dealt with" about his mother's 1997 death in a car crash in Paris.
William, 37, was just 15 at the time and famously had to walk with 12-year-old brother Prince Harry behind her coffin in front of weeping crowds at her funeral.
Diana and boyfriend Dodi Fayed died as driver Henri Paul crashed their car while fleeing the paparazzi in the Pont de l'Alma tunnel in August.
Newsweek subscription offers >
The Duke of Cambridge, 37, spoke to English soccer player Marvin Sordell, who lost his own father, for upcoming BBC documentary, Football, Prince William and our Mental Health.
William told the athlete: "Having children is the biggest life changing moment, it really is.
"And I agree with you, I think when you've been through something traumatic in life, and that is your dad not being around, my mother dying when I was younger, your emotions come back in leaps and bounds.
"Because it's a very different phase of life and there's no-one there to help you.
Newsweek subscription offers >
"I definitely found it, at times, overwhelming. Me and Catherine support each other and go through those moments together.
"We evolve and learn together. But I do agree with you, I think emotionally things come out of the blue that you don't ever expect or maybe think you've dealt with."
He added: "It's one of the most amazing moments of life, but it's also one of the scariest."
Prince Harry previously revealed how Prince Charles broke the news to the two brothers that their mother had passed away, saying "he was there for us."
They last spoke to her by phone from Queen Elizabeth II's Balmoral Estate the day she died.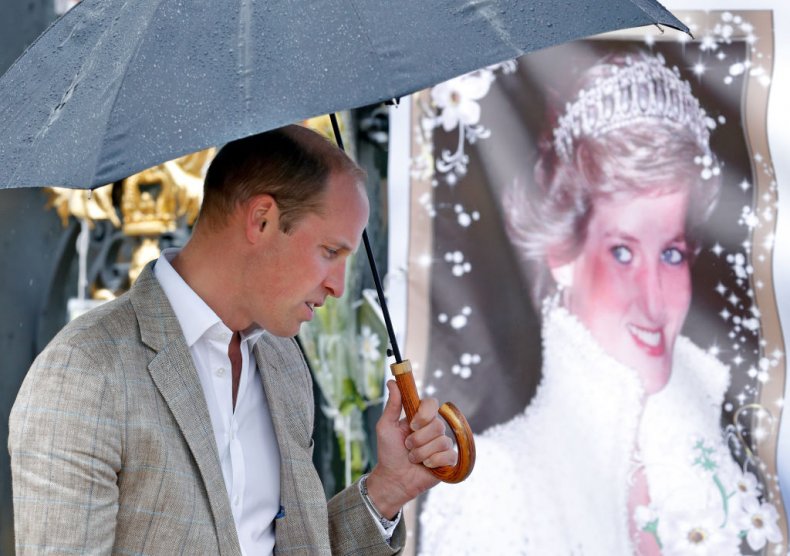 In a 2017 documentary, Prince Harry said of the call: "It was her speaking from Paris, I can't really necessarily remember what I said but all I do remember is probably regretting for the rest of my life how short the phone call was."
Prince William said in the ITV film: "Harry and I were in a desperate rush to say goodbye, you know, 'see you later.'
"If I'd known now obviously what was going to happen I wouldn't have been so blasé about it and everything else.
"But that phone call sticks in my mind, quite heavily."
As ex-Bolton Wanderers player Sordell posted a photo with Prince William, he tweeted: "A man from a council estate and one from royalty could be looked at as very different, yet this picture is simply.
"Two men, two dads, two people who have struggled with mental health.
"We all have our own journey."
Prince William Says Fatherhood Brought Back Emotional Trauma From Princess Diana's Death | News