Prince William's Slavery Comments 'Tone Deaf' After No Apology—Protesters
Prince William's denunciation of slavery during a tumultuous tour of Jamaica was itself condemned by a protest movement because it "whitewashes" monarchy's involvement.
The Advocates Network of Jamaica staged a 350-strong protest in Kingston on Tuesday, March 22, calling on William and Kate Middleton to apologize for Britain's colonial past.
The Duke of Cambridge spoke out on the subject during a dinner at the governor-general's residence the following day.
In the March 23 address, he said: "I strongly agree with my father, the Prince of Wales, who said in Barbados last year that the appalling atrocity of slavery forever stains our history.
"I want to express my profound sorrow. Slavery was abhorrent, and it should never have happened.
"While the pain runs deep, Jamaica continues to forge its future with determination,
courage and fortitude."
However, his carefully chosen words stopped short of an apology and did not change the stance of the protesters, a coalition of academics, entrepreneurs, politicians, musicians and others.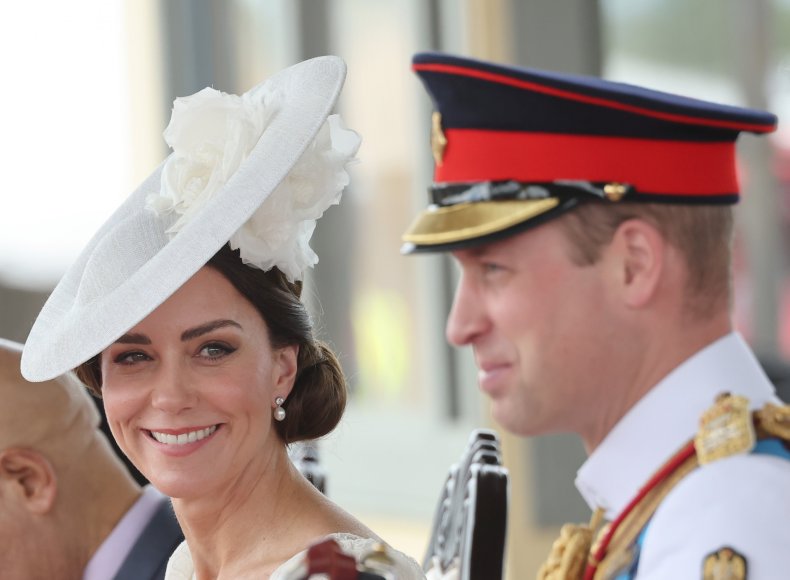 The Advocates Network said in a statement sent to Newsweek: "There was no responsibility taken! No call out of centuries of British bloody conquest and plunder. No call out of the dehumanization and exploitation.
"Expressing 'gratitude for the immense contribution that this generation and descendants made ...which continues to enrich our society' whitewashes the abhorrent involvement and enrichment of the Monarchy of which the Duke is heir. There was no committing to reparations.
"This 'tone deaf' statement echoes the well-crafted words of his father. It does not rise to the level of the formal apology that we deserve.
"All that it does is to confirm the insensitivity of the Royal family to the plight of Jamaicans today, both here in Jamaica and in Britain."
William and Kate's eight-day tour of the Caribbean got off to a difficult start when a protest in Indian Creek, Belize, led to a stop on their visit scheduled for Sunday, March 20, being cancelled.
It then emerged a further protest calling for slavery reparations and an apology was planned in Jamaica for Tuesday, which attracted 350 people.
Another protest took place on their second day when around a dozen Rastafarian campaigners gathered at a visit to the Caribbean Military Technical Training Institute, near Montego Bay, on March 23, the Press Association reported.
Most significantly of all, however, Jamaican Prime Minister Andrew Holness signaled the country's desire to break with the monarchy during an on-camera face-to-face meeting with the royal couple.
He said: "We are very, very happy to have you. I hope you will see the warm welcome of the people.
"Jamaica is a very free and liberal country. And the people are very expressive, and I'm certain that you would have seen the spectrum of expressions yesterday."
He continued: "There are issues here, which are, as you would know, unresolved. But your presence gives an opportunity for those issues to be placed in context, put front and center, and to be addressed.
"But Jamaica is, as you would see, a country that is very proud of our history, very proud of what we have achieved.
"And we're moving on. And we intend to attain, in short order, our development goals and fulfill our true ambitions and destiny as an independent, developed, prosperous country."
For more royal news and commentary check out Newsweek's The Royal Report podcast: