Prince William Visits 5-year-old Christchurch Victim, First Responders: 'A Good Friend Doesn't Pick up the Phone When People Are in Need'
Prince William and New Zealand Prime Minister Jacinda Ardern have surprised a 5-year-old survivor of the Christchurch attacks, visiting her in hospital.
Prince William, often referred to as the Duke of Cambridge, made the visit as part of a New Zealand tour honoring the 50 individuals killed in the March 15 shootings, as well as commemorating the nation's military veterans.
Kensington Palace, the prince's official residence, said in a statement he met with 5-year-old Alen Alsati while she recovered at Starship Children's Hospital in Auckland.
The small child was injured in the Christchurch attack, which targeted two mosques. She woke from a coma earlier this week after suffering critical injuries in the deadly shooting.
In a video posted on Twitter by the Palace, Alsati can be heard to ask William if she has a daughter. "She's called Charlotte. She's about the same age as you," the prince replies, referring to his middle child, three-year-old Princess Charlotte of Cambridge.
Earlier in the day, William met with first responders to the March shootings. The Associated Press quoted New Zealand Police Commissioner Mike Bush as saying the prince asked the medics and officers whether they were taking care of themselves.
"A good friend doesn't pick up the phone when people are in need. You travel to their place and you put your arms around them," Bush said William, who worked as an air ambulance pilot, had told the first responders.
On Friday, the prince is scheduled to visit the two mosques where the shootings took place.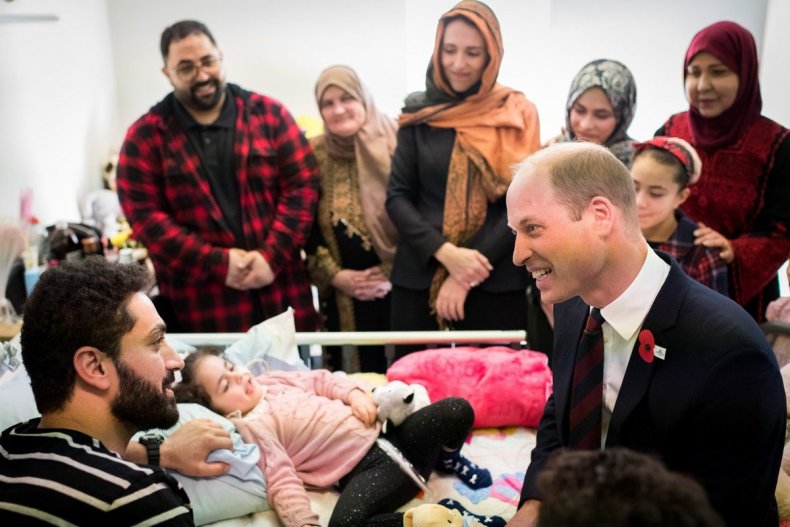 William, who is second in line to the British throne, arrived in Christchurch this morning, flying in from Auckland, where, according to the New Zealand Herald, he attended the Anzac Day Civic Service at the Auckland War Memorial with Ardern.
Anzac Day is a public holiday in New Zealand and Australia commemorating the World War I landing of troops at Gallipoli. More than 10,000 soldiers from the two countries were killed during the 1915 campaign in modern-day Turkey. William lay a wreath at the memorial on behalf of his grandmother, the Queen, but did not address the crowd.
During the memorial ceremonies, Catholic Vicar-General of Auckland, Monsignor Bernard Kiel, invoked the memories of "brothers and sisters affected by the atrocities in Christchurch and Sri Lanka."
"We pray for those who have grieved, for those who have died, for the wounded and for those disabled in body and mind," Monsignor Kiel said.