Prince William Surprises Teens With Viral Video Chat: 'Doing Any Work?'
Prince William surprised a group of teenagers during their school day when he appeared on a FaceTime call put through by one of their mothers during a previously unannounced visit to a British hospital on Friday.
The prince made the "informal, private" trip to the Ipswich Hospital, in eastern England, to visit staff and patients, according to the hospital trust's press release.
During his visit, William, who was made Prince of Wales by King Charles after his accession to the throne in September, met with an unidentified member of staff who called her teenager who was at school, putting the royal on with them.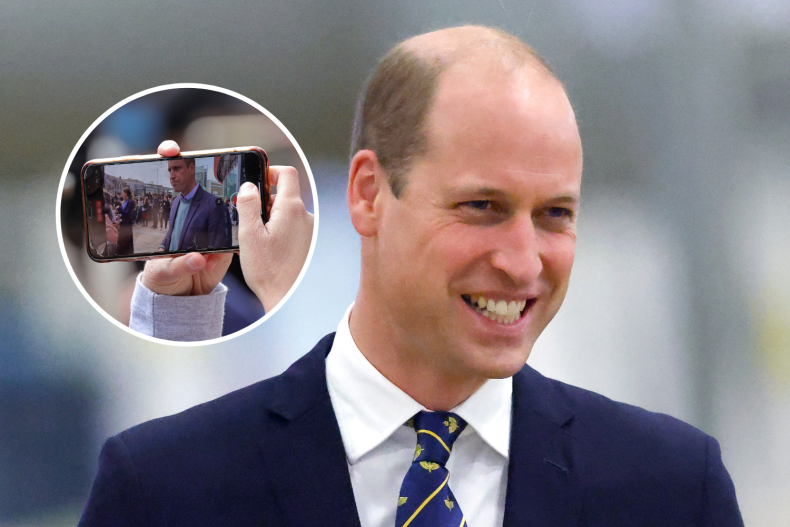 The exchange with William was recorded by one of the teen's friends and posted to the TikTok account, hannah.315, where it has been viewed over 600,000 times and received in excess of 109,000 likes.
"Are you guys doing any work?" the smiling royal joked with the group who dutifully informed him, and their friend's mother, that they were on their lunch break.
"Your mother's feeding me her cakes," he said holding a cupcake to the camera, before making a joking reference to the Great British Baking Show.
"They're not very good...I told her she wouldn't win Bakeoff!"
Several commenters have praised the prince for his down-to-earth banter with the teens.
"Willies always doing side missions," one wrote, with another adding: "He is the most random royal ever."
"I love how he's casually roasting her baking," continued one , with another writing: "Bro just casually FaceTime the future king."
This is not the first time that William has made unannounced visits to hospitals. The royal was introduced to these types of trips by his mother, Princess Diana, who made many throughout her public life.
In a press release after his visit, the East Suffolk and North Essex NHS Foundation Trust, which manages the Ipswich Hospital, said:
"Today we were extremely pleased to be able to welcome Prince William to Ipswich Hospital as part of an informal, private visit with the East of England Ambulance Service, where he met a number of staff in our emergency department."
The royal himself has a developed history with the emergency services, serving as he did with the East Anglian Air Ambulance Service as a rescue helicopter pilot from 2015 to 2017.
William is currently one of the most popular members of the royal family, ranking in second place behind his wife, Kate Middleton, in a recent round of polling for Newsweek undertaken by Redfield & Wilton after the publication of Prince Harry's Spare memoir.
Out of the royal family members, William came under the most fire in his brother's bombshell book, which broke records upon its global release to become the fastest-selling non-fiction book of all time, with 1.43 million copies bought during its first day on sale in the U.K, the U.S, and Canada, according to Guinness World Records.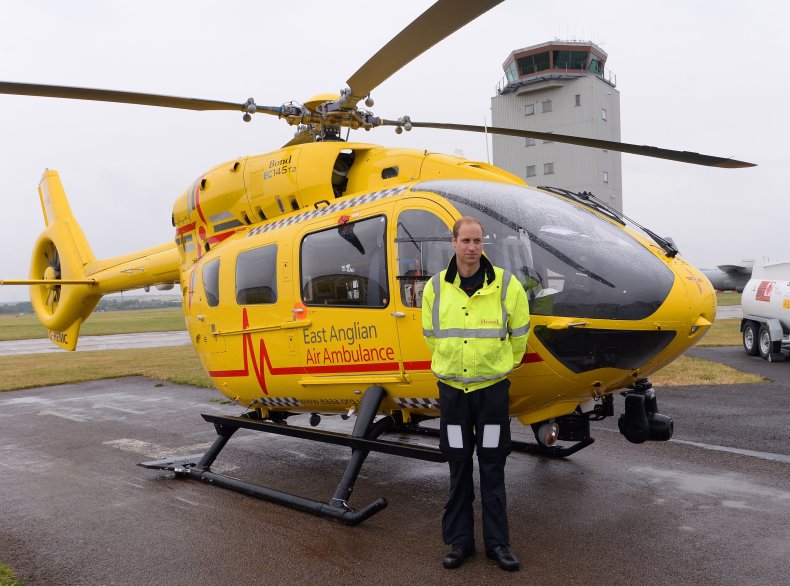 Harry said were that William pretended not to know him during their school days, that he called Meghan Markle "rude" and "abrasive" and physically attacked him during a 2019 argument at Kensington Palace.
The palace, which handles William's communications, has issued no comment on the book or its claims and the prince has so far ignored questions asked about it by journalists while on royal engagements.
James Crawford-Smith is Newsweek's royal reporter based in London. You can find him on Twitter at @jrcrawfordsmith and read his stories on Newsweek's The Royals Facebook page.
Do you have a question about King Charles III, William and Kate, Meghan and Harry, or their family that you would like our experienced royal correspondents to answer? Email royals@newsweek.com. We'd love to hear from you.