Prince William Tears Up at Helen Mirren's Tribute to Queen Elizabeth II
Prince William appeared close to tears after Dame Helen Mirren described Queen Elizabeth II as Britain's "leading star" during a BAFTA movie awards tribute.
The actress, made a dame in the queen's honors list in 2003, took time to pay tribute to Elizabeth at the Royal Festival Hall on February 19.
Prince William, BAFTA's president, was in the audience with wife Kate Middleton and the emotion was clearly still raw just five months after the queen passed away.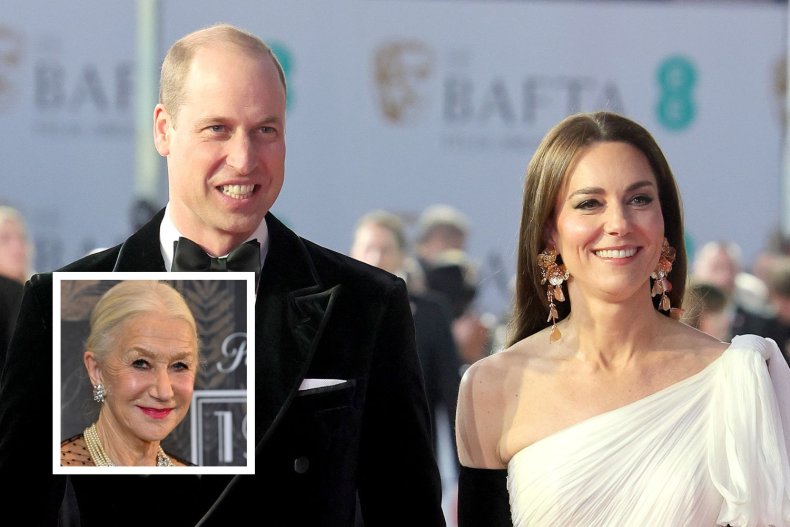 Mirren said: "Cinema at its best does what Her Majesty did effortlessly—bring us together and unite us through a story. Your Majesty, you were our nation's leading star.
"On behalf of BAFTA, thank you for all that you have done for our film and television industry."
"BAFTA's relationship with Her Majesty was longstanding and BAFTA would not be what it is today without her loyal support," Mirren added.
"In 1953, her coronation broadcast had the world watching. From that time, she was unquestionably the nation's leading lady but as mysterious as a silent film star.
"Who else could meet the world's most famous singers, actors and performers and turn them into her supporting cast.
"Throughout her 70-year reign, she met cinema's greatest icons and witnessed the evolution of Hollywood's golden age to the birth of the blockbuster. Her Majesty was front row for it all."
The shot then cut to Prince William who appeared to be overcome with emotion at hearing the moving tribute.
Mirren played Elizabeth in the 2006 biopic The Queen and won an Oscar and a BAFTA, among other accolades.
Royal commentator Richard Fitzwilliams wrote on Twitter: "A fine tribute to H.M. The Queen by Dame Helen Mirren at #EEBAFTAS. She played her so memorably."
Mirren's investiture ceremony was conducted by King Charles III, who was then still a prince, in 2003.
A the time, she said: "It was just lovely. I just felt my mouth go ever so slightly dry. I just thought, 'Don't be so silly'. I am incredibly proud. I am amazed."
Jack Royston is chief royal correspondent at Newsweek based in London. You can find him on Twitter at @jack_royston and read his stories on Newsweek's The Royals Facebook page.
Do you have a question about King Charles III, William and Kate, Meghan and Harry, or their family that you would like our experienced royal correspondents to answer? Email royals@newsweek.com. We'd love to hear from you.