Prince's Fashion Legacy: How the Singer Broke Style Rules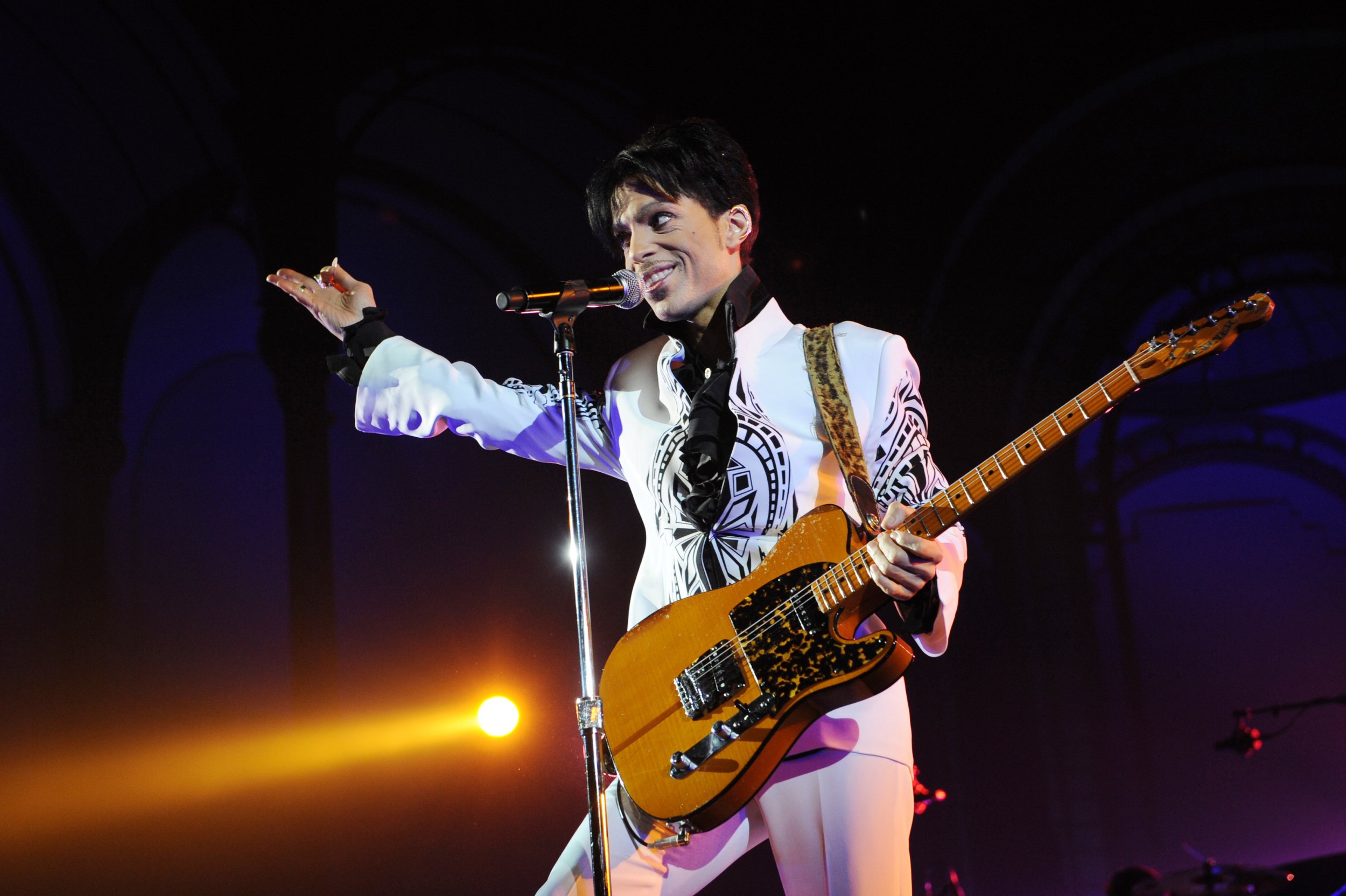 From the top of his perfectly coiffured afro to the tip of his satin toes, rock legend Prince 's immaculate appearance was as iconic as his musical virtuosity. Never less than dressed to the nines 24/7, stories abound of late night sightings at gas stations with glitter in his hair and boots in the same exotic fabric as his flares. Since strutting on stage in a G-string and high heels on his 1980 Dirty Mind tour, Prince recognized that clothing could make powerful, political points. He never attempted to follow fashion, set trends or capitulate to the stereotypical, hyper-masculine marketing of black, male artists. On the contrary, his elaborately luxurious fabrics, cinked hair, mascaraed lashes and effete gestures beckoned all his fans to upturn the rules of gender, class and ethnicity. Unsurprisingly, he's been the muse of many a top couture designer, including the late Gianni Versace.
For most of us, our first image of Prince was from 1984 in that shiny purple raincoat, astride an equally provocative pumping motorcycle. It was a significant sartorial leap from the cover of his debut album For You (1978). There Prince bears little resemblance to his later looks. He wears no make-up, his skin is unpowdered and even a little darker in shade than his natural olive complexion. Mustachioed and sporting a large afro hairstyle, Prince epitomized the styling of popular soul artists in the late 1970s, such as the young Michael Jackson. Like Jackson, Prince soon broke with the hyper-masculine conventions of the black soul star.
Sure enough, as soon as Prince wrestled full creative control over all aspects of his marketing, he grabbed the fashion subversion relay torch from his hero David Bowie, setting the banality of mainstream rocker man identities alight. Out went the double denim, on went the gold spandex and lipgloss. In retrospect, this might be seen as a brave step for an up-and-coming star breaking into a carefully delineated pop industry but Prince wanted to appeal directly to young people. His identity—subversive, contestational and personally political—chimed with the ambiguous context in which young people found themselves in the late 1970s and 1980s amid Cold War tensions, AIDs and the transformation of the global manufacturing economy.
While he bore a resemblance to Jimi Hendrix, it was actually the images of powerful women that he emulated, from Gloria Gaynor to Liza Minelli. His uniqueness comes from his alignment with femininity. The startling effect of Prince's image, which provided a new space for erotic identification and fantasy in pop, quite clearly pushed forward the transgressive aspects of male representation already started by artists such as Bowie, Mick Jagger, Little Richard and George Clinton. Prince's nudity on the sleeve of his tenth studio album Lovesexy (1988), shot by fashion photographer Jean-Baptiste Mondino, made a bold statement positively received by gay rights activists facing huge discrimination in the wake of AIDS.
Despite being one of his most commercially successful periods, his "regency dandy" period in the mid-1980s was one of his most subversive moments. The ruffled shirts, diamante and backless, lacy trousers of the Purple Rain era were as political as they were aesthetic, harking to a sartorial fight by marginalized groups of black men against subjugation. On the one hand, he declared "Baby, I'm a star," while on the other he was directly challenging the conventions of masculinity, gender, ethnicity and I'd go so far as to say class too.
At 57, Prince showed no signs of toning down his image. His final images depict an enormous afro, heavy eyeliner, multicolored tunics and beads that made him look transcendentally youthful and more teasing and playful than ever. His gold sleeveless robes and third eye spectacles portrayed a kind of alien guru, and it has actually been one of his most enduring fashion periods lasting several years. If there is a heaven, he won't look a bit out of place.
Sarah Niblock is co-author of Prince: The Making of a Pop Music Phenomenon and has given extensive talks and lectures about his fashion. Niblock is professor and Associate Dean of Media, Arts and Design at the University of Westminster, London.