Pictures: Princess Charlotte Arrives For First Day of School, Twitter Says She Looks Like Queen Elizabeth
Be still our melting hearts. Princess Charlotte arrived for her first day of school on Thursday and looked adorable as she held hands with big brother Prince George and parents Prince William and Kate Middleton.
Charlotte, four, and brother George, six, wore matching uniforms as they greeted well-wishers and staff at Thomas's Battersea school in Battersea, London.
Princess Charlotte's younger brother, Prince Louis, aged one, was not in attendance.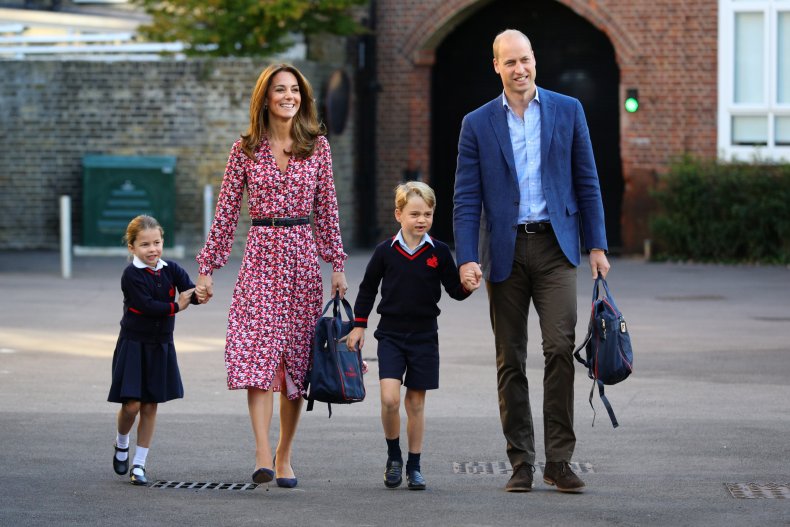 In Focus
Princess Charlotte arrives for her first day of school, with her brother Prince George and her parents the Duke and Duchess of Cambridge, at Thomas's Battersea in London on September 5, 2019 in London, England.
Launch Slideshow

6 PHOTOS
The official Kensington Palace Twitter account shared a video clip of Charlotte and family arriving for the young princess' first day of school.
The Duchess of Cambridge, Kate Middleton, wore a Michael Kors dress for her daughter's big day.
Twitter erupts over Princess Charlotte
On social media Thursday there was a lot of love for Princess Charlotte on her first day of school.
"Me sat at work looking at all the pictures/videos of Princess Charlotte's first day #imnotcryingyouare," wrote Jessica Morrey.
Another person couldn't believe that Charlotte is already going to school.
Some people noted a stark resemblance between Princess Charlotte and her great-grandmother, Queen Elizabeth, when she was a child.
"I can really see the resemblance between Princess Charlotte and her great grandmother The Queen in this photo of her first day of school," said Robert Jobson.
"Princess Charlotte has The Queen's eyes. It's remarkable," added Bob Peters.
Prince William told the BBC that Charlotte is "very excited" to begin school.
William, who drove the family to the Battersea school, said: "First day - she's very excited."
Prince George, who joined the school in September 2017, began his first day of Year 2 on Thursday.
Thomas's Battersea caters to children aged between four and 13 and, according to its website, costs £6,429 (around $7,929) per semester for the eldest child in a family, and £6,305 (around $7,776) for a second child, as long as they are aged between four and seven. Fees go up per semester for further education between the ages of seven and 13.
The school has about 560 students.
Simon O'Malley, the school's headteacher, previously said of Charlotte's arrival: "We are delighted that the Duke and Duchess of Cambridge have decided that Princess Charlotte will join her elder brother, Prince George, at Thomas's Battersea. We greatly look forward to welcoming her and all of our new pupils to the school in September."