Charlotte Appears to Tell George to "Bow" During Queen Elizabeth's Funeral
Princess Charlotte appeared to give her older brother, Prince George, a lesson during Queen Elizabeth II's funeral on Monday.
The British monarch died on September 8 after reigning over the United Kingdom for more than 70 years. A state funeral for the queen was held at London's Westminster Abbey on September 19, and later that evening, she was laid to rest at St. George's Chapel in Windsor alongside her parents, her sister Margaret and her late husband, Prince Phillip, who passed away last year.
In a viral clip that has been viewed more than 835,000 times on Twitter, Charlotte reminded her brother George, 9, who is now second in line for the British throne behind his father William, Prince of Wales, to "bow" while their great-grandmother's coffin passed by. The video has also been making the rounds on TikTok.
"You need to bow," the 7-year-old appeared to mouth to Prince George, while he listened carefully and obeyed.
The royal children's brother, Prince Louis, 4, did not attend the ceremony.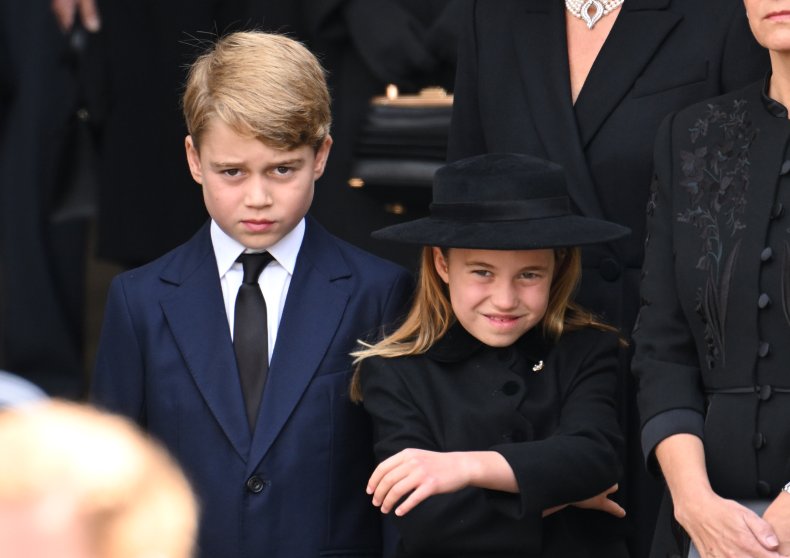 People were quick to comment on the siblings' interaction, with many praising their behavior.
"Adorable! Doing what is natural for children!" one person tweeted. "They did very well today I thought!"
Another added, "I'm pleased they have each other to lean on for support and will look back on this in future glad they took part in it together."
"Both are adorable and show royal qualities," a third said.
George and Charlotte's mother, Kate, the new Princess of Wales, recently revealed how her children are coping with the loss of the queen.
While speaking to Australia's governor-general David Hurley at Buckingham Palace during a reception for Commonwealth dignitaries prior to the monarch's funeral, Kate, 40, said that Prince Louis has been trying to understand the magnitude of her death.
"The younger one is now asking questions like, 'Do you think we can still play these games when we go to Balmoral, and things like that, because she's not going to be there?"' Hurley recalled.
Meanwhile, Prince George is "now sort of realizing how important his great-grandmother was and what is going on," he said.
Days after Queen Elizabeth's passing, Kate, William, his brother, Prince Harry, and Harry's wife Meghan Markle, greeted well-wishers outside Windsor Castle. During a conversation with one mourner, Kate revealed how Louis comforted her.
"My little Louis—this is just so sweet—said, 'Mummy, don't worry because she's now with great-grandpa.'"
Queen Elizabeth began her reign in February 1952 at the age of 25 after the death of her father King George VI. Following her own passing, King Charles III, the monarch's eldest son, was proclaimed king.
Around 2,000 mourners—including world leaders like U.S. President Joe Biden—attended the United Kingdom's first state funeral in nearly 60 years. It has been estimated that 4.1 billion people around the world tuned in to watch the broadcast.