Diana's Brother Posts Tribute to Queen Despite Disputed Royal Tensions
Princess Diana's younger brother Earl Spencer, who is perhaps best known for the impassioned eulogy he pronounced at her funeral in 1997, posted a tribute to the late Queen Elizabeth II to social media on Thursday. Many had thought he had taken aim at the royals that day though he has disputed this and the fact that there were tensions.
The earl posted a photograph of the queen to his personal Instagram account following the announcement that the 96-year-old monarch had died at her Scottish castle on Thursday. Newsweek has reached out Earl Spencer for comment.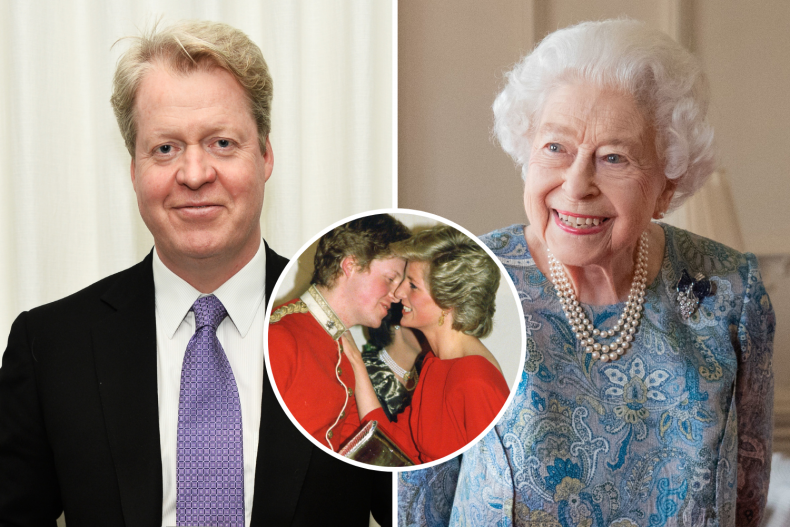 The Spencers and the Royals
Spencer is the uncle of Princes William and Harry and his ex-brother-in-law Charles now reigns as King Charles III.
Charles Spencer inherited the title of Earl Spencer from his father in 1992. The earl was close to his sister Diana and the pair were regularly photographed together. When Diana married Prince Charles in 1981 it brought the Spencers and Windsors closer as the two families had been friendly for a number of generations.
Diana's father, John Spencer, was on intimate terms with the queen, having served as her equerry for two years. When he married Frances Roche in 1954, all senior members of the royal family attended and the reception was held at St James' Palace in London.
The current Earl Spencer's connection with the queen ran deeper than being the brother of her daughter-in-law—he himself was the monarch's godson.
When trouble began to show during the marriage of Diana and Prince Charles, the latter sought comfort in his own family while Diana looked to hers.
Following the turbulent years of official separation and eventual divorce, the earl reportedly offered his sister a home among several properties, namely Wormleighton Manor, so that she would have a place to escape the intrusive media attention she suffered in London, but the princess had not moved into the property by the time of her death.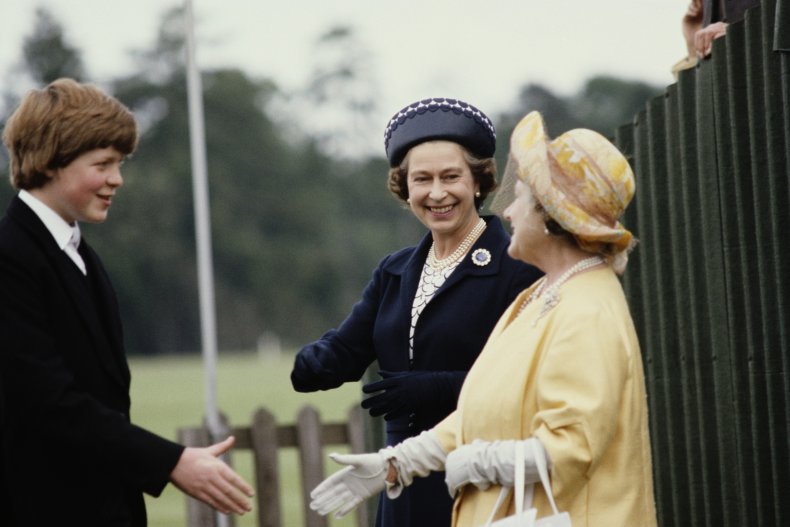 Reaction to Diana's Death
When Diana died in the early hours of August 31, 1997, having sustained critical injuries as the result of a car crash after traveling through a tunnel in Paris with boyfriend Dodi Fayed, the Spencer family became a central focus for the nation's grief, in addition to the royal family.
Living with his family in South Africa at the time of his sister's death, the earl made a preliminary statement on behalf of the Spencer family in the immediate aftermath of the accident.
"This is not a time for recriminations, but for sadness," he began. "However, I would say that I always believed the press would kill her in the end.
"But not even I could imagine that they would take such a direct hand in her death as seems to be the case.
"It would appear that every proprietor and editor of every publication that has paid for intrusive and exploitative photographs of her, encouraging greedy and ruthless individuals to risk everything in pursuit of Diana's image, has blood on their hands today.
"The one consolation is that Diana is now in a place where no human being can ever touch her again. I pray that she rests in peace."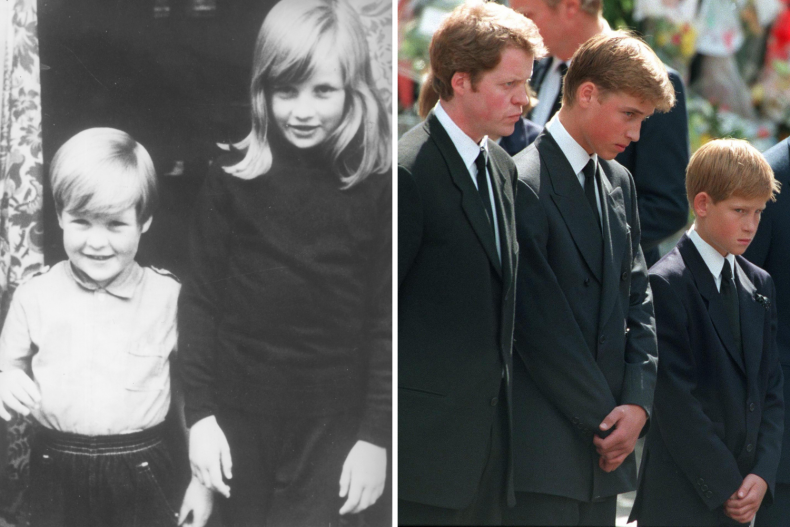 Thought-Provoking Eulogy
Six days later at her state funeral, it was decided that the earl would speak once again on behalf of his family, delivering a eulogy that many interpreted as containing barbed comments directed at the royal family.
"Diana was the very essence of compassion, of duty, of style, of beauty," he told the congregation at Westminster Abbey. "All over the world, she was a symbol of selfless humanity. All over the world, a standard bearer for the rights of the truly downtrodden, a very British girl who transcended nationality.
"Someone with a natural nobility who was classless and who proved in the last year that she needed no royal title to continue to generate her particular brand of magic."
This was interpreted in the media at the time as being a reference to the fact that Diana had lost her HRH (Her Royal Highness) title when she divorced Prince Charles in 1996. After this, she became known as Diana, Princess of Wales.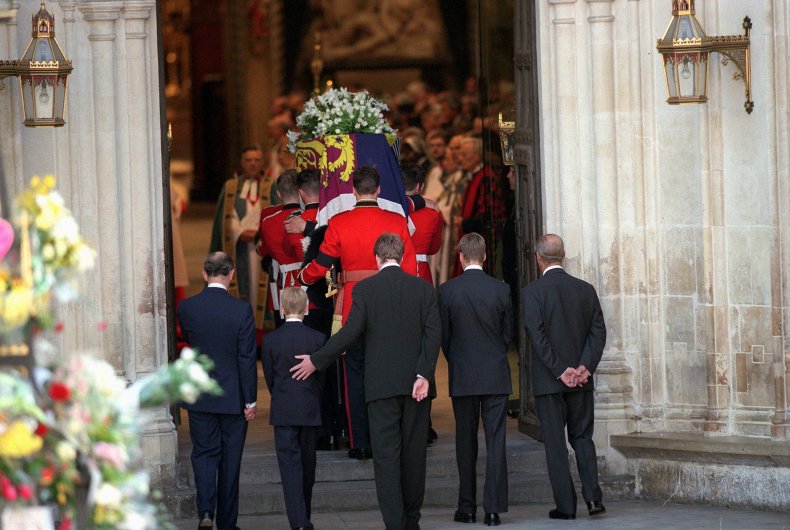 Perhaps the most incendiary statement made during the eulogy though came in a reference to Princes William and Harry who were then aged 15 and 12. The earl pledged to his sister that her "blood family" would ensure that her sons were not only brought up in the royal traditions but also with a degree of normality and freedom.
"On behalf of your mother and sisters, I pledge that we, your blood family, will do all we can to continue the imaginative way in which you were steering these two exceptional young men so that their souls are not simply immersed by duty and tradition but can sing openly as you planned."
After receiving a resounding round of applause for his speech from both inside and outside the abbey, Spencer's words were poured over by the tabloid press.
In an interview given two months after the funeral, the earl said, per the Associated Press, that there had been no intended criticism of the royal family in what he said, nor was there any antipathy towards the royal family.
"If there had been a rift among us, I would never have been seen with Prince Charles twice during his visit to South Africa," he said of the prince's visit to the country with William and Harry following Diana's death.
The earl was last photographed with Queen Elizabeth II in 2004 at the unveiling of the Princess Diana memorial fountain in London's Hyde Park.
Update 09/09/2022, 1:08 p.m. ET: This article was updated to indicate that Newsweek contacted Earl Spencer for comment.