Prince Harry and Prince William, Growing Up Without Princess Diana: A Newsweek Feature from 1997
In 1997, Newsweek reported extensively on the untimely death of Princess Diana and its aftermath. In this piece, Jerry Adler and Donna Foote report on how the tragedy will affect Diana's children, Prince William and Prince Harry. We are republishing the piece on the occasion of Prince Harry's wedding to Meghan Markle.
She had tried, she often said, to give her two sons as normal a life as possible. So when Prince William said he'd like to meet one of the world's most beautiful women, Diana did what any mother of a teenage boy would do—phoned Cindy Crawford, whom she barely knew, and invited her to tea. Arriving at Kensington Palace, the supermodel found herself alone in a room with William, where they chatted for a few minutes until Diana joined them, and, noticing her son blushing, confided to Crawford: "He's just like me; when he runs out of things to say, he just blushes."
In a few years, when he adds to his titles that of World's Most Eligible Bachelor, William (now 15) will be able to call any supermodel in the world himself. But the significance of the anecdote, which Crawford recounted to an interviewer for an Italian magazine last week, is this: try to imagine any of William's other adult relatives doing the same thing, and you'll begin to understand how life will change for the sons Diana doted on and left behind. The temperaments they inherited from each parent, which proved so fatally incompatible in marriage, will have to work together in their lives, both for their own sake and for that of the monarchy itself.
The future king has his mother's exquisite coloring, her doe eyes and bashful smile, as well as the sensitive, diffident part of her nature. His brother, Harry, whose l3th birthday is Sept. 15, seems to have inherited more of his mother's exuberant, outgoing side, and has the added advantage of not standing in direct line for the throne. On a private vacation in Vail, Colo., in 1995, Diana playfully advised the young daughter of her host, Los Angeles businessman Kenny Slutsky, to set her cap for Harry, not William. "Look at all the press," she said. "William will be king, and this is what it will be like. Harry will end up getting all the girls." Vacationing last month with Prince Charles at Balmoral, Harry cheerfully posed for photographers at a rare royal photo op, while William "didn't want to put his head up, and his face was red," according to royal photographer Jayne Fincher. A few weeks earlier he had hidden on the floor of his father's Aston Martin to avoid cameramen at a polo match. Even before last week's tragedy, the Sunday Mirror took these incidents as evidence that "the House of Windsor's golden boy is on the brink of a personal crisis." By definition, every 15-year-old boy is on the verge of a personal crisis—known among commoners as "adolescence." It's hardly surprising—as was widely reported even in the respectable papers last year—that in a rebellious moment William told his father that he would just as soon not be king. But those who know him, as well as the millions who don't, are deeply concerned about how Diana's death will affect this sensitive youngster, already wounded by his parents' lurid separation and divorce.
The problem for the boys is that they will be forced to grieve in a family that is famous for its ability to repress displays of emotion, and that, in varying degrees, didn't like Diana very much while she was alive. A source close to the princess reported that she was thrown into gales of laughter by a gift she received from the notoriously tightfisted queen one recent Christmas: a bar of soap. From Dublin, Trinity College psychiatrist Anthony Clare sees the potential for "great difficulty for William in expressing his side of Diana's character freely in a family for whom she represents unhappiness, separation, divorce."
Whom else do they have to turn to—apart from Tiggy Legge-Bourke, their erstwhile nanny, now, at the age of 31, more like a big, loving sister, who rushed to join them in Balmoral last week? Certainly not Charles's mistress, Camilla Parker Bowles, who, by Charles's design, has never even met the boys. Earl Spencer, the boys' uncle, boldly pledged to Diana's memory that "we, your blood family" would carry on raising the boys in her "imaginative and loving way." But the family lacks the legal standing to have much influence over the upbringing of a future King of England—and Spencer himself lives in South Africa.
So in the end the boys will be absorbed into the royal family's thousand-year-old claims of duty, tradition and discretion. William is, after all, also his father's son—serious, obedient and a keen shot. Diana may have let him romp in blue jeans, but for his 13th birthday Charles presented him with the services of a valet. As a student at Eton last year, he would dutifully call on his grandmother Sunday afternoons at Windsor Castle, where, instead of meeting Cindy Crawford, he might be invited to peruse some of Queen Victoria's letters. Legends of Arthurian magnitude have grown up around his childhood: years ago a neighbor who saw William at a grade-school birthday party predicted he'd be a big success as monarch when he finished dead last in a game that involved racing over a course of upside-down flowerpots; he was the only child who refused to cheat.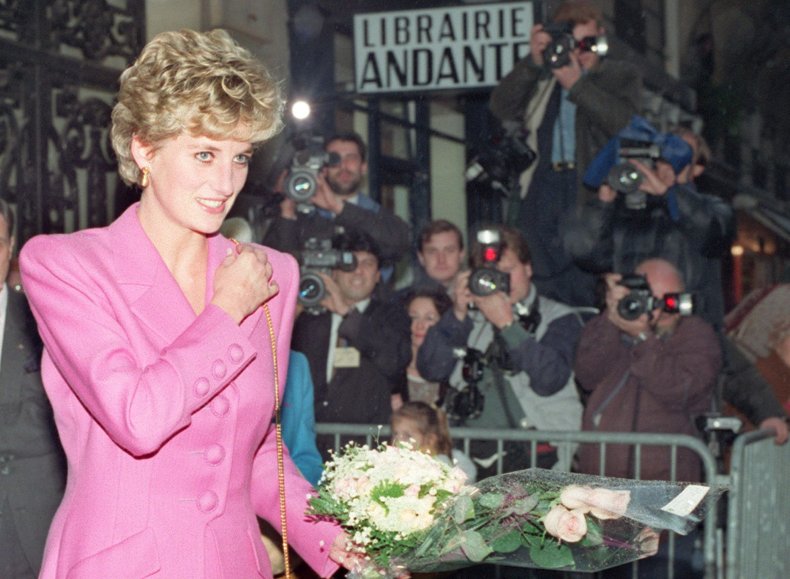 This was the William the public saw last week, a tall, luminously handsome young man, dignified without stiffness, murmuring his thanks to the well-wishers lined up outside Kensington Palace. The next day he took the place he had chosen for himself, behind his mother's coffin, and, it seemed, never took his eyes off the ground as he walked with the other men of the family to her funeral.
And he will soon be able to take refuge in Eton, a traditional boarding school of the English ruling class. There, where talking to reporters is an offense punishable by expulsion, he will be allowed to mourn in the privacy he has already chosen to assert, in refusing to pose for his upcoming school photo. He can seek support and advice from his "supervisor," who meets weekly with a small group of boys over coffee in the master's kitchen. Those who've been there say Eton is very protective of its students in times of family trouble, although by way of a subtle process that doesn't involve a lot of discussion about "feelings." All last week, as the tabloids were whipping the masses into a frenzy of demands for the royal family to show more emotion, Eton was doing its best to assure that nothing of the sort would occur within its walls. Boys returning for the start of classes were greeted, as everywhere else in Britain, by flower-strewn portraits of Diana in every shop window, leading one youngster to fret that the constant reminders might prove upsetting to William. "Well, then," his father told him, "it will be your duty never to mention her. You must pretend that nothing has happened and just carry on." "Of course, what happened to Diana was a terrible tragedy," one of William's former masters said last week, before Diana was even buried. "But Prince William is not a little boy. He cannot grieve forever; he must learn to take it."
If this strikes many Americans as a somewhat austere prescription for a teenager whose mother died suddenly—well, it probably would seem the same to Diana, who generally tried to meet life's vicissitudes with a hug and a good cry. It is William's unique fate to be a child of both Diana and the Windsors, to carry the burden of a thousand-year-old royal lineage into an era in which pride is the only sin the public cannot abide. The trick to reigning in the next century will be to keep one lip stiff while the other trembles on the verge of tears. If anyone can pull it off, it is the son of Diana and Charles.
This story originally appeared in the September 15, 1997 issue of Newsweek with the headline "Growing Up Without Her." Katharine Chubbuck contributed reporting from Eton.