America's British Sweetheart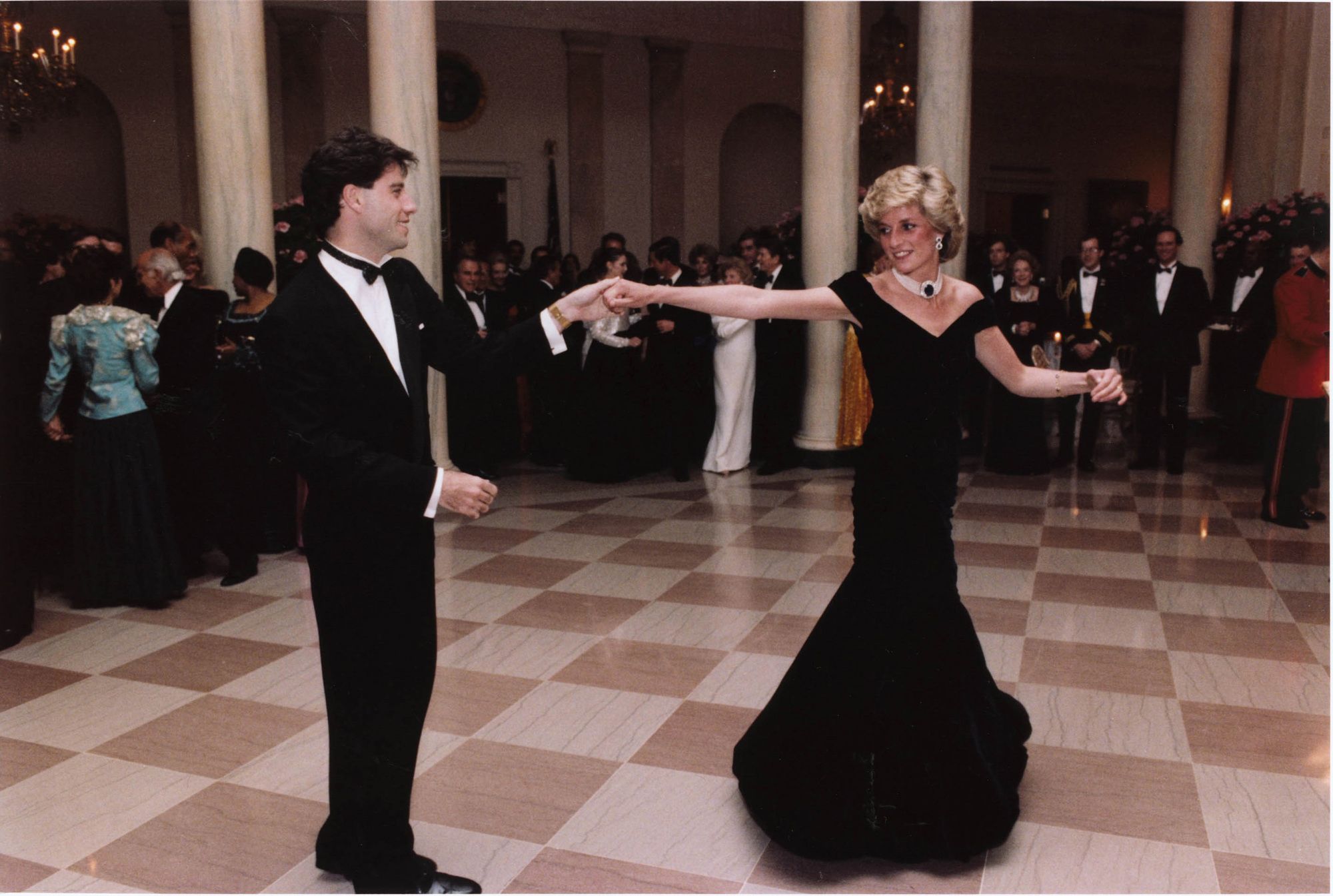 When Princess Diana was scheduled to arrive stateside, Americans—including celebrities and politicos—went agog with royal anticipation. Di didn't disappoint. Thirty years later, her spellbinding impression lives on. This article, and others about Diana's life and legacy, are included in a new Newsweek Special Edition, Diana—Celebrating 30 Years.
Act I: The Royal Treatment, 1985
Not everyone was aflutter. Lady Wright, wife of the British ambassador, said someone called the embassy wanting to know, "What's all this fuss about the whales?" But to those swept up in Royalmania, the arrival of the Waleses in November 1985—and their 7,000 pounds of luggage—was the most frenzied British invasion since The Beatles hit America in 1964. After months of advance work by men holding stopwatches, Princess Di look-alike contests and furious polishing at the embassy, where the royals were staying, Washington, D.C., was finally ready. Despite the fine-tuned choreography, the first breach of protocol came within minutes of their royal highnesses' touchdown, as two disabled children at the airport hugged Diana around the waist. The princess ignored the faux pas—and hugged back.
The royal couple arrived from Hawaii, where they had been greeted at the airport with leis. In their Honolulu hotel room they found a jar of jellybeans, the president's favorite snack. Jetting to Washington, Charles and Di joined the Reagans for morning coffee in the president's private quarters. That night it was off to a gala White House dinner dance. The fashion pressure was on Diana: The Italian press had ridiculed her dowdy outfits during a recent visit. But she was deemed a smash in an off-the-shoulder blue velvet gown with an egg-size sapphire choker. The guest list included Neil Diamond, John Travolta and Clint Eastwood (who said meeting Di "makes my evening"). Almost no one sent regrets. "People would have come from their deathbeds," said a White House staffer.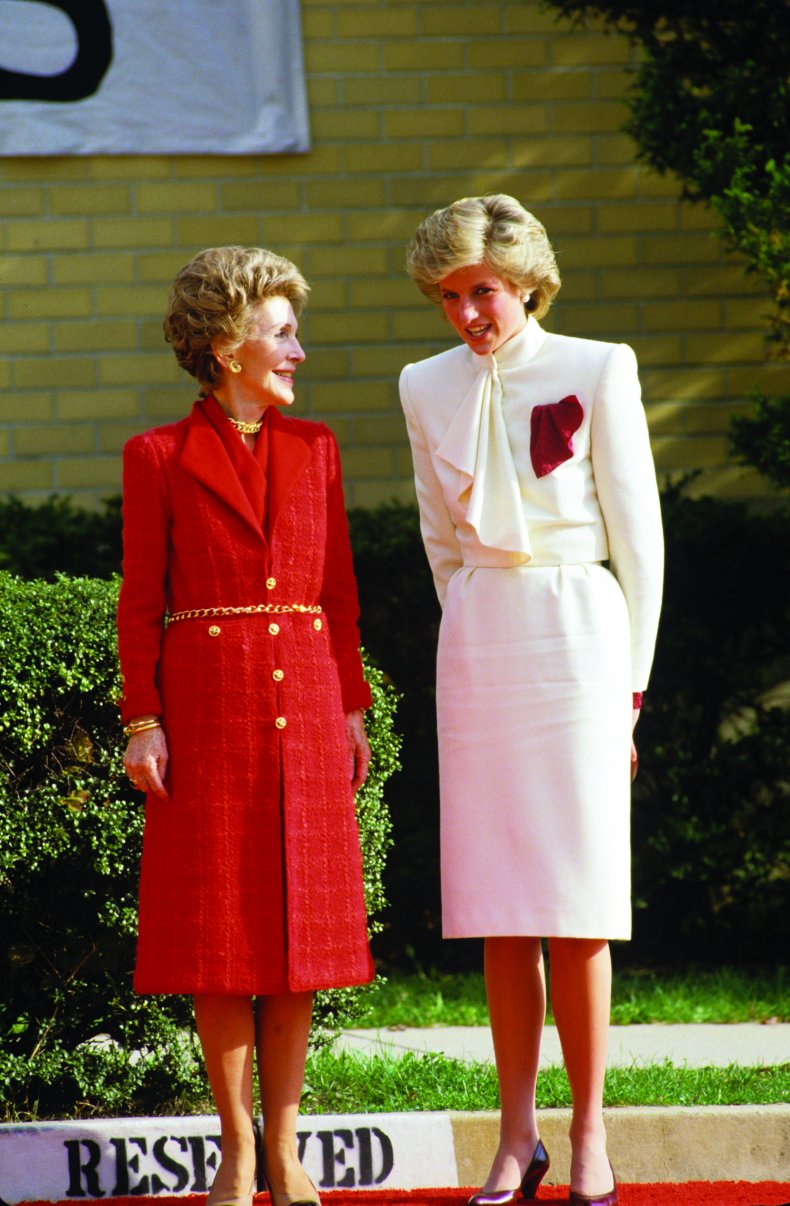 On Sunday, after church at the Washington Cathedral, the couple took a private tour of the National Gallery's Treasure Houses of Britain exhibit. On Monday, the couple visited a JC Penney's in a suburban shopping mall to promote the chain's $50 million line of United Kingdom goods. Penney's security guards refused to wear the red tights that came with their special Beefeater suits, forcing executives to dig up Royal guard uniforms. Later, Diana toured a Virginia drug-rehabilitation center with Nancy Reagan.
Concerned that she might turn teary at a rap session, the palace insisted on no photos.
Down in Palm Beach, the couple's final stop, debate raged over which was the greater scandal: that only 60 of the 250 couples invited to a benefit were locals, or the discovery that the ball's co-chair had once posed nude in a skin magazine. Yet another quandry loomed for Palm Beach society: what to do next month? Said novelist Pat Booth: "After this, it's downhill for the season."
Act II: A Princess Makes Perfect
"This is just like the subway," said one woman, crushed up against a case of champagne, "only everyone smells good." Welcome to the Brooklyn Academy of Music, the main stop on the Princess of Wales's 44-hour tour of New York City in 1989. Diana made her first visit to Gotham, wowing the crowds without needing to woo them. Her chief duty was to lend a patriotic hand to the Welsh National Opera in its American debut at BAM. She also greeted many of the sweet-smelling patrons who coughed up $1,000 each to watch her watch the WNO's Falstaff and to eat in the same banquet hall with her afterward. But wherever the Princess went (a day-care center, a top emporium, a hospital), hordes of Americans dogged her every step. At BAM, so did the dogs, which prowled the theater for explosives while a pro-Irish group demonstrated decorously outside. "The princess is not so bad," one protester explained. "It's her mother-in-law we don't like."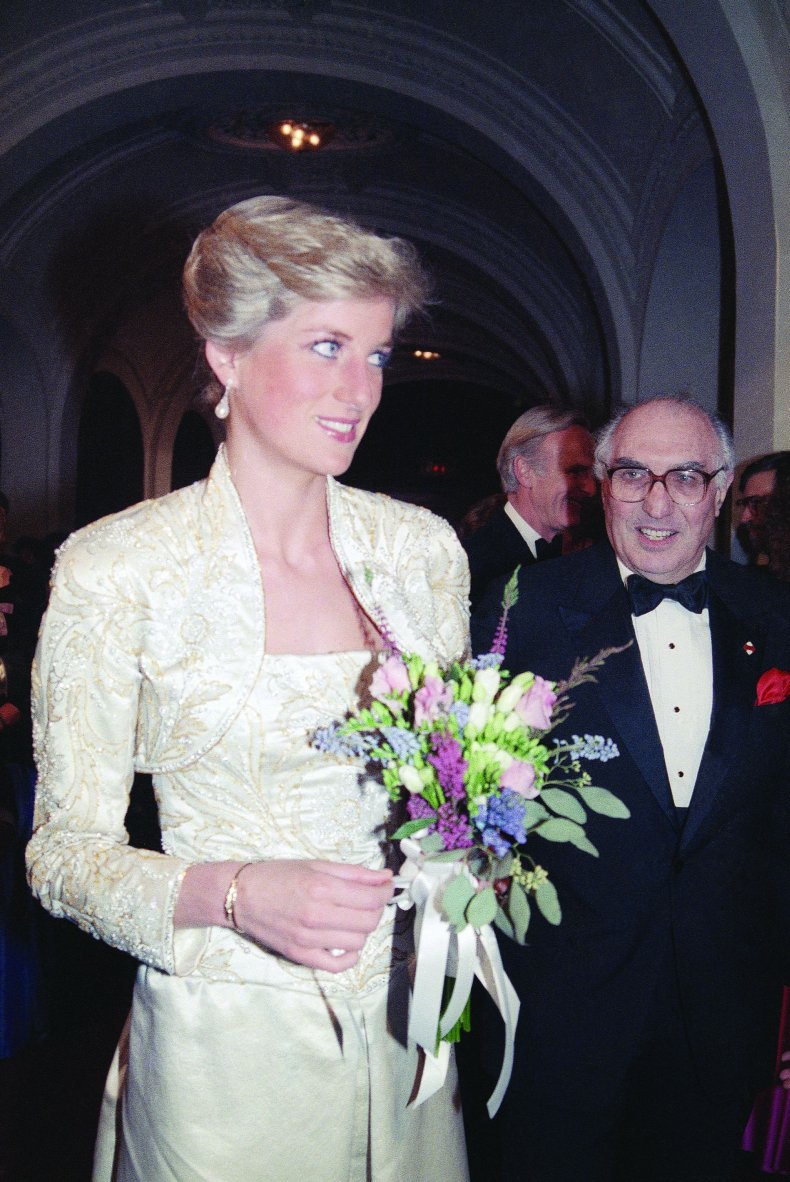 Diana was on her first important overseas visit without her mother-in-law's son Charles. Her royal highness proved to be the most popular (and decorative) British export since the cashmere she helped promote at her first soiree. Dawson International, Britain's fourth largest textile firm, played host at an exhibition of pricey woolen duds and a reception for giants of the New York fashion industry. Even the most jaded partygoers, who had not expected an introduction to the princess, went as quivery as royal gelatin at the prospect of meeting the 27-year-old. "If I'd known we were going to meet her, I would have had my hair done," fretted one. The guest of honor wore a British-made ensemble, which didn't daunt American designers Oscar de la Renta and Donna Karan, both of whom turned up in the gawp-and-gasp brigade. "She'd look great in my designs," said Karan. "She's got the right bottom." Marvin Traub, chairman of Bloomingdale's, was also among the smitten. Asked what he'd give to get the Princess into his store, he replied, "A very large discount." Even the curmudgeonly press corps was nerved up. "Cold hands," she said to one journalist who greeted her in the receiving line. "You must have had some of that champagne." But the evening had a serious moment, too: Diana spoke quietly with John Schultz, chief executive officer of B. Altman department stores, who showed her a photograph of his son, Thomas, who died in the December Pan Am crash in Lockerbie, Scotland.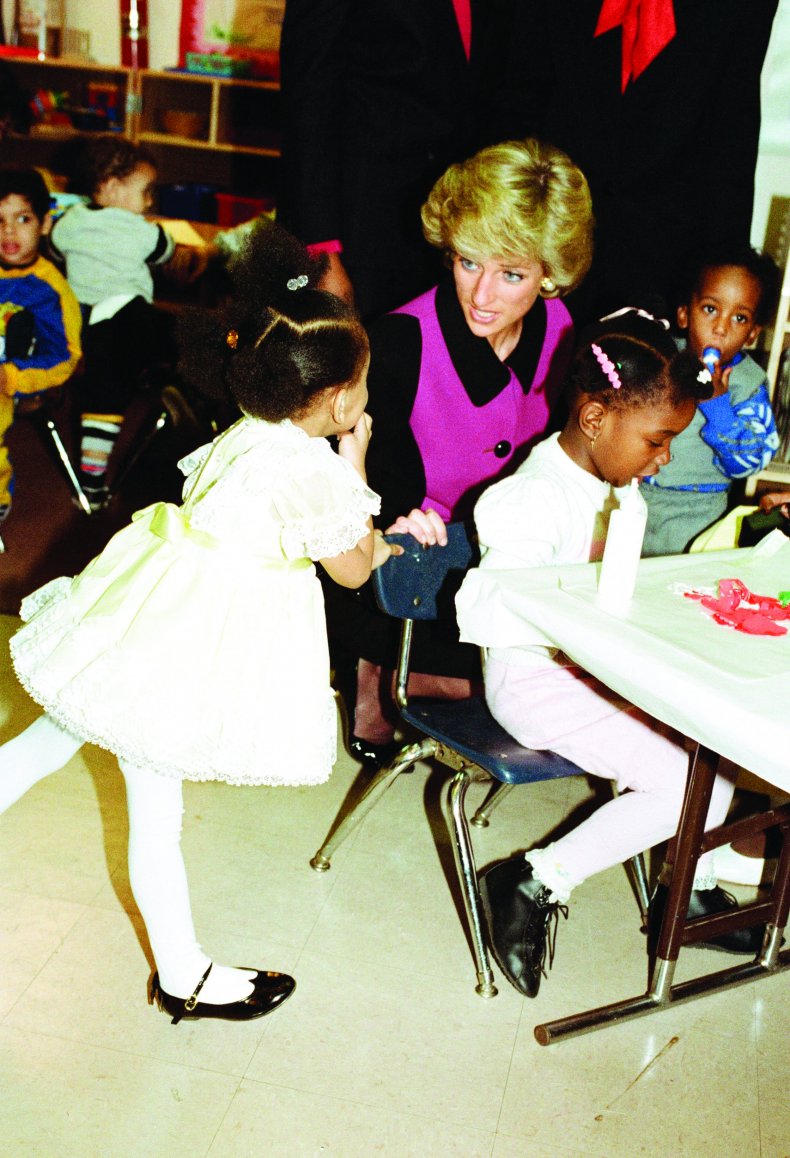 Though the Princess had something of a reputation as a disco queen at that point, she had been cultivating her serious side of late. The mother of two young sons and a former kindergarten teacher, Diana was especially interested in child welfare. She visited babies in Harlem Hospital's well-known pediatric AIDS unit and made a big hit at the Henry Street Settlement's day-care center. At the settlement's homeless family shelter, run by Verona Middleton Jeter, Diana spent 15 minutes privately with Linda Correa and her three children in their temporary apartment. "It gave me a lot of dignity for her to meet my family and talk to us," said Correa. "She asked me how I became homeless, but she didn't make me feel any shame."
The citywide sentiment was that Diana is "so easy to talk to," just as if she were a regular person. At F.A.O. Schwarz's British toy exhibit, she appeared oblivious of the $72 doll of herself in a wedding dress. But when photographers complained that a person costumed as Peter Rabbit was blocking their view ("Rabbit! Rabbit! Move!"), Diana was sympathetic. After the offender scooted out of the way, she shook hands: "It's tough being a rabbit," she said. Peter Harris, president of the store, called his famous guest "extraordinary." The gushing was most in evidence, however, at the Falstaff gala, where Diana, in jeweled white satin, looked very much like America's idea of a future queen. "This is my first opera," one woman in the audience confessed, unnecessarily. "We're not here for the music." Bianca Jagger came early, the Trumps came late and Disney chief Michael Eisner said it best: "She could go right into one of our animated films."
This article appears in Newsweek's Official Collector's Edition, Diana, by Issue Editor Johnna Rizzo.