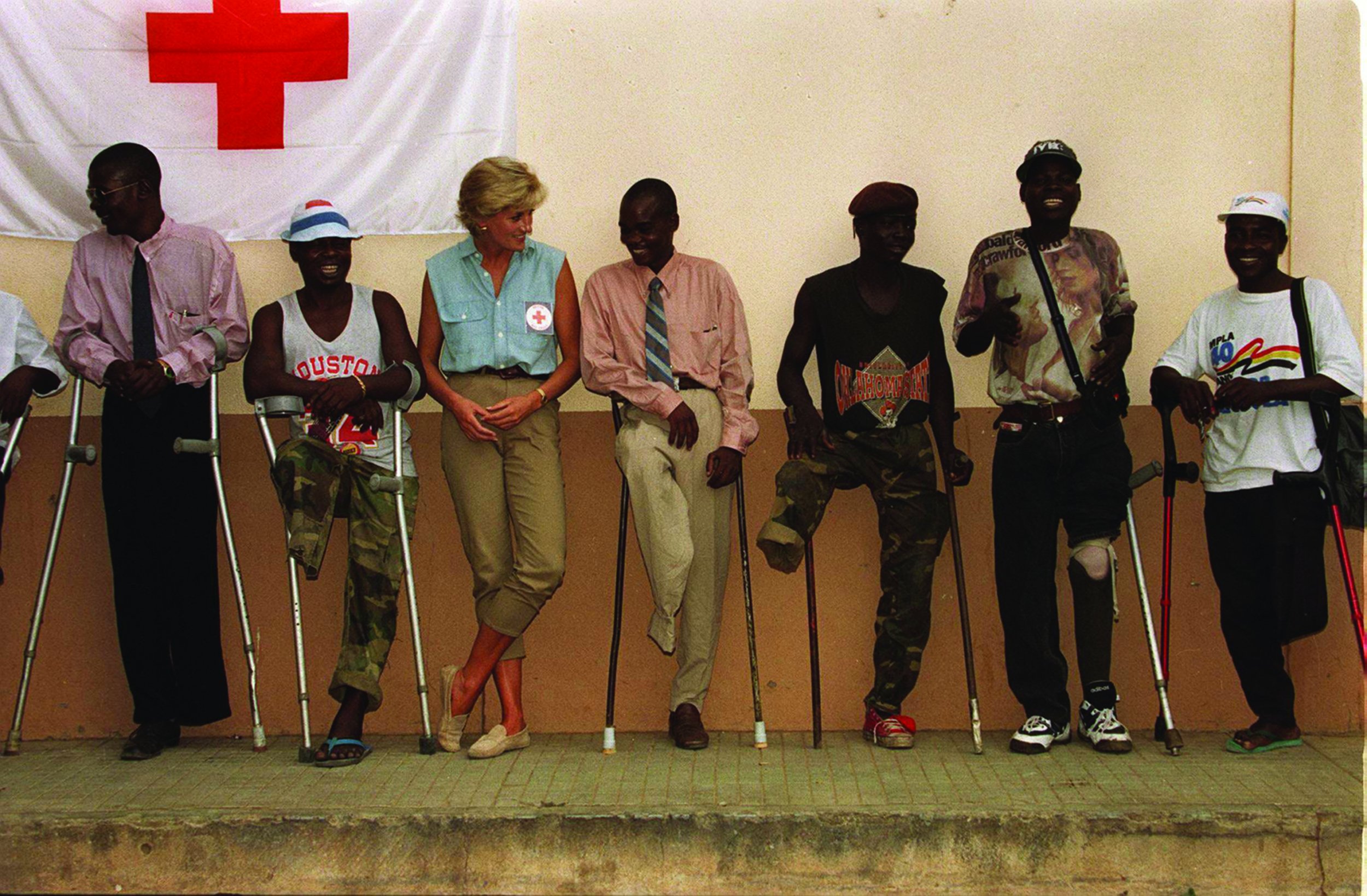 Princess Diana—activist, fashion icon and model mother—was a tireless advocate for those who needed her most. Fueled by the desire to give those wounded and physically broken by land mines a voice, Diana brought to light the human side of the damges the devices wrought. This article, and others about her life and legacy, are included in our new Newsweek Special Edition, Diana—Celebrating 30 Years.
"The only early glimmer of what would become her passion—the things she did for others—was a trademark gesture," wrote Newsweek's Tom Masland in 1997. "In place of the regal wave, she lowered her arm and began to shake hands with strangers." She did more than shake hands in that year's trip to Angola to bring awareness to the human toll land mines were taking: She sat with children and cuddled, caressed wounds and shared soft smiles. "Sometimes when you've been traumatized to the extent that these people that I have met...the only thing you can hang on to is your own dignity. Everything else can be taken away, but not that."
In total, 71 countries had land mines at the time she visited Angola in 1997. Diana wanted to give those wounded and physically broken by land mines in some of the poorest and most war-torn countries a voice. Her television special on the subject, where she visited Red Cross and The Halo Trust outposts across Angola, aired in February 1997 on BBC1's Heart of the Matter. Her reason for creating the special was simple and straightforward. "It is my sincere hope," she said, "that by working together in the next few days we shall focus world attention on this vital, but until now largely neglected, issue." She was there, she said explicitly, especially for "the civilians injured by mines left behind when war was over."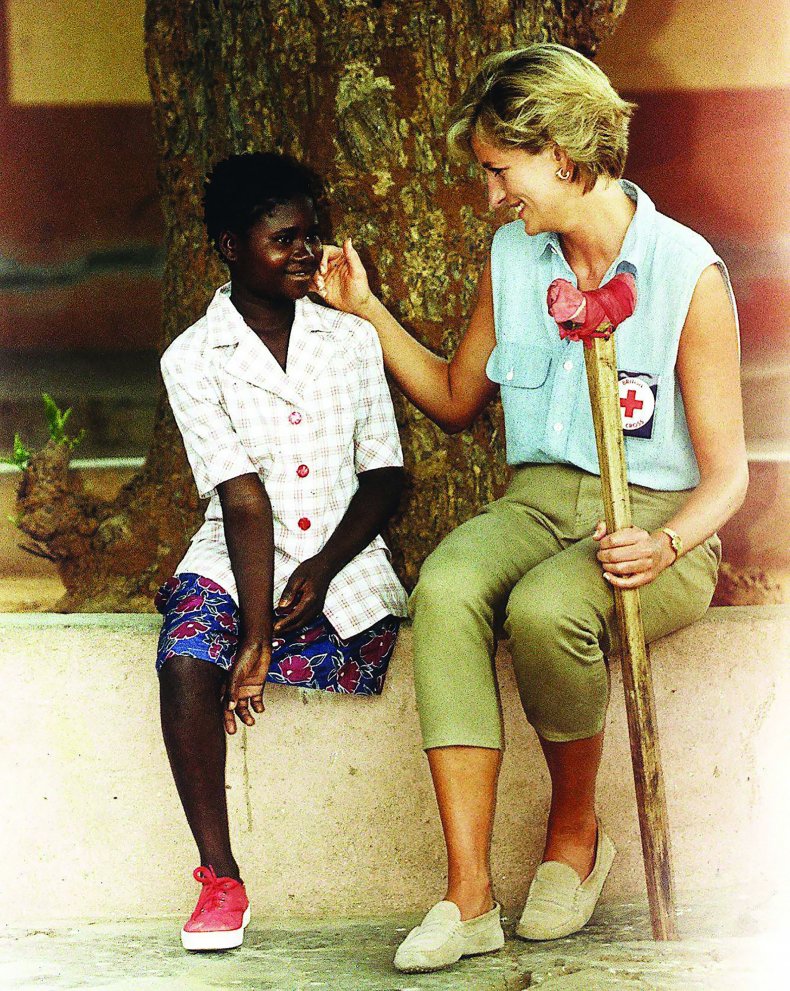 Even she was shocked by what she saw. "I'd read the statistics that Angola has the highest percentage of amputees anywhere in the world. That one person in every 333 had lost a limb, most of them through land mine explosions. But that hadn't prepared me for reality." Di visited a prosthesis clinic in Huambo where, at the time, 100 new prostheses were fitted a month. That was just one of only five facilities in the whole country. While there, she sat with a 13-year-old girl who'd lost her leg up to her hip while going to get groceries with her mother, and who had been waiting three years for a prosthesis. The cameras were there too, and not just the ones she'd brought with her from the BBC. Paparazzi clamored, enough so that several times she batted them out of the faces of the patients she was spending one-on-one time with. "I have all this media interest, so let's take it somewhere where they can be positive and embrace a situation which is distressing like this," she averred, face to her own cameras. "She had a really good touch with the patients," Carl Hefti, a Red Cross orthopedic technician, told CNN. "She was really involved with things. Sometimes, she was nearly crying. It was beautiful." The Red Cross staff also recalled how the Princess "reached out to touch the stumps of their limbs in a rare gesture of compassion—a gesture not lost on the victims," continued the story. "All my friends still ask me, 'You saw Princess Diana—what is she like?'" said Lissette Dominga, who lost a limb in a mine accident. "I tell them she was so friendly, so down to earth."
The next day, Diana walked the streets of Kuito, thought to be the most mined city in the world at the time. She even went so far as to don a riot helmet and flak jacket and follow Halo Trust's Paul Heslop into the fields nearby to explode some mines—then stepped off camera to let the cloud of menacing black smoke fill the screen. After filming stopped, Diana didn't. The fight to ban anti-personnel land mines became a personal crusade, one that would fill the last year of her life.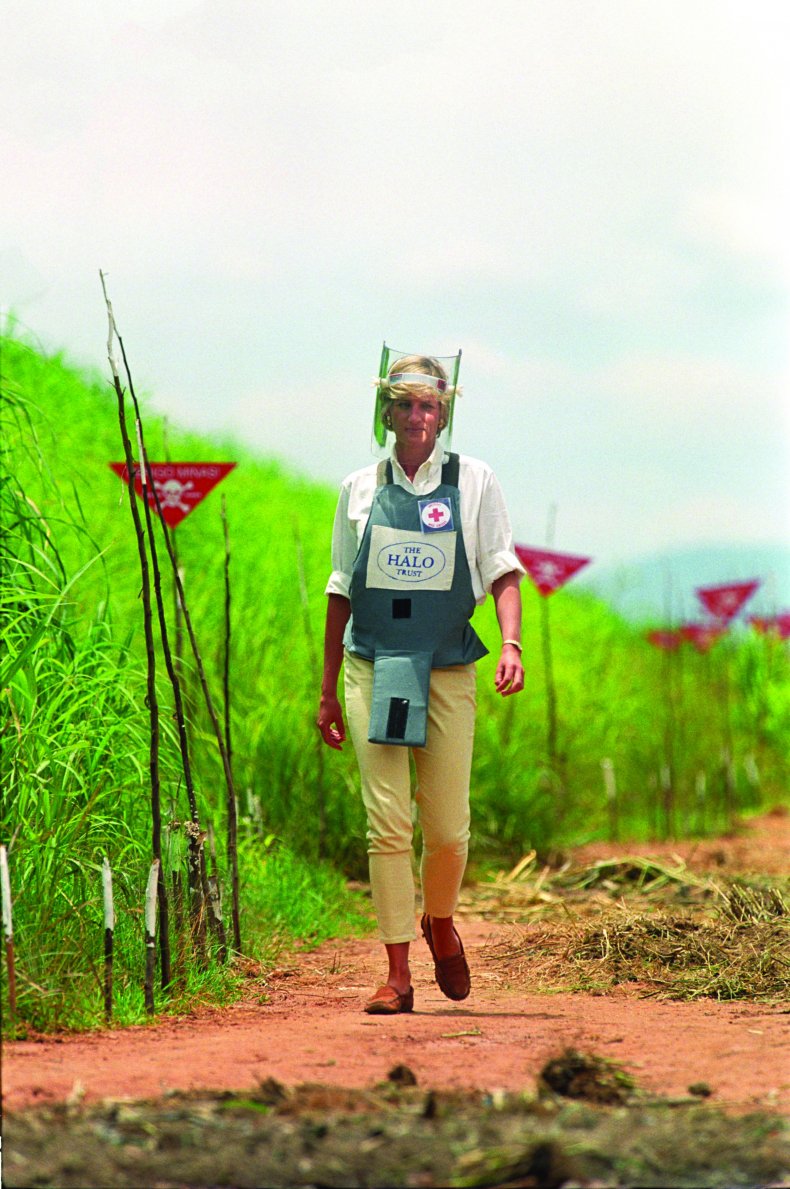 Her anti-land mine activism wasn't always popular. One minister in England described her as "a loose cannon," and noted further that "her comments are unhelpful and ill-advised." Another said, "It doesn't help simply to point at amputees and say how terrible it is…. I very much regret because of her position she gets so much publicity for it." She responded, again facing the camera, "I'm only trying to highlight a problem going on around the world" and she pressed on—and even included the voices of dissent in her BBC1 program. After the press hounded her in front of her own cameras for a response to the criticism, she added: "I'm not a political figure, nor do I want to be one. But I come with my heart, and I want to bring awareness to people in distress, whether it's in Angola or any part of the world. The fact is I'm a humanitarian figure. Always have been and always will be."
Up to her last official assignment—a trip to Bosnia in early August, when she visited land-mine projects in Travnik, Sarajevo and Zenezica—she supported the issue. "Those most closely involved in the visit were most impressed with how hard the princess was willing to work. She took on 15-hour schedules for two of her three days in Bosnia, patiently and graciously meeting mine victims," reported Masland in the pages of Newsweek. "Many of the meetings were private, without cameras present. She was frequently moved to tears, especially with children, such as the two young Gabelic sisters. Each lost a leg to a land mine, the elder when she came to the aid of her little sister. Ken Rutherford, of the Landmark Survivors Network, witnessed the encounter between the princess and one of the girls, who apparently has cerebral palsy. 'As the princess walked in, she saw her just lying on the floor, unable to walk or talk. The princess walked right over and picked up the little girl and held her. The youngster started touching her fingers and smiling. She grabbed Diana's fingers like a baby. She smiled round at us all…. There was real emotion during that visit.'"
Many credit Diana with the success of the Ottawa Mine Ban Treaty, which opened for signature in the months after her death; in December 1997, 122 governments signed.
Introducing the Second Reading of the Landmines Bill 1998 to the British House of Commons, then Foreign Secretary Robin Cook paid tribute to Diana's efforts. "All honorable Members will be aware from their postbags of the immense contribution made by Diana, Princess of Wales to bringing home to many of our constituents the human costs of land mines. The best way in which to record our appreciation of her work, and the work of NGOs that have campaigned against land mines, is to pass the Bill and to pave the way toward a global ban on land mines."
In 2004, Newsweek followed up on the ban movement's progress, running excerpts from an interview with Nobel Peace Prize-winner Jody Williams, founder of the International Campaign to Ban Landmines (ICBL). "The death of Princess Diana meant that anti-land-mine activists lost their most visible advocate. Yet while the issue may [have seemed] to be on the global backburner, the problem of unexploded ordnance remain as acute as ever. Millions of mines from wars both past and present remain scattered across 83 countries, with 15,000 to 20,000 killed or maimed by them every year," read the story. "It only takes a dollar to plant a mine but can cost $1,000 to remove it," the story quoted Wolfgang Petritsch, who presided over an international land mine conference in Nairobi that year, as saying. When asked what made land mines so much worse than other conventional weapons, Williams was quick to reiterate the themes that Diana had sketched out in her crusade the decade before. "They are more horrific because they are designed specifically to maim. You can ruin human beings for the rest of their lives. And they can last for hundreds of years, so a guy can plant a land mine that can kill his own great-grandchildren. And at the end of the war the gun goes home with the soldier, but the land mines stay behind."
This article appears in Newsweek's Official Collector's Edition, Diana, by Issue Editor Johnna Rizzo.