Princess Diana's Engagement Ring Belonged To Harry After Her Death; Here's Why Kate Middleton Has It Now
Prince Harry was the original inheritor of his mother, Princess Diana's engagement ring, according to the Amazon Prime documentary The Diana Story. Now, the ring sits on Kate Middleton's finger, even though she's married to Harry's brother, William. The reason why pays honor to both Middleton and Diana.
According to Paul Burrell, Diana's former butler, Harry and Will were invited to select pieces of their mother's jewelry after she died. William first selected their mother's Cartier watch, a piece she was gifted on her 21st birthday. Harry picked Diana's engagement ring.
The ring has a 12-carat sapphire surrounded by 14 solitaire diamonds, with a band of white gold. Harry chose the ring as his item because of his childhood memories, Burrell explained: "I remember when I held mummy's hand when I was a small boy and that ring always hurt me because it was so big," said Burrell of Harry's memory.
William was the first of the brothers to be engaged. He proposed to Middleton in 2010, and Harry did not get engaged to Meghan Markle until 2017. But the timing of William's proposal wasn't the deciding factor in why Middleton was given the ring. The truth lies in a conversation between the brothers shortly before William proposed.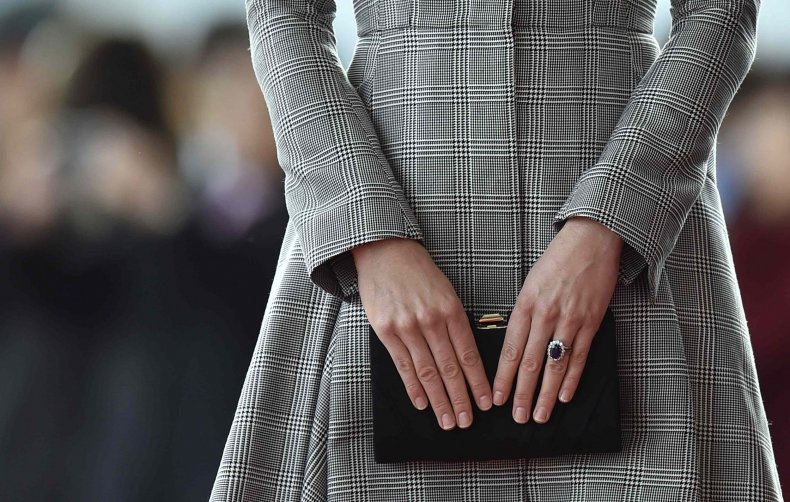 "Harry said to him: 'Wouldn't it be fitting if she had mummy's ring? Then one day that ring will be sat on the throne of England,'" Burrell explained, according to Cosmopolitan. Will is is second in line for the throne behind Prince Charles. Harry is sixth in line for the throne. Because of the royal succession, he falls behind all of Will's three children. This means Harry will likely not sit on the throne himself. By giving Middleton his mother's ring, the ring will belong to the future queen.
When Harry proposed to Markle, he designed the ring himself, as Markle revealed in a BBC interview after the couple announced their engagement. The band is yellow gold, and the largest diamond featured on the ring is from Botswana, a special location for the couple. Harry has visited the country frequently since he was a child, and brought Markle there early in their relationship.
Other diamonds used in in Markle's engagement and wedding rings belonged were taken from Diana's jewelry collection, so she still has a piece of her mother-in-law close at hand.