Princess Diana's fashion set a new record on Thursday, 26 years after the royal's untimely death.
One of the princess' most famous items of clothing hit the auction block on September 14 as competitive bidders in Sotheby's "Fashion Icons" sale in New York sought to own her iconic red sheep sweater.
After intense bidding in the final stages of the online sale, it reached a hammer price of $1.143 million.
The sweater was worn by Diana before her marriage to Prince Charles (now King Charles III) in 1981 when she was photographed attending a polo match in Windsor while still Lady Diana Spencer.
As press attention became increasingly heightened around the future princess in the build up to the royal wedding in July 1981, her fashion choices were the subject of global reporting and replicating by fans.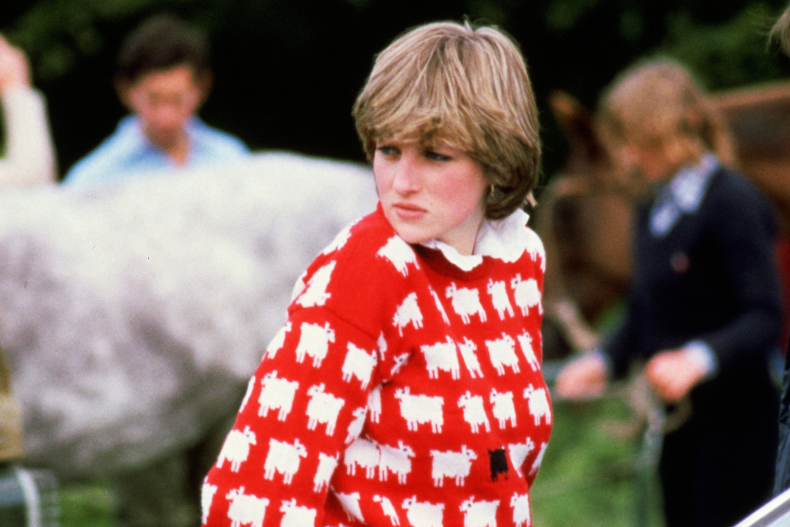 The sweater was auctioned by its designers, Sally Muir and Joanna Osborne, who found it amongst old boxes relating to their Warm & Wonderful fashion line which was founded in 1979.
Diana had sent her original sweater back to the designers, via Buckingham Palace, to be repaired or replaced as it had become too worn. Instead of patching the original, Muir and Osbourne made the princess a new one, receiving a letter of thanks from a royal aide reading: "I know Her Royal Highness will be glad to have this sweater back and be most grateful to you for having re-done it."
The only difference between the original and replacement sweaters was the direction in which the single black sheep, among the group of white ones, was facing.
Sotheby's originally valued the sweater—which was being sold for the first time—at $50,000-$80,000, and its realized price of $1.143 million makes it the most expensive item of clothing belonging to the princess ever sold.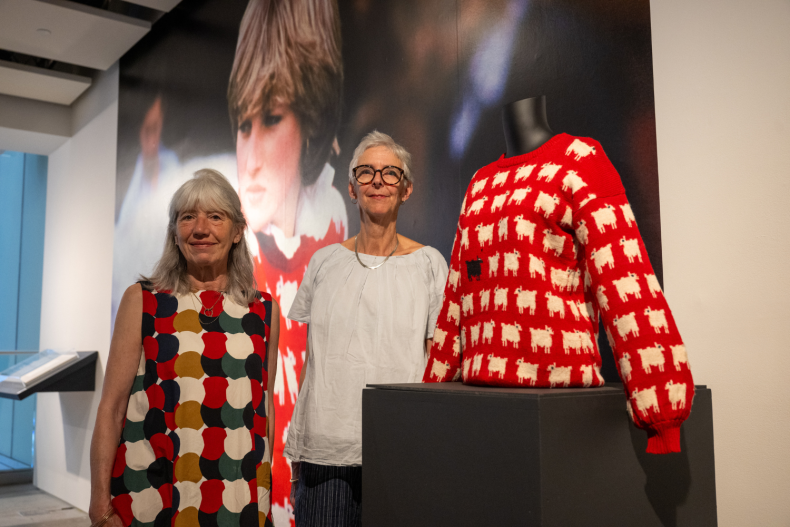 Diana's dresses and accessories have circulated on the open market since 1997, where she herself auctioned 79 of her most famous gowns in New York to raise money for her chosen charities.
The auction at Christie's raised in total $3.259 million and took place just weeks before the princess died from injuries sustained in a high speed Paris car crash on August 31, 1997.
Following her death, public fascination with Diana's clothing grew, resulting in a number of exhibitions dedicated to her style, including a memorial display at her former home Kensington Palace in 2017, marking the 20th anniversary of her death, titled: "Diana: Her Fashion Story."
In recent years, the royal's dresses have exchanged hands a number of times at auction, with many ending up in museums. Currently, large collections exist within Historic Royal Palaces in Britain and the Museo de la Moda in Chile.
The most expensive Diana dress sold, until the sheep sweater hit the auction block, was a purple evening gown designed by Victor Edelstein which reached a price tag of $604,800 at Sotheby's in January 2023.
Among the most famous of the princess' dresses to recently be sold was the gown worn to a state dinner at the White House with President Ronald Reagan in 1985. The dress was nicknamed the "Travolta Dress" after images of Diana dancing with movie star John Travolta from the evening were widely published by the press.
The dress was purchased by Historic Royal Palaces (the charity which operates Kensington Palace as a tourist attraction) in 2019 for $347,000.
Most recently, three of Diana's dresses which were sold by the princess in her 1997 sale were resold through the Hollywood auction house, Julien's.
In the house's "Legends: Hollywood and Royalty" online sale which closed on September 9, two Catherine Walker and one Bruce Oldfield evening gowns reached $1.651 million, with the highest price for one reaching $571,500.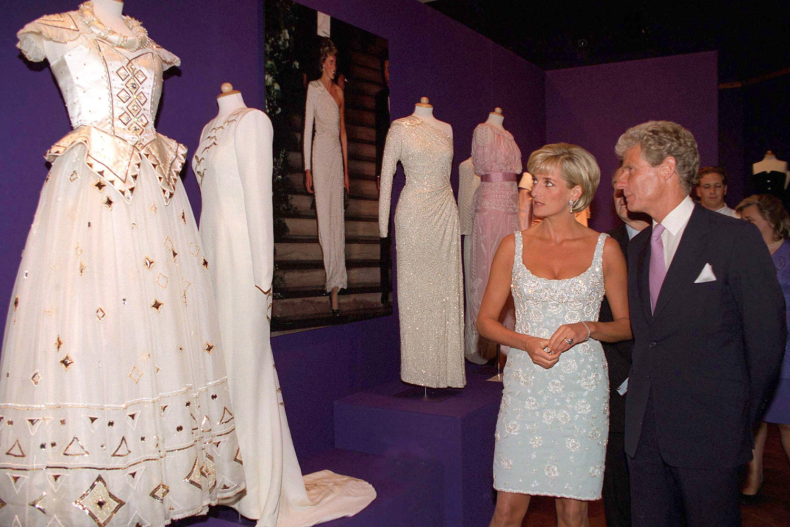 Diana's cultural prominence will increase as 2023 draws to a close, with the release of the final season of Netflix's hit royal drama The Crown, featuring the princess' death as a key plot point.
Expected to be released in November, The Crown's producers have said Diana's death will be a core storyline covered over three of the season's 10 episodes, with the royal portrayed by Australian actress Elizabeth Debicki.
Costume designers for the show included a replica of Diana's sheep sweater in the drama's fourth season, worn by actress Emma Corrin.
In 2020, designers Muir and Osborne relaunched the Warm & Wonderful design in partnership with the label Rowing Blazers. Royal fans can purchase the sweater in a range of colors today for $248.
James Crawford-Smith is Newsweek's royal reporter, based in London. You can find him on Twitter at @jrcrawfordsmith and read his stories on Newsweek's The Royals Facebook page.
Do you have a question about King Charles III, William and Kate, Meghan and Harry, or their family that you would like our experienced royal correspondents to answer? Email royals@newsweek.com. We'd love to hear from you.