Princess Diana More Popular Than King Charles in U.K. Polls
Princess Diana is still more popular than King Charles III in Britain 25 years after her death, including among young people who did not directly experience her lifetime.
The former Princess of Wales is liked by 72 percent of people and disliked by 19 percent, giving her a net approval of +53.
Charles was liked by 67 percent and disliked by 24 percent of U.K. adults, giving him a net rating of +43, according to data from YouGov.
The polling agency's survey also suggests Diana is more popular than Camilla, the Queen Consort, who was viewed positively by 52 percent and negatively by 37 percent in the same research.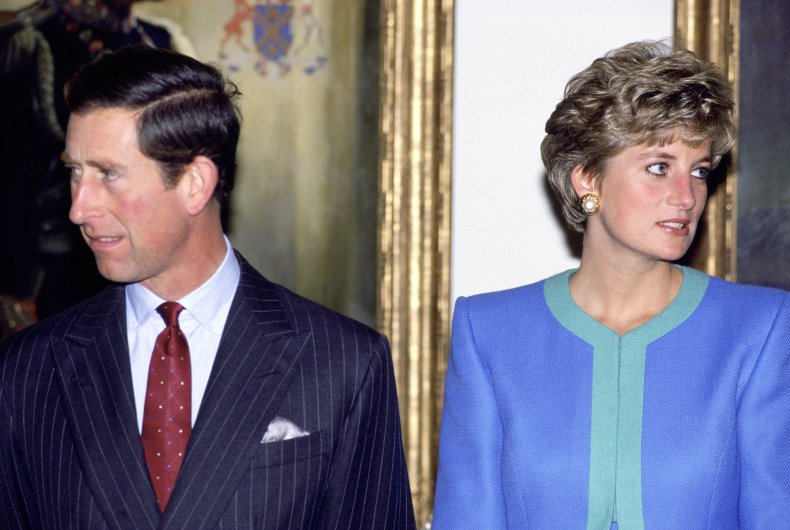 Prince William was, however, the most popular living royal family member, with 81 percent holding a positive view of him and 12 percent holding a negative one, giving net figures of +69.
While Charles may not be more popular than his ex-wife, his current figures are a significant improvement on surveys carried out before Queen Elizabeth II died.
A survey conducted between May 18 and 19, 2022, showed Charles viewed positively by 54 percent and negatively by 35 percent, giving him a net figure then of +19.
The current survey, released on November 24, 2022, was based on research conducted between November 9 and 10.
Season 5 of The Crown was released by Netflix on November 9, with the show's second installment showing Princess Diana's heartache during the collapse of her marriage to Charles.
YouGov's report read: "Even though none were born before her death, 18 to 24-year-olds are just as familiar with Princess Diana as they are with other top royals, and hold a very positive opinion of her."
Princess Diana's story has repeatedly been brought back to life for a modern audience, including by her two sons in the run up to the 20th anniversary of her death in 2017.
Prince William and Prince Harry appeared in two documentaries and Harry gave interviews including to Newsweek and also to Daily Telegraph journalist Bryony Gordon.
Alongside their heartwarming tributes and heart-breaking memories of the days after Diana died, the U.K.'s Channel Four also broadcast Diana's explosive account of her marriage to Charles via speech tapes she recorded in private with actor Peter Settelen.
They included bombshell allegations that Prince Philip had given Charles permission to have an affair with Camilla and that Charles had told Diana he did not want to be the only Prince of Wales never to have a mistress.
However, those real life stories narrated by the royals themselves have also been supplemented by dramatizations such as The Crown, which helped to bring Diana's story to a new, younger audience both in Britain and America.
The Netflix show's first instalment of Diana's story was released in November 2020 and saw Emma Corrin depict the princess struggling with bulimia and loneliness in Kensington Palace while Charles rekindled his relationship with Camilla.
Spencer then offered a more avant-garde re-imagining of Diana's experience of royal life told using the tropes of the horror genre.
Season 5 of The Crown landed on Netflix in November 2022 and told the story of how Diana co-operated with biographer Andrew Morton to make Charles' affair public knowledge, leading to the breakdown of the marriage.
The show itself covers an era in which Charles' own standing with the public plummeted in data collected by pollster Ipsos Mori.