Princess Diana and Prince Charles' Wedding Cake Slice Sells for $3,000
A 40-year-old slice of Princess Diana and Prince Charles' wedding cake has sparked a bidding war, being sold at an auction house in England for $3,000.
The large slice of icing and marzipan base was decorated with the Royal Coat-of-Arms and preserved in saran wrap.
Bidders from as far away as the U.S. and the Middle East lost out to a homegrown private collector, Captain Gerry Layton, from Leeds, in the north of England.
Chris Albury, auctioneer and royal memorabilia specialist at Dominic Winter Auctioneers, told Newsweek: "We were amazed at the numbers of people wanting to bid on this large and unique piece of royal cake icing.
"It seemed to get far more attention than when we sold it with a Charles and Diana thank you letter 13 years ago.
"There were lots of inquiries from bidders, mostly in UK, U.S.and several countries in the Middle East. Selling it twice has really been like having one's cake and eating it.
"The bidding started at £300 and with commission bids, the internet and phone bidding quickly rose to the winning price of £1,850 hammer (£2,220 including 20% buyer's premium).
"It was bought by a private collector called Captain Gerry Layton living in Leeds.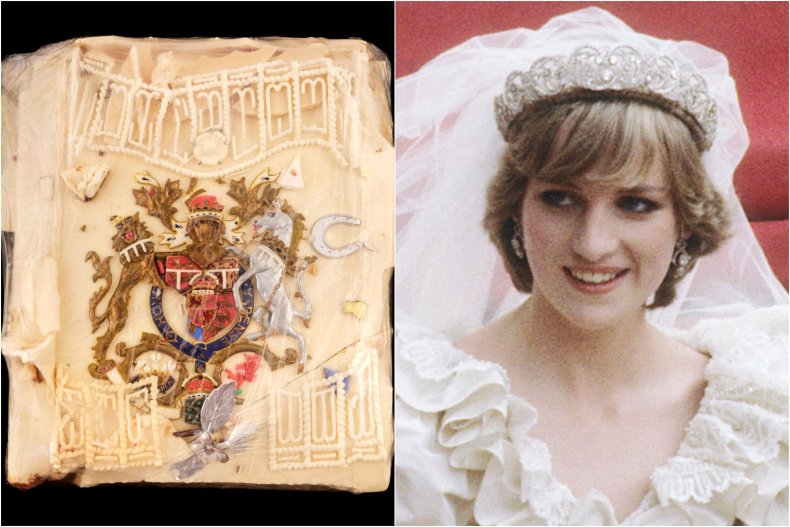 In Focus
A slice of one of Princess Diana and Prince Charles' official wedding cakes sold for $3,000 at Dominic Winter Auctioneers on August 11, 2021.
Launch Slideshow

3 PHOTOS
"As yet we haven't had a chance to speak to them to get a reaction or ask why they bought it but it seems that this was an irresistible piece of royal memorabilia history for many and shows the magnetism of Diana seems as strong as ever."
The sugary delicacy was not from the main multi-tiered cake but another of the 23 official cakes produced to mark the royal wedding on July 29, 1981.
It was originally preserved for the ages by Moyra Smith, an aide to the Queen Mother at Clarence House.
It has been auctioned off before but this time garnered even more interest, just weeks before the anniversary of Princess Diana's death in a Paris car crash on August 31, 1997.
The auction house catalog reads: "This layer of cake icing was given to Moyra Smith, an employee to the Queen Mother at Clarence House.
"Moyra began her career at Clarence House in the kitchen before moving on to more general duties on the recommendation of Lady Jean Rankin.
"Besides the main official five-tier wedding cake, some 22 other wedding cakes were supplied by various manufacturers and this seems likely to have been one sent to Clarence House for the consumption of the Queen Mother's staff. In view of its size, it is most likely that it was either from the side of a cake, or from the top of a single-tier cake."
The slice is around 8 inches by 7 inches and weighs 1.8 pounds. It was sold in an old cake tin with a handwritten label by Moyra Smith.