Diana Made Actress Sing Over Queen, Princess Margaret at Party: 'Stop Them'
Princess Diana once intervened to stop Queen Elizabeth II and her sister, Princess Margaret, from singing hymns on a summer holiday in Scotland by requesting an actress drown them out with a tune from the hit show Les Miserables—a former royal girlfriend has revealed.
West End actress Ruthie Henshall dated the queen's youngest son, Prince Edward, for six years in the 1990s and spent holidays with the royal family at their Scottish castle during the summer, she told Hello!
The comments follow Diana's love of musical theatre being portrayed in the latest season of Netflix's The Crown.
Henshall was starring in the original London cast of Cameron Mackintosh's Les Miserables when she was invited by the prince up to Scotland. She has recalled that it was Princess Diana who initiated an impromptu performance and that her nerves were calmed by Prince Charles who had offered her a couple of "strong martinis" to help.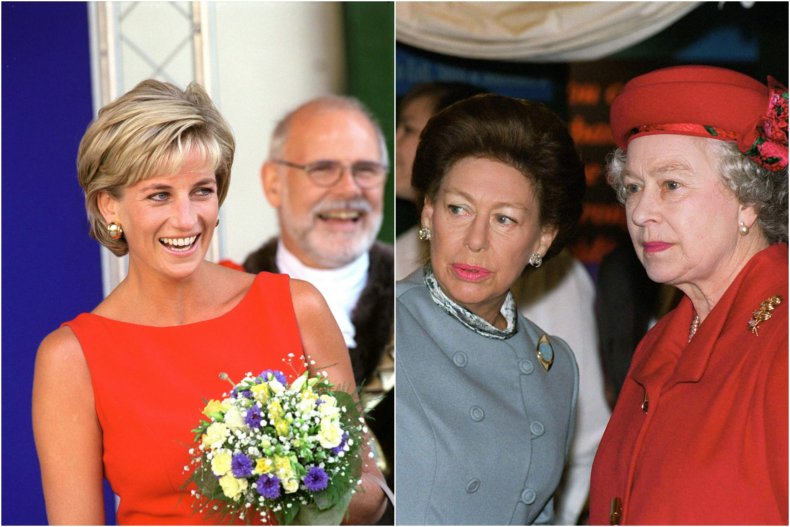 The queen and her sister, Margaret, were known to have enjoyed singing together with the latter often taking to the piano at the end of the day.
"The queen and Princess Margaret were singing a hymn and Diana said to me: 'Stop them singing hymns. Sing something from a show,'" Henshall recounted.
"Margaret said: 'Oh yes, sing something from that show you're in.' So I sang, I Dreamed a Dream."
The song was a breakout hit from Les Miserables, a show which Diana is known to have loved and seen at least three times publicly following its London opening in 1985.
"I was so nervous I must have changed key three times, because suddenly it really was by royal command," Henshall told Hello!
"Prince Charles had given me a couple of strong martinis, which was probably why I was able to sing."
Edward and Henshall ended their relationship in the mid 90s and the prince went on to marry Sophie Rhys-Jones in 1999—though the pair remain friends to this day.
Reflecting on her time around the royals 'off duty', Henshall said:
"I don't think you ever forget who you're in the presence of, but you're looking at a family that is just hanging out together like any other family," adding, "I spent a lot of time with them and they were all so welcoming and so lovely—and they're a laugh!"
Princess Diana was known to be a big fan of musical theater, being seen regularly throughout the 1980s and 1990s at official and public performances.
The princess's admiration for Andrew Lloyd Webber's The Phantom of The Opera, which alongside Les Miserables has been in a continuous run since it opened in London (apart from pandemic related shutdowns), was shown on the latest season of Netflix's The Crown.
The show dramatized Diana's recording of a private performance of the song All I Ask of You which she reportedly undertook at Her Majesty's theater in 1988.
In an August 4, 1988 column for The Washington Post, Chuck Conconi wrote that for their seven-year wedding anniversary Diana gave Charles:
"A video of her current favorite musical, The Phantom of the Opera, and in it she sings for him a song from the show, "All I Ask of You." And she did this simply by renting the show's set at the theater in London's West End where it is playing and having her movements directed by the show's choreographer, Gillian Lynne. Diana didn't settle for second best. The show's composer, Andrew Lloyd Webber, was there to oversee her performance."
The official Twitter account for The Phantom of the Opera confirmed that the event took place in a post made at the time of The Crown's release, reading:
"Princess Diana on one of her several visits to the Phantom. 'All I Ask of You' was always one of her favourite songs, with her once making a private video on the Phantom's stage. Excited to see this moment in @TheCrownNetflix with the wonderful Emma Corrin. #TheCrown"