Princess Diana Superfan Perfectly Recreates Her 80s and 90s Outfits
Princess Diana was a fashion icon around the world, from her exquisite wedding gown with a seven-foot train to that revenge dress.
Diana, who tragically died in a car crash in 1997 at age 36, wore outfits symbolic of the time, meaning shoulder pads and power suits were very much in.
The princess and Prince Charles got engaged in 1981, with photos of the young Diana showing her in elegant casualwear, when not attending a prestigious engagement.
Diana wore dungarees, oversized sweaters, cycling shorts, sneakers and jeans, as she played with her two sons and headed to the gym.
Now a Princess Diana superfan has brought her 80s and 90s wardrobe to life, recreating her stylish looks. Kaden Luna uploaded a clip to TikTok on Thursday, as he shared a fashion montage perfectly copying 18 outfits.
Among the garments the 19-year-old has managed to get his hands on include Diana's Mickey Mouse jumper, her polo-themed knitwear, her koala pullover, Sloppy Joe shirt, Fly Virgin Atlantic sweater and her Northwestern college jumper.
He also sported her red black-sheep jumper, originally by brand Warm & Wonderful, with the design on sale for $295.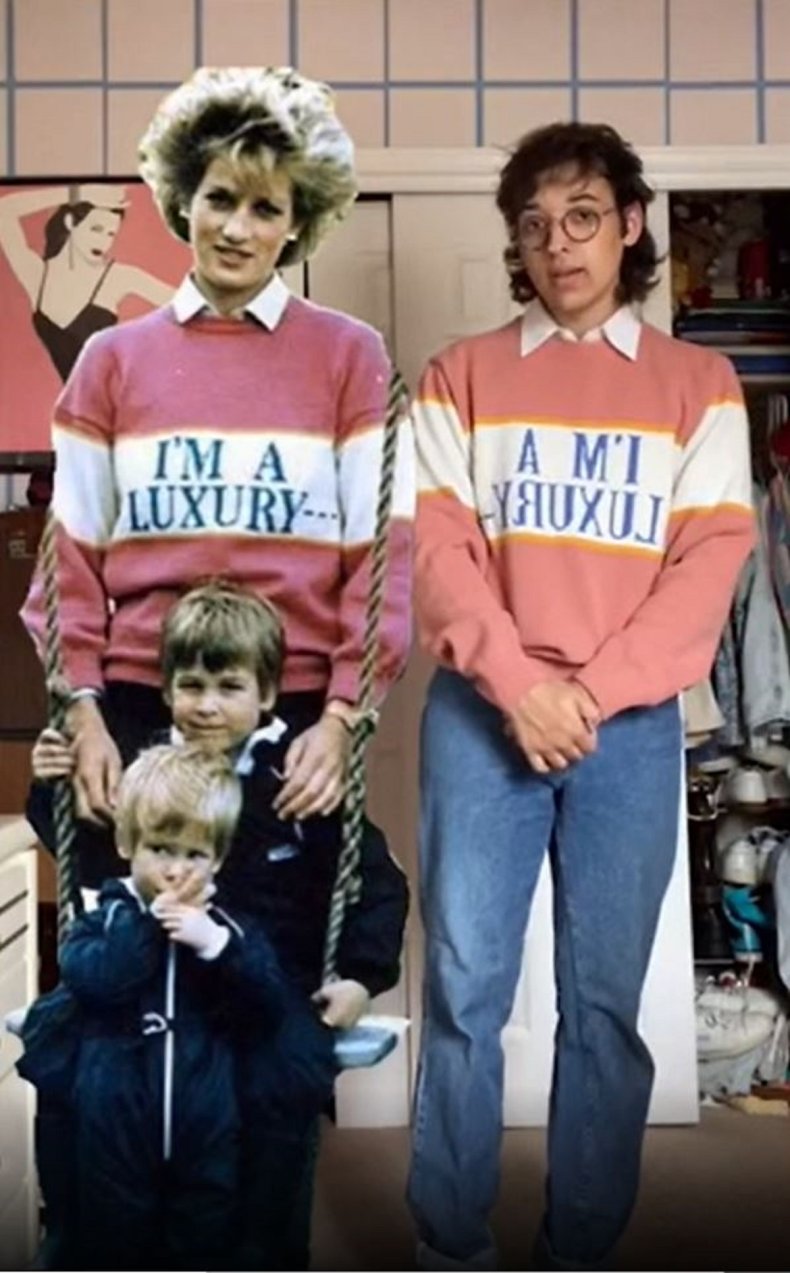 And Luna also rocked Diana's "I'm a Luxury" sweater, which has "Which Few Can Afford" embroidered on the back. The design, originally by Gyles & George, is currently on sale in the same "soft pink" Diana stepped out in, and is also on sale for $295.
Luna, from Texas, describes his page as a "Princess Diana Stan account," with older clips showing him slowly building up his collection.
In separate videos he described collecting pieces she wore as "literally my lonely hobby." Raving about her early style, he added: "Shorts and oversized sweatshirts are a match made in heaven."
Luna's clip, which can be viewed here, has been seen 1.5 million times, as people praised his attention to detail.
Tyler raved: "Oh my god my jaw is on the floor."
TheShow6000 commented: "I mean this with all my heart you have the greatest collection of all time! I submit!"
Chlo admitted: "I've never been more jealous in my life."
Luis Lucas asked: "I just wanna know how did you find all these?!?!? Cuz this is impressive."
"I've never been more jealous in my life," Em8412 added.
Although Kelsey Forsman asked: "Okay but where was the revenge dress."
After seeing all of Diana's outfits, Sad but Swag simply said: "She was a fashion icon."
Newsweek reached out to Kaden for comment.
Update 7/26/21, 4 a.m. ET: This article was updated with photos and video from @simplesmurf.